Furniture & Decor
Pieces that'll make you swoon
from room to room.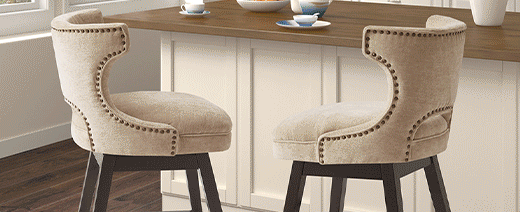 See Kohl's Coupons for the details and terms of our current offers and events..
Furniture
Discover the wide array of furniture styles and pieces available at Kohl's. Whether you're redesigning one room or preparing to move to a bigger home, investing in furniture can help you make the most out of your space. Create comfortable rooms your family and guests will thoroughly enjoy. Revamp living rooms and optimize home offices with new surroundings and efficient pieces. No matter what part of your home needs improvement, Kohl's has the furniture and finishing touches that will make you love your space.
Refresh with bedroom sets: Make your bedroom a haven from the outside world or give your child a big-kid room that will grow with him or her and become a great space for rest and play. No bedroom looks finished with just a mattress and box spring – take advantage of Kohl's great selection of beds and headboards to discover the perfect modern, traditional or contemporary style for your room. Take that little kitchen niche and make it a great space with bar stools, a dinette set or a cozy chair for reading and enjoying coffee. Make your house a home with Kohl's furniture today.
For even more ideas on how to design a home you'll love, check out our Kohl's Blog! Our home decor products will give you the inspiration you need to create an even more functional space that the whole family can enjoy!