• Do your straps fit right?
• Does your band sit in the proper place?
• Do your cups fit accurately?
With so many bra options to choose from, finding your perfect bra can be tricky—but
having the right amount of support is important to looking + feeling great.
Our quiz guides you through bra fit, features and styles so we can recommend the best bra for you.
Please choose a cup and band size to continue
TIP: Check out our Bra Fit Guide to learn how to measure yourself, watch our fit video, find Bra Fit events at Kohl's and more! (We recommend getting professionally measured every year to find your best fit!)
TIP: The cup size is related to the band size. If you move down a band size, typically you go up in a cup size. If you move up in a band size, you should move down in a cup size.
TIP: The band should provide the most support for your bra. You can test this by slipping bra straps off; if your bra stays in place, you have the right fit. If your bra doesn't stay in place, your straps are providing too much support.
TIP: This will fluctuate over time depending on use and changing body; if you've been using the tightest hooks over a long period of time, it's time to upgrade your bra. The ideal hook to use is the middle hook, which gives you room to adjust.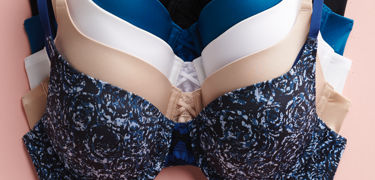 Based on your answers,
your suggested size is XXX.
Your preferences are ...
Shop recommended bras
Get the most out of your bras by following a few simple rules.
Keep in mind that bra sizes vary by brand, so try a few to decide which provides the best support, comfort and fit for you.
It's a good idea to get professionally measured every year, especially if you've gained or lost weight, had a baby or finished nursing recently.
To get the most life out of your bras, rotate three bras so you can wear one, wash one and air one out.
Even the most supportive bras lose elasticity and wear out, so replace them every 6-12 months.
Bra Fit
Do you understand bra sizes? Don't beat yourself up if you don't – studies show that the majority of women wear the wrong bra size! Even though so many women of all ages buy and wear bras, it seems like few people discuss the importance of bra fitting. Only with the correct band and cup size will a bra offer the comfortable support you should expect from something you wear every day. Let Kohl's clear things up and answer your questions about bra sizes and proper bra fit. Even if you may already know how to measure yourself for bras, check out the bra fitting guide and our bra size calculator to discover what styles will suit your body best.
If you often feel uncomfortable in your bras, it may be because you're wearing the wrong size. Use Kohl's easy bra size calculator to better understand how your bra fits you. Explore tips on how to care for a bra and learn about the different bra styles. Every body shape is different and everyone deserves comfort and support throughout the day. Plus, you can stock up on staples like panties, slips, Champion sports bras and Jockey shapewear while you're here trying our bra size calculator or in-store bra fitting. Once you know your true bra size and understand precisely how a bra should fit, you'll be prepared for a lifetime of happier bra shopping and wearing.