Intimates & Sleepwear Guide
Intimates and sleepwear
have a wide range of possibilities to consider for both day and night. From bras, underwear and shapewear, to lingerie and sleepwear, feeling your best should never end. This guide will help you select your perfect match and uncover the many options to control your confidence.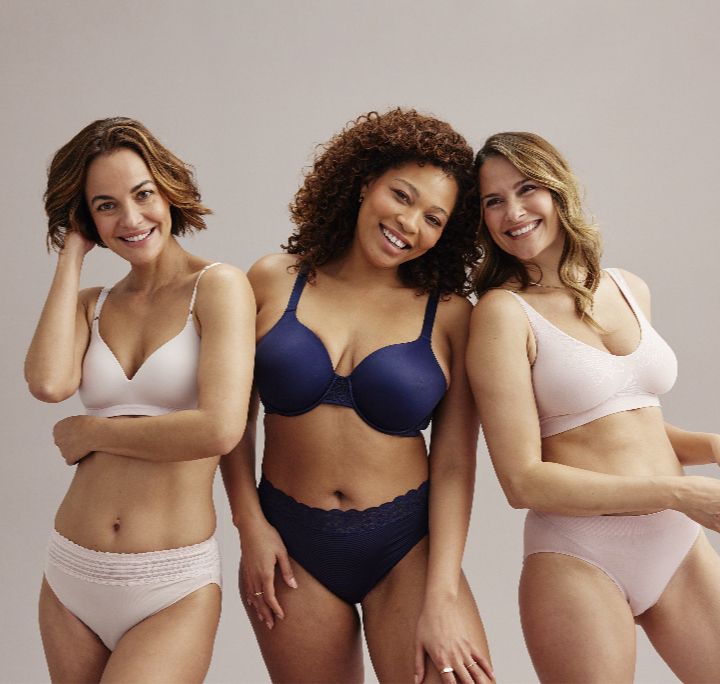 Comfort &
Style
Bras
Selecting the right bra involves not only determining your correct size
but also understanding the different styles. Here is some important information on how to properly care for your bras and what measurements are needed to find your size. You'll also explore some designs that not only fit but feel comfortable and support you in all the right places.
Bra Types
Whether you're looking for a bra with more
support or one that provides a little more lift, there's a bra out there for you. From T-shirt bras to push-up bras, the right fit for the right outfit can make all the difference in how you look and feel.
Full Figure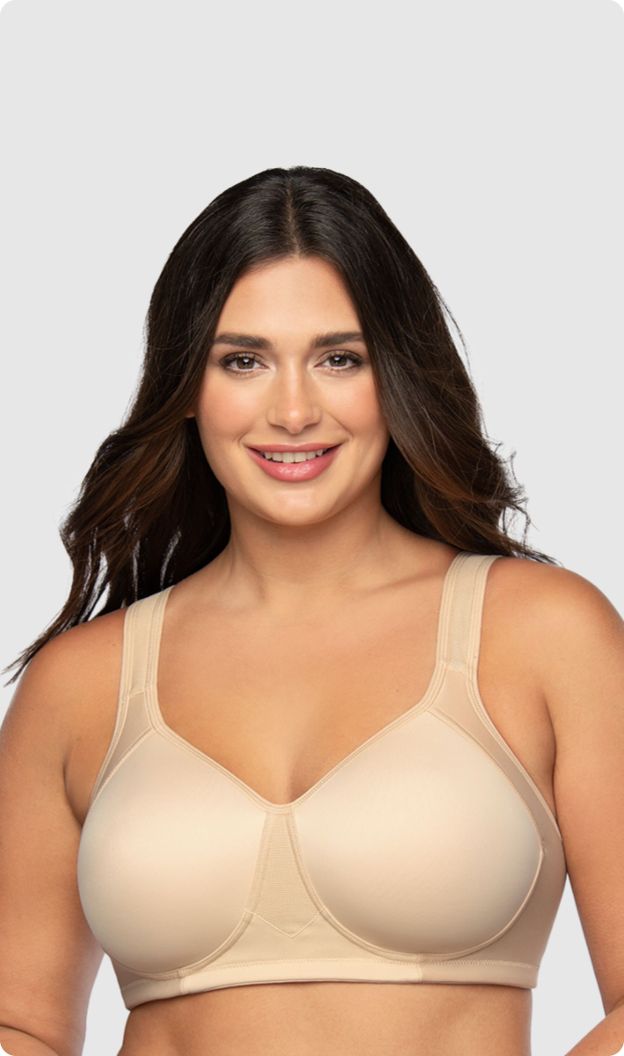 Full Figure
Designed with larger bands to provide more support for breasts above D cup.
Full Coverage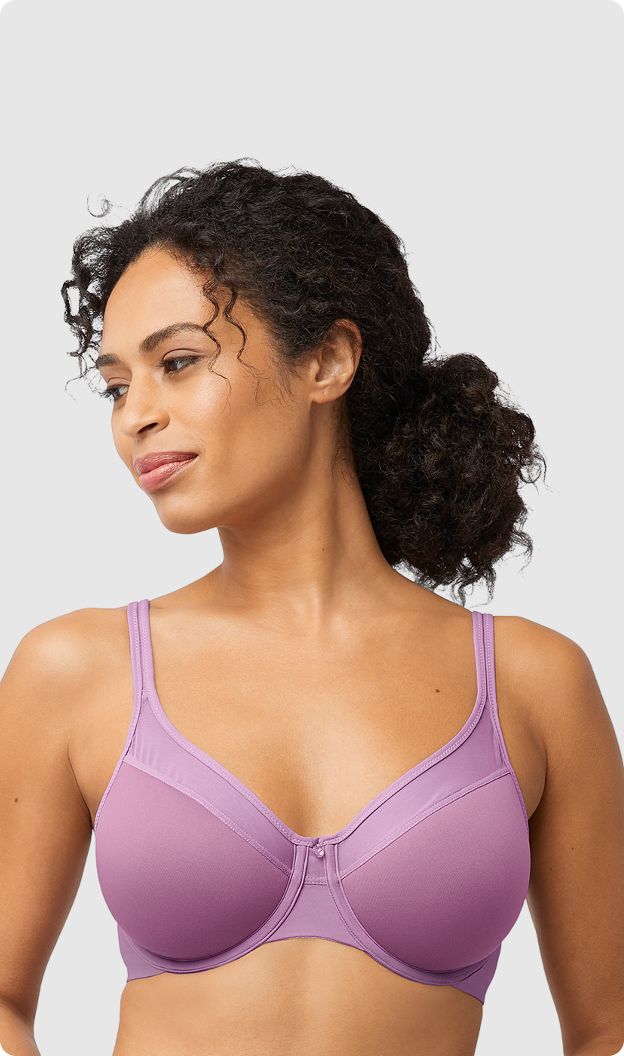 Full Coverage
Cups cover most of the breast for the fullest coverage and maximum comfort.
Push-Up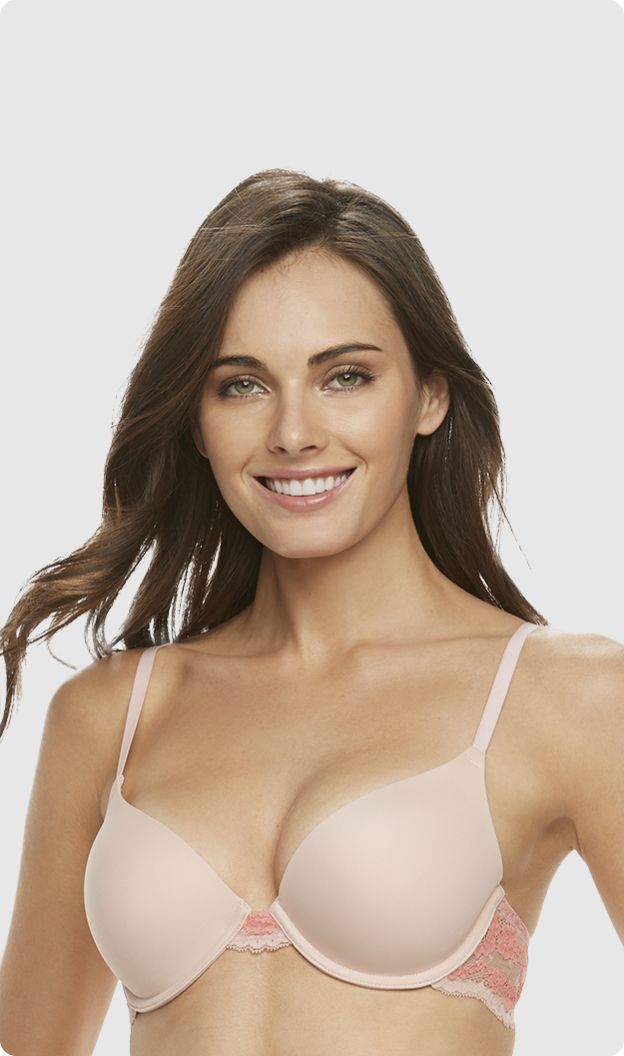 Push-Up
Creates the appearance of cleavage and provides maximum lift.
Wireless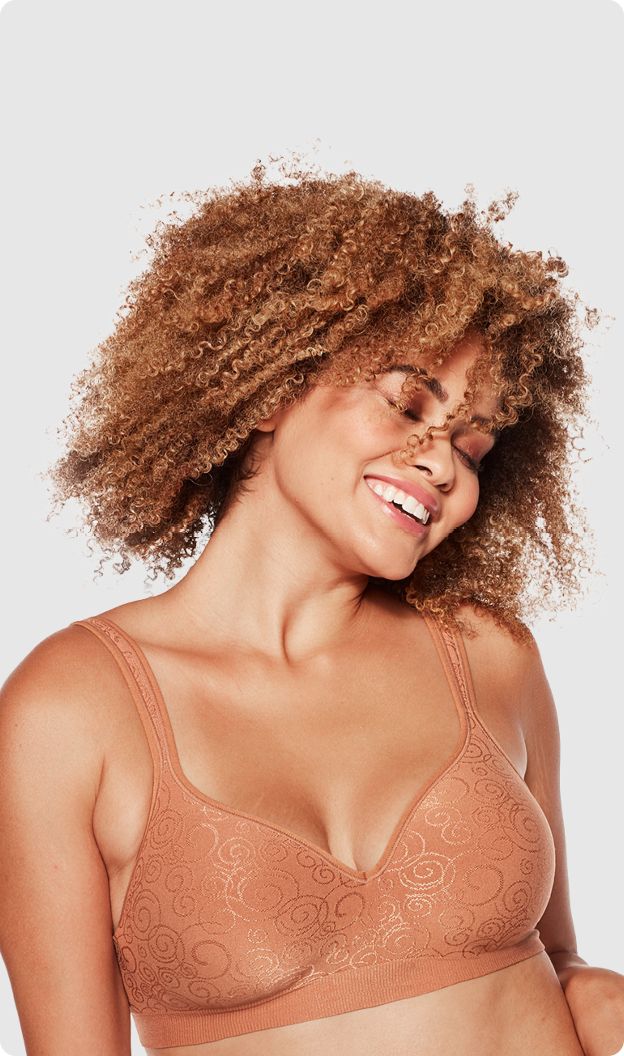 Wireless
Gives support through
structure and cups without an underwire.
T-Shirt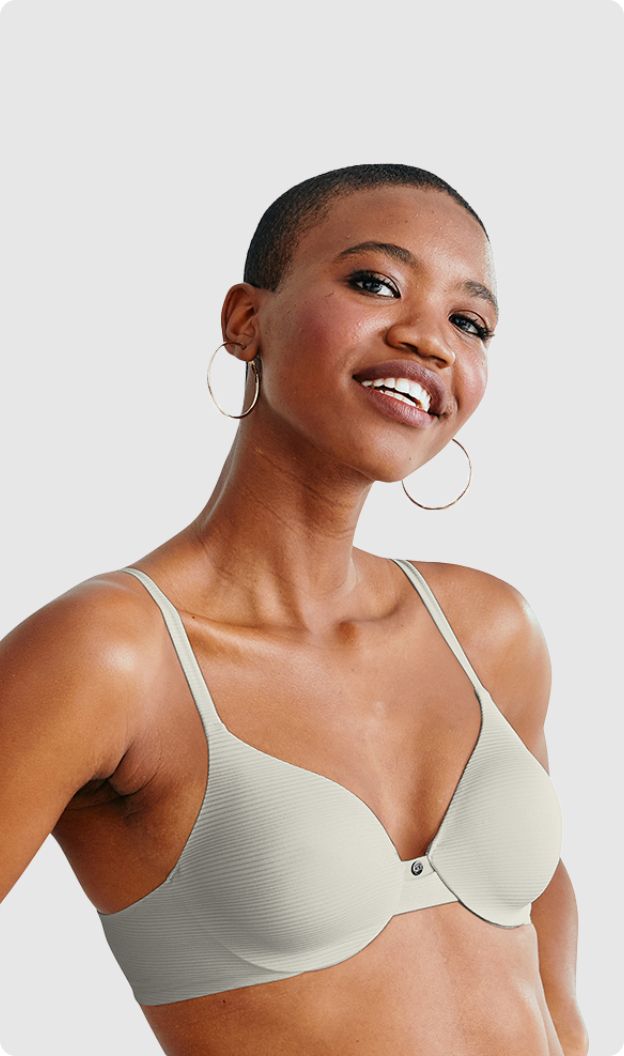 T-Shirt
Offers a smooth silhouette under clothes and complete coverage.
Minimizer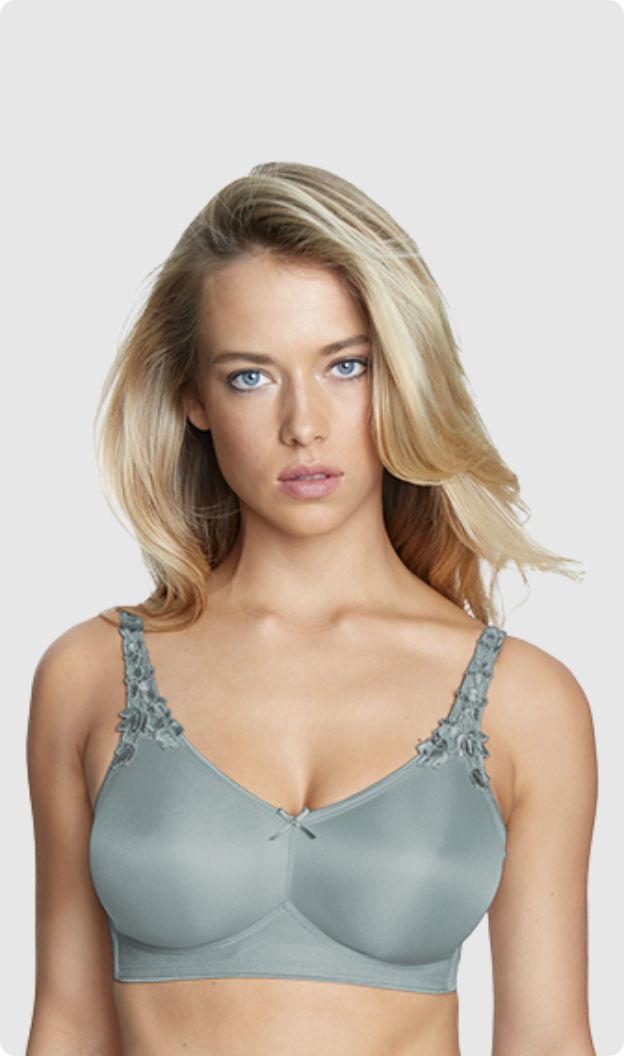 Minimizer
Designed to minimize bust projection and offer full
support.
Sports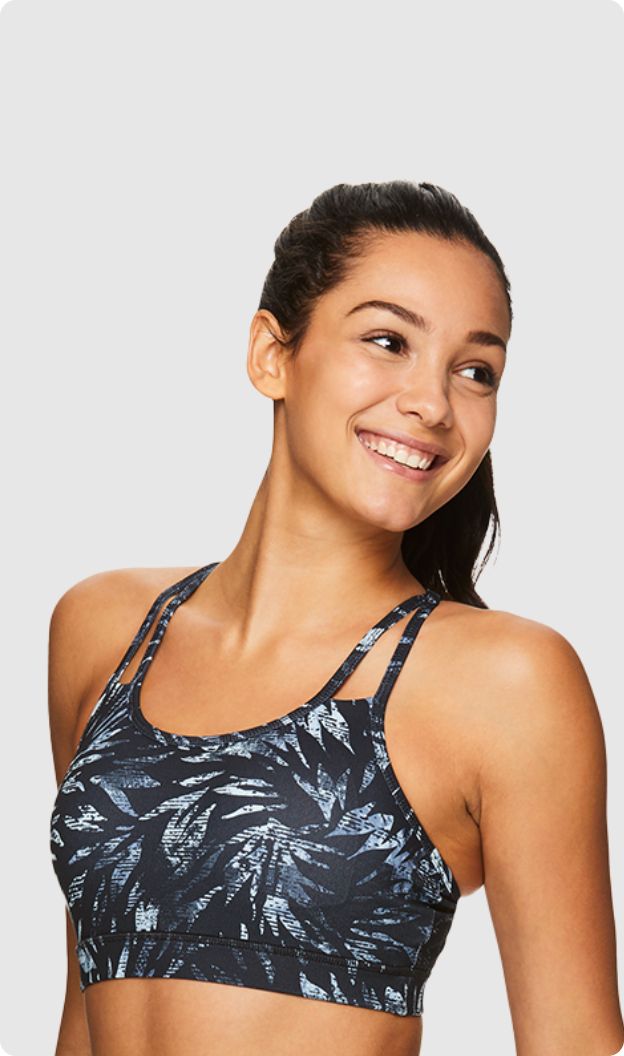 Sports
Provides firm support to minimize bust movement
during activity and engineered for maximum comfort.
Strapless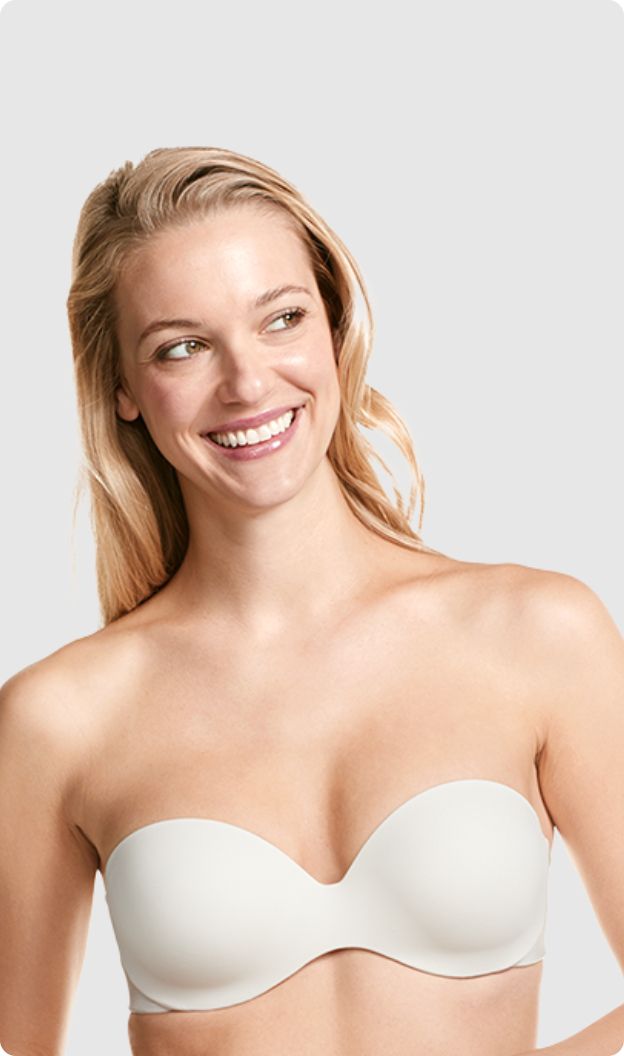 Strapless
Ideal for
strapless clothing or uniquely cut necklines.
Balconette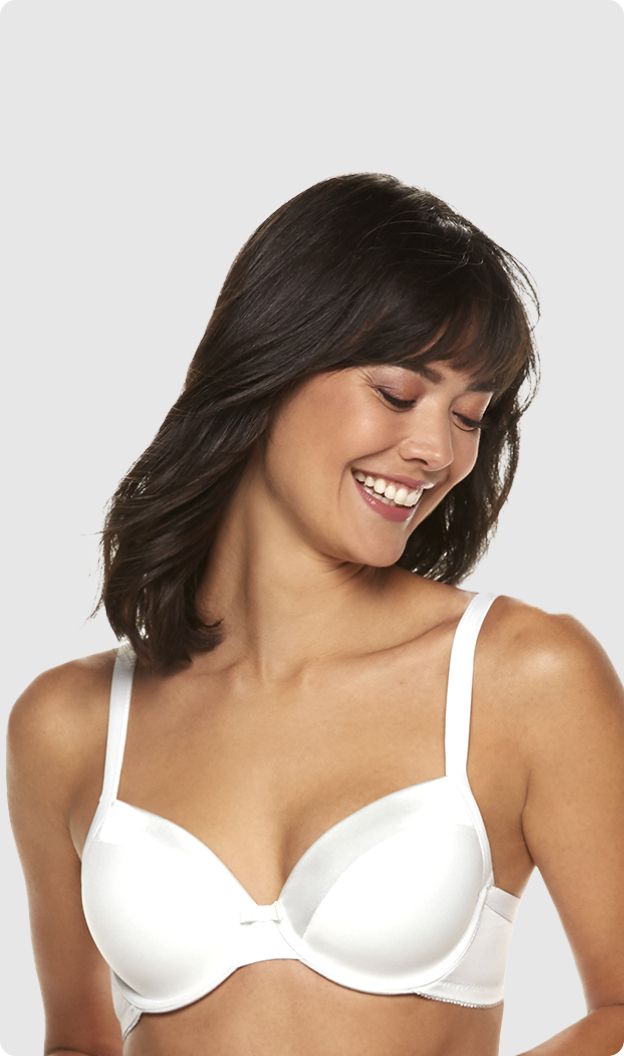 Balconette
Offers a wider
set strap design and lower neckline coverage while shaping, supporting and lifting.
Mastectomy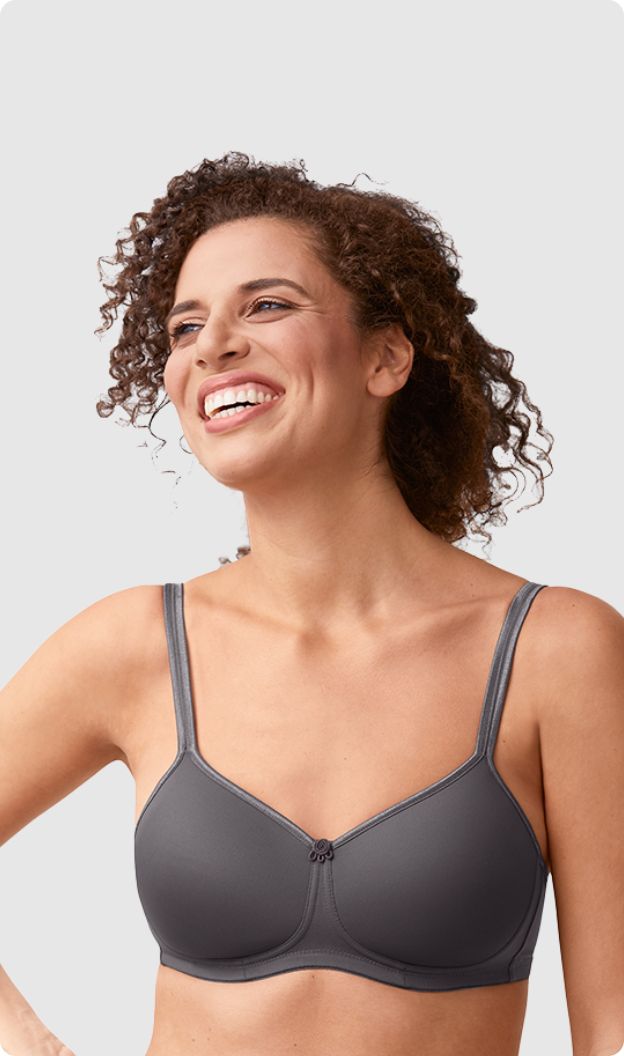 Mastectomy
Designed with soft smooth
inner cup fabric and hidden pockets to hold breast forms or shapers.
Demi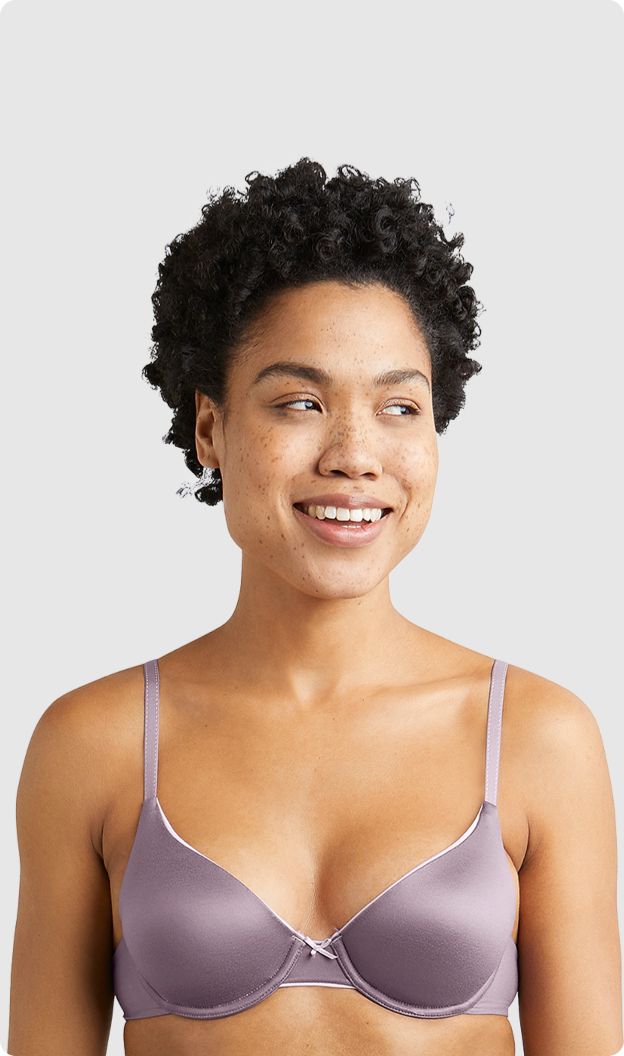 Demi
Designed with half-cups for
low to moderate coverage while shaping and lifting.
Nursing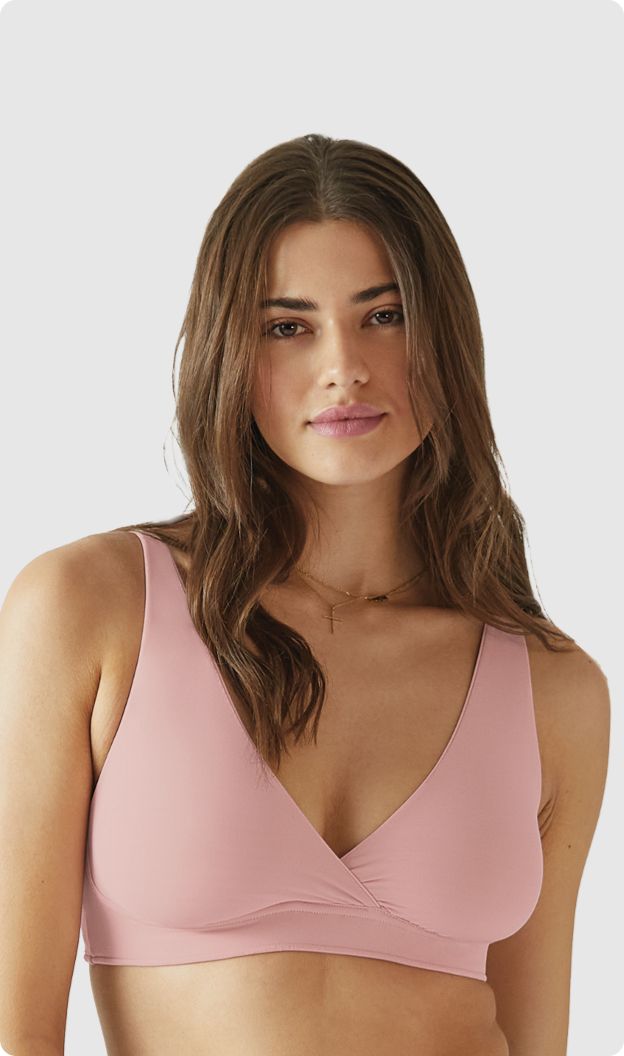 Nursing
Flexible fit to keep up with fluctuating cup sizes. Offers
drop cups for quick and easy nursing.
Bralette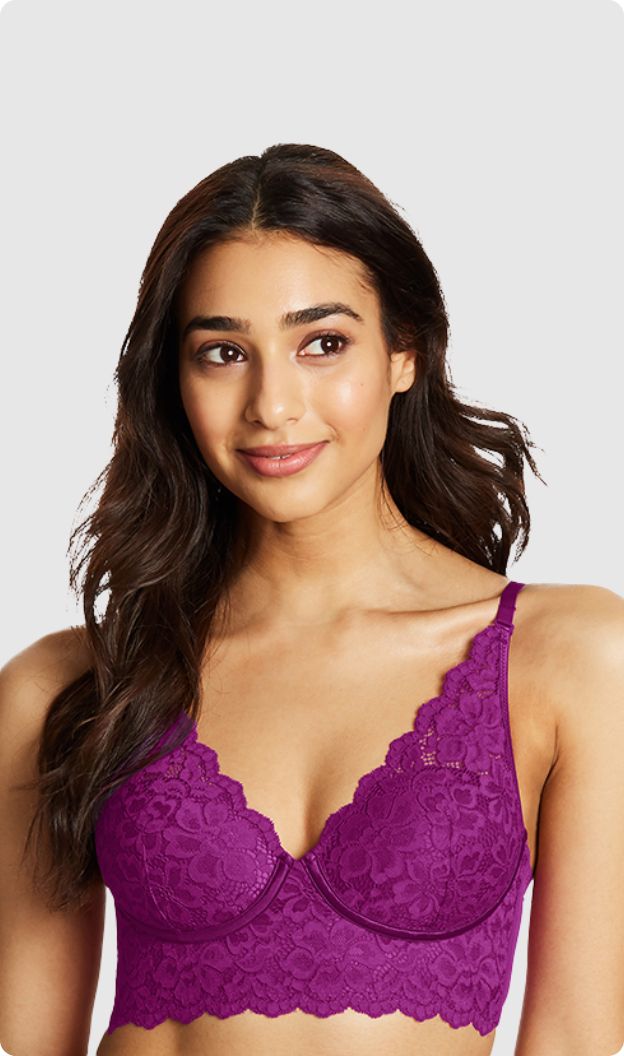 Bralette
Offers some support,
typically without an underwire, as a layering piece for both fashion and function.
Racerback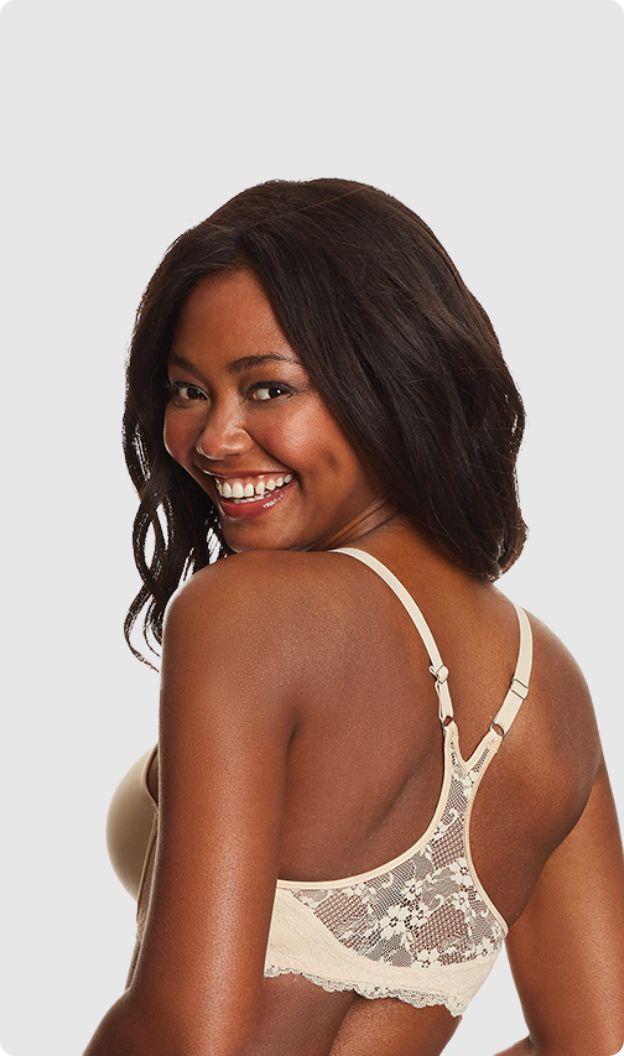 Racerback
Back design is shaped to sit between
shoulder blades and is typically found in a front-close or pull over style.
Measuring properly
Finding the perfect size bra
involves taking measurements of both your band size and cup size. To start, put on your most favorite bra that fits you the best, and avoid wearing a padded or push-up bra.
Band Measurement

Starting from your rib cage, take

a snug and level measurement directly under your bust and go around your entire body. Round to the nearest inch.

Bust Measurement

Starting over the fullest part of

your bust, take a loose measurement over the fullest part of your bust and go around your entire body. Round to the nearest inch.

Bra Size

Subtract the band measurement

from your bust measurement. Use that difference in inches to find your cup size. Your recommended bra size is your band size plus your cup size.
How to Care For Bras
It's important to remember that bras are delicate garments that require special attention to maintain their shape and support. Proper care not only extends the life of your bras but also ensures that they remain comfortable and effective.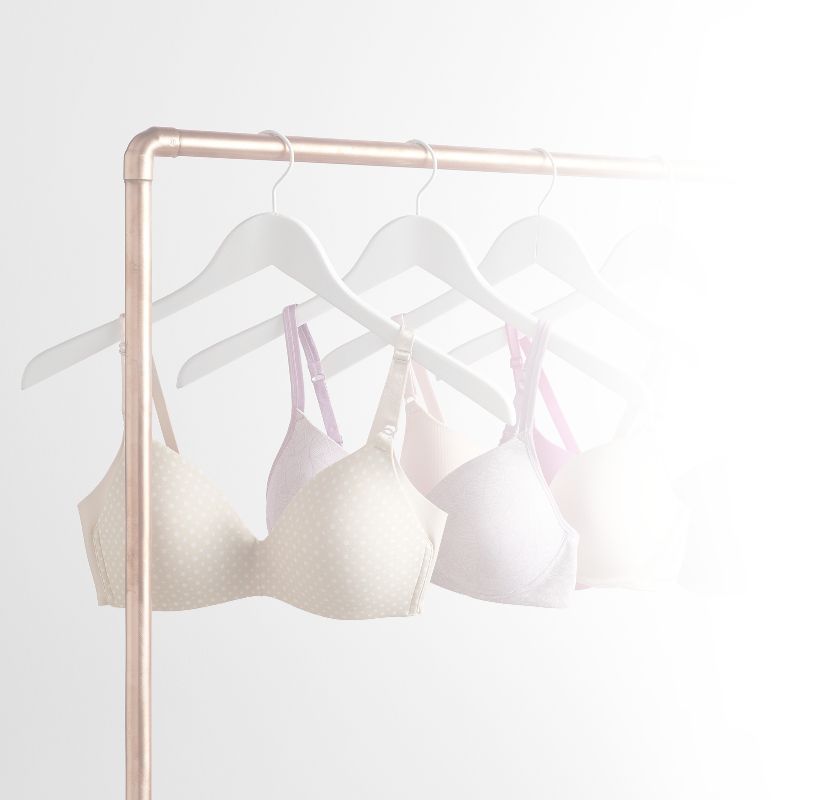 Hand wash your bras,
especially those that contain an underwire.
Air-dry after washing.
If you prefer to use a washing
machine, select the delicate cycle and use a mild detergent and lukewarm water.
Underwear
From boxers and briefs to thongs or boyshorts, there are a plethora of styles, cuts and flattering silhouettes to choose from.
Underwear Types
The underwear you wear should not only help to keep you comfortable
but also meet your activity level to ensure they continue to be comfortable throughout the day. Some underwear are better suited for formalwear or with a dress, while others are best for when you head to the gym.
Thong

Low rise, minimal back coverage

for a seamless look.

Bikini

Moderate coverage, low rise, with

thinner sides and a higher leg opening.

Hipster

In between boyshorts and bikinis

providing mid rise, moderate coverage.

Cheeky

Medium rise, more narrow than a

bikini cut to provide minimum coverage.

Hi-Cut

Provides full front and rear

coverage with high leg openings creating the appearance of longer legs.

Brief

High rise, form-fitting,

full-coverage silhouette.

Boyshort

Mid to high rise, shaped like tight

shorts providing full coverage over the hips and butt.

Period Absorbing

Absorbent, machine-washable

underwear, that helps with bladder leaks and period flow. Can come in different styles.
Underwear Construction
How your underwear is constructed or the types of materials they are made of each help to provide some unique characteristics. Find underwear constructed with the materials that best fits your activity level throughout the day. For example, lace can be a great way to add some flair and confidence on a night out, but cotton may be the best option for your next spin class.
Lace

Breathable, delicate, woven

Cotton

Breathable, durable, comfortable

Seamless

No seams, no visible lines
Shapewear
Shapewear provides an excellent layer of support and comfort underneath your clothes or can be worn alone. Typically more form-hugging and adjustable in terms of length, waist size and straps, shapewear helps to enhance the silhouette of any outfit. Boost your confidence and comfort in any outfit, from slips to bodysuits.
Types of Shapewear
Some of the most popular forms
of shapewear are panties, bodysuits and thigh slimmers. All are designed to do different tasks while providing maximum shape or lift potential. Shapewear helps everyone embrace their body type and feel empowered.
Panties

Targets the rear,

waist, tummy and hips for a smooth and slim silhouette.

Thigh Slimmers

Slims and shapes

the rear, hips, waist and thighs while providing all-over support and comfort.

Bodyshapers/

Bodysuits

Provides the most

coverage from top to bottom, offering full-body shaping while targeting the back, midsection and rear.

Camisoles

Targets the back and

midsection to layer and shape to your style.

Slips

Provides full,

smooth coverage from top to bottom under a skirt or dress.

Waist Cinchers

Slims and smooths

the midriff, targeting the waist, tummy and back. Also referred to as girdles.

Torsettes

Slims and smoothes

the midsection, targeting the tummy and waist while allowing you to wear your own bra.

Leggings

Shapes the bottom

half of the leg, targeting the hips, rear, thigs and calves.

Tights/Pantyhose

A range of firmness

and designs to shape the waist, hips, thighs and rear.

Adhesive Bras/

Accessories

Convertible bras

with invisible, moveable straps or strapless.
Control Measures
The level of control provided by shapewear ranges from light compression, or a gentle hug, to ultra firm and everything in between.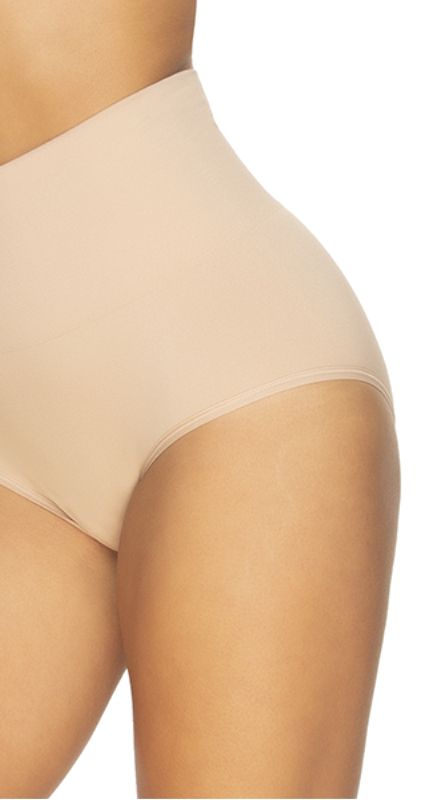 1
Light
Lightly smoothes
target areas for a more comfortable everyday look.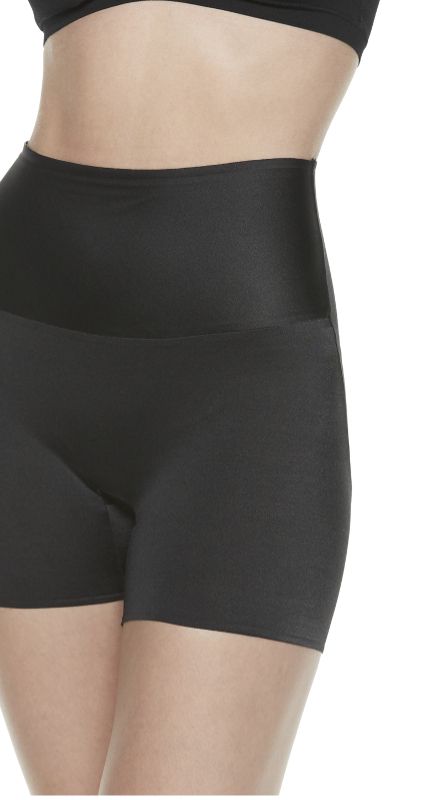 2
Moderate
Mid-level support
smoothes and shapes your target areas.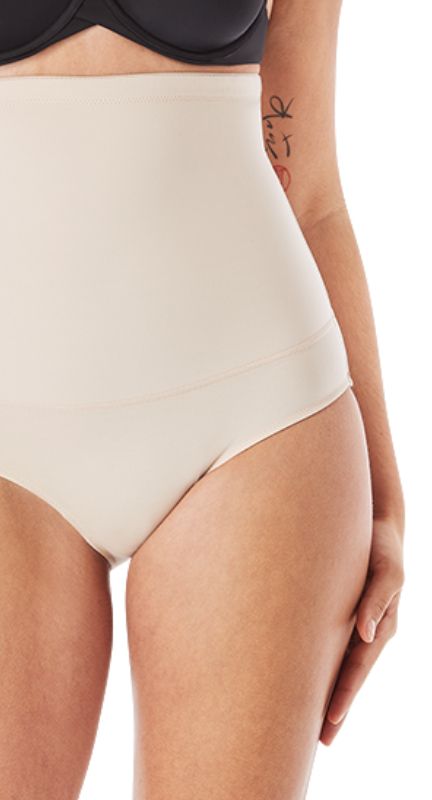 3
Firm
Sculpt your target
areas with a supportive, firm level of control.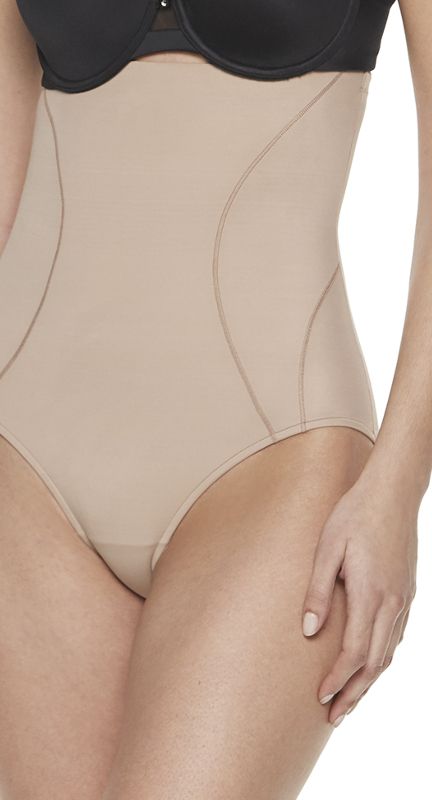 4
Ultrafirm
Shape, enhance and
slim your target areas with an ultrafirm level of control.
4. Ultrafirm
The most firm hug
Shapewear Technology
Shapewear technology has improved with features such as moisture-wicking materials, seamless designs and built-in bras for maximum comfort and support. With these advancements, achieving a flawless silhouette has never been easier or more comfortable.
Moisture Wicking

Pulls out moisture and dries

rapidly.

Seamless

Smooth appeal under the

garments.

Built-in Bra

Supportive and convenience options.
Shapewear Looks
When it comes to completing any look, shapewear holds it all together. Whether you're slipping on a sleek fitted dress or need to smooth out your favorite pair of jeans, there's a shapewear solution for every outfit.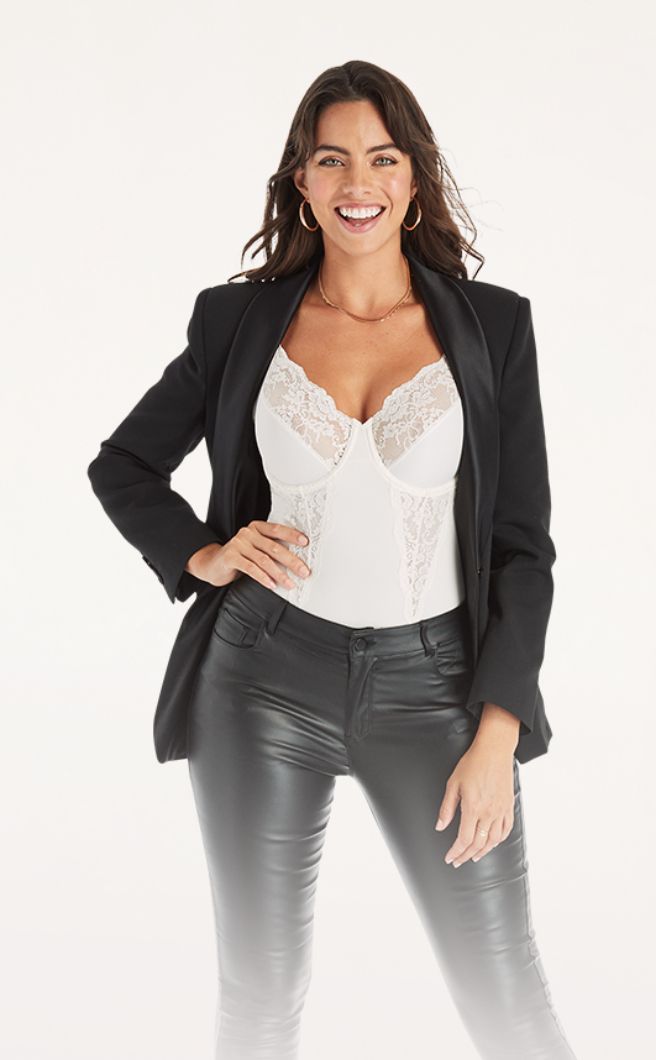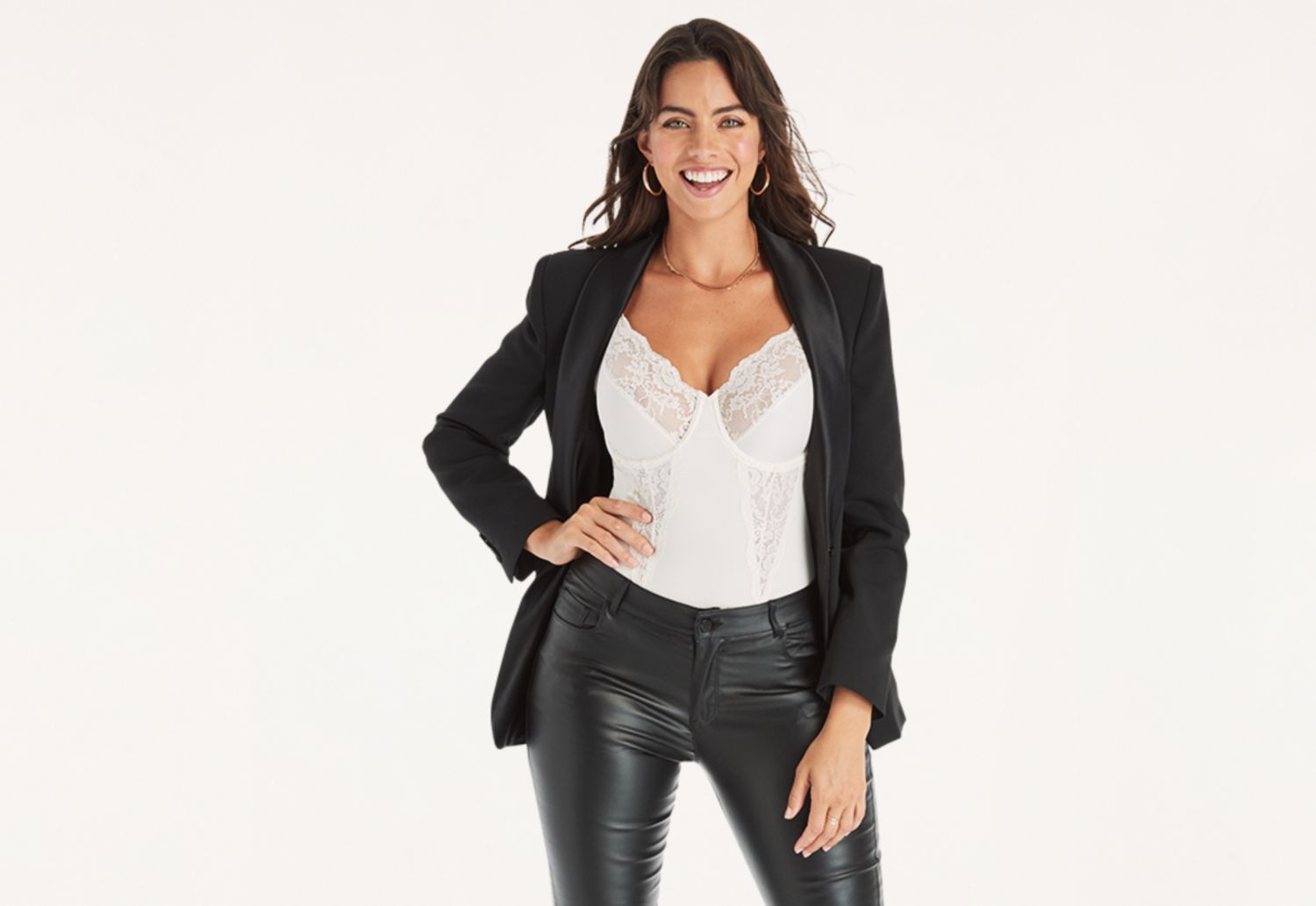 Pants
Sleek coverage under pants.
Lingerie
Lingerie is more than an intimate piece of clothing. It's a way of expressing yourself while feeling confident and empowered. With
various styles, colors and materials, lingerie can be both beautiful and functional.
Lingerie Types
With a range from form-fitting bodysuits to loose-fitting two-piece sets, there are many options to meet your comfort, style and body type preference. From a classic satin set with a snug fit to babydoll bridal lingerie for your special day, relax-you are covered.
Lingerie Sets

Two-, three- or

four-piece sets

Chemises & Babydolls

Loose-fitting undergarment,

typically made of satin or lace.

Bodysuits

One-piece, form-fitting

garment that covers the torso.

Bridal

Designed for your special day

including sets, chemises, babydolls or bodysuits.

Plus Size

Extended sizes of 18 to 24 or

XXL to 4X are available in every lingerie type.
Sleepwear
When it comes to getting a good night's sleep, comfort is key. Whether you prefer a loose top or full coverage with a robe, your choice of sleepwear can impact the quality of your rest.
Discover all of the perfect options to suit your sleep and style.
Tops & Bottoms
Tops and bottoms are the foundation of most sleepwear sets and can
be mixed and matched to create a variety of comfortable nighttime looks. Selecting the right combination also depends on your personal preference like a breezy pajama tank top or pants for a cozy night sleep.
Short Sleeve

Provides a balance of breeze and

covered comfort over half your arm.

Long Sleeve

Provides warmth and comfort on

your arms.

Pajama Tank Top

Provides breeze and comfort without

covering your arms.

Sleep Shirt

Creates breeze and comfort.

Shorts

Provides breeze and comfort

covering half of your legs.

Pants

Provides warmth and comfort all

over.

Capris

Cropped pants above the ankles.
Nightgowns & Robes
When it comes to bedtime attire, there are few things as classic and comfortable as nightgowns and robes. Whether you prefer the simplicity of a classic nightgown or the added coverage of a luxurious robe, there's a style for every sleepwear personality.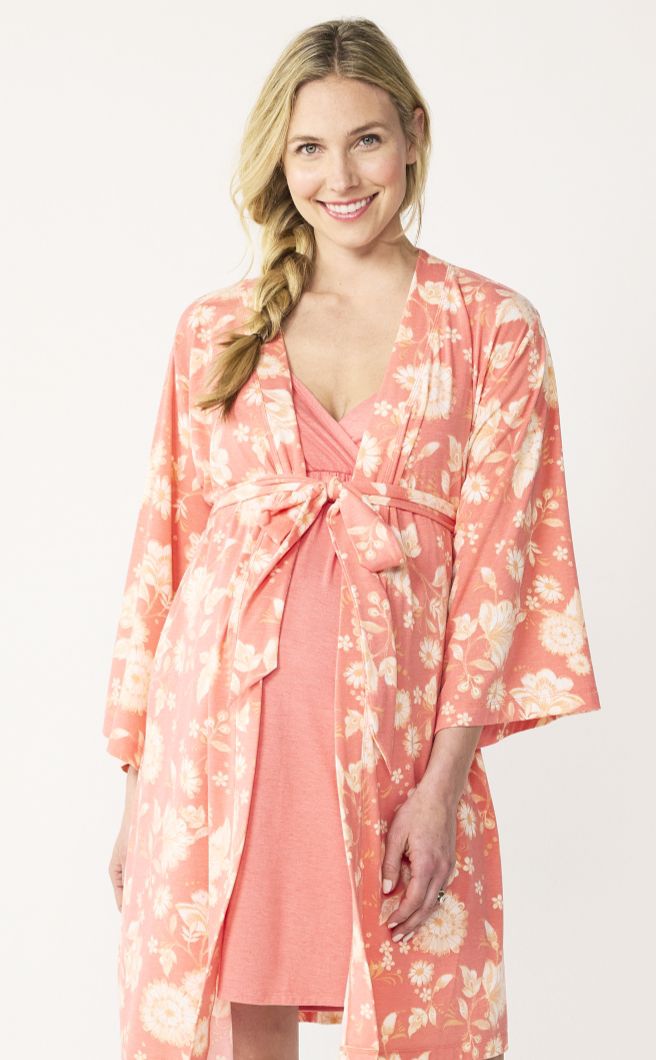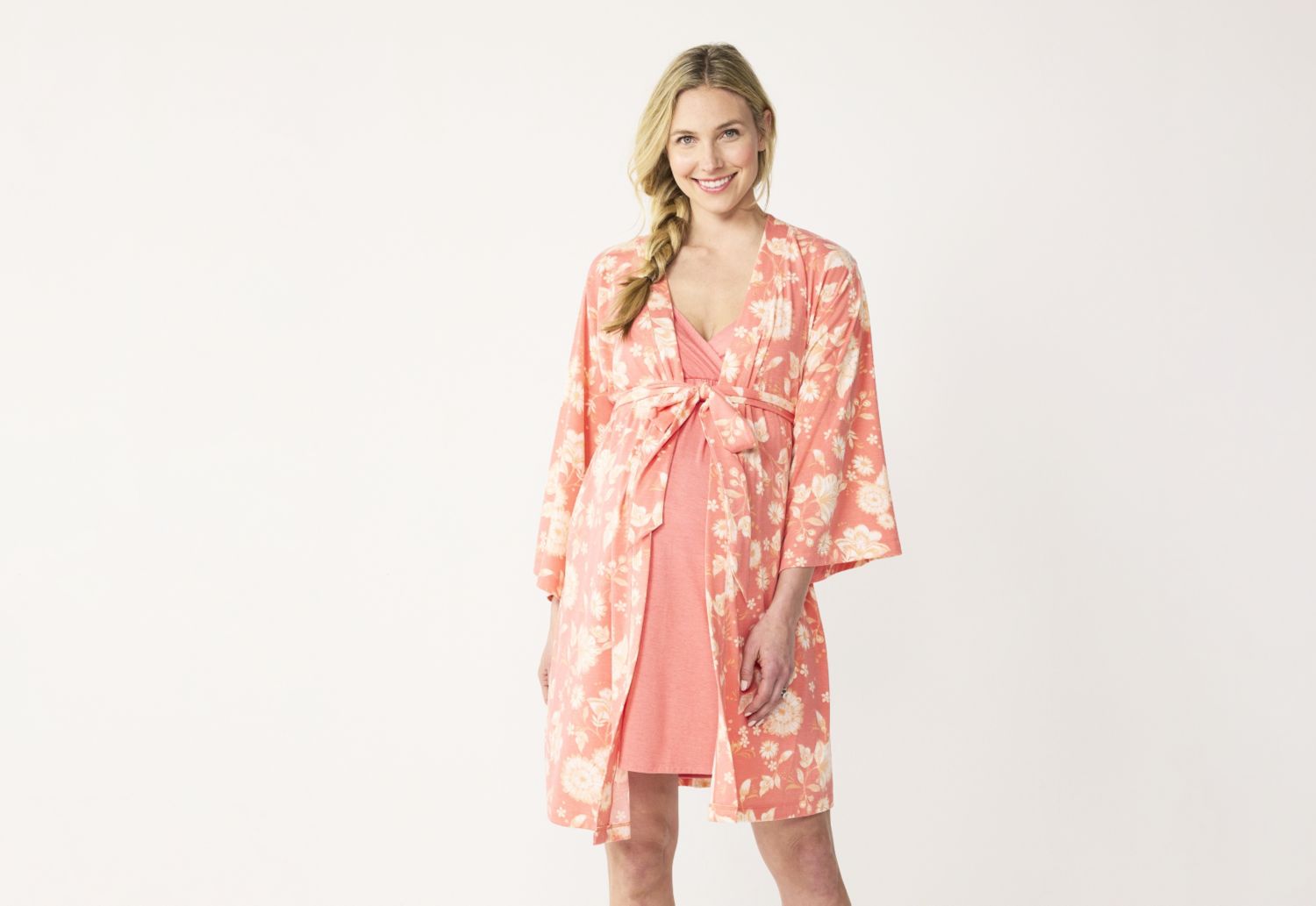 Nightgowns & Robes Sets
Comfortable, loose fitting
Sleepwear Sets
Sleepwear sets are a popular choice, typically coming in two pieces, providing warmth and comfort. Accessories and three-piece robes are also popular choices, adding an extra layer of coziness to elevate your nighttime routine.
Two Piece

Two-piece sets include top

and bottom

Three Piece

Three-piece sets include

top, bottom and robe

Three-Piece Options

Three-piece sets include short

and pant bottoms and short- or long- sleeve tops
Materials
The materials used can make all the difference in how it fits and feels on
your skin. Each material offers its own unique benefits and can be chosen based on personal preference and occasion.
Material Types
Sleepwear and lingerie materials come in a variety of fabrics, including satin, lace and cotton, so you can choose what feels best against your skin.
Satin

Soft, shinny, durable

Lace

Breathable, delicate, woven

Cotton

Breathable, durable,

comfortable