Some information is missing or invalid below.
Miracle Bamboo 3-in-1 Pillow - Made with Viscose from Bamboo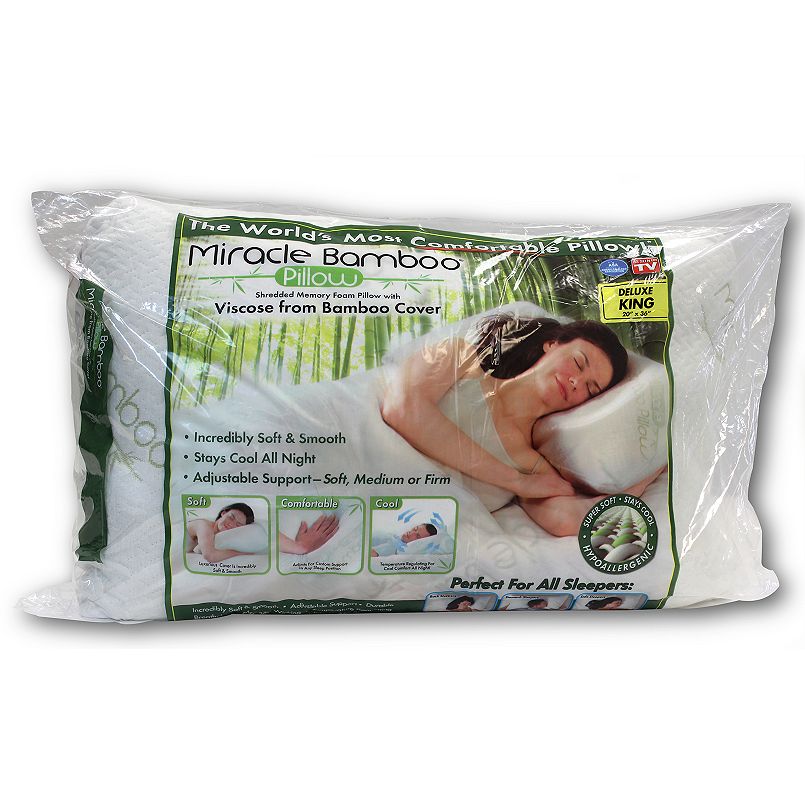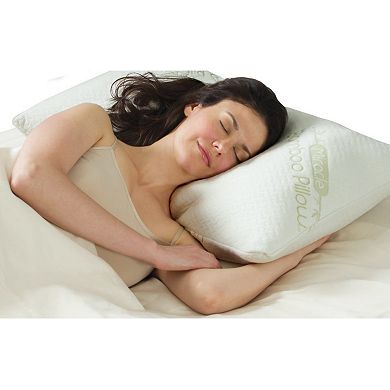 Enjoy every night's rest with this viscose from bamboo pillow from Miracle Bamboo.


PRODUCT FEATURES
Zipper closure
Filled with shredded foam
Outstanding comfort and support
Never goes flat and always comes back
Ideal for back, stomach and side sleepers
Moisture-wicking design keeps you cool at night
3-in-1 design: fold it in half for firm support, lay it flat for standard support or stand it on its side for fluffy support
Hypoallergenic
SIZING
Standard: 19.7"H x 29.5"W x 5"D
King: 20'' x 36''
CONSTRUCTION & CARE
Cover material: viscose from bamboo
Fill: polyurethane foam
Machine wash
Imported
View our full return policy
here.
Miracle Bamboo Pillow
Discover the comfort and support of the Miracle Bamboo Pillow, a luxurious and innovative pillow designed to provide a restful night's sleep. This pillow is crafted with premium materials, engineered to deliver exceptional comfort and wellness benefits.
The Miracle Bamboo Pillow features a unique blend of shredded memory foam and hypoallergenic, eco-friendly bamboo fabric. The shredded memory foam conforms to the shape of your head and neck, offering personalized support and aligning your spine for optimal comfort.
The bamboo fabric is known for its softness and breathability, wicking away moisture and promoting airflow to keep you cool and comfortable throughout the night.
One of the standout features of the Miracle Bamboo Pillow is its adjustable loft. You can add or remove the shredded memory foam to achieve the perfect height and firmness that suits your sleeping preferences.
The pillow's hypoallergenic properties make it an excellent choice for allergy sufferers, as it resists dust mites and other allergens.
Not only does the Miracle Bamboo Pillow offer exceptional comfort, but it also boasts anti-microbial properties, ensuring a clean and hygienic sleeping environment.
The cover of the pillow is machine washable, making it easy to maintain its freshness and cleanliness.
Experience the luxury and health benefits of the Miracle Bamboo Pillow, and wake up feeling refreshed and rejuvenated every morning. Upgrade your sleep experience with this supportive and cooling pillow, designed to provide you with the best night's sleep possible. Enjoy the comfort and wellness benefits of the Miracle Bamboo Pillow, and transform your sleep into a truly rejuvenating experience.
Next Product
Next Product