Bed & Bath Guide
There are basic items you'll find in every bedroom or bathroom, but there are many ways you can add individual style to help create the most peaceful space in your home.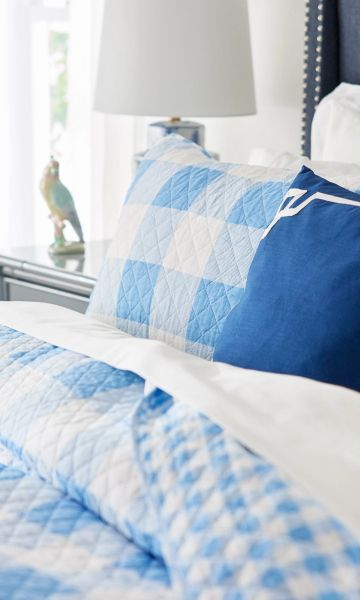 Create your
own oasis
Mattresses
Whether you are replacing an existing mattress, or maybe your lifestyle has changed and you need a different size, it's important to ask yourself a few important questions to help find the right mattress to best fit your needs.
Types of
mattresses
Picking the right mattress can feel overwhelming and difficult. Here are the different types of mattresses to help jumpstart your search.
| Material | Description |
| --- | --- |
| Innerspring | an open steel coil or spring topped design with layered upholstery for added comfort. |
| Wrapped coil | each individual spring is wrapped in a cloth, so that each coil independently adjusts to your body. |
| Memory foam | uses advanced materials designed to reduce pressure points and support your body to create proper alignment. |
| Hybrid | a combination of a traditional spring mattress with added layers of memory foam to provide a solid design with pressure relieving materials. |
What's your ideal level of firmness?
The firmness level describes how much resistance the mattress applies to your body and the amount of "give" on the mattress surface. Firmness levels can differ by manufacturer and brand.
Firm

Solid build with padding to reduce impact.

Medium

An equal amount of balance between padding and stability.

Plush

Soft top with significant give.
Extending the life of your mattress
A quality mattress is an important investment. Once you find the perfect mattress, here are a few simple ways to care for your mattress that will ensure it keeps that comfort and support you fell in love with.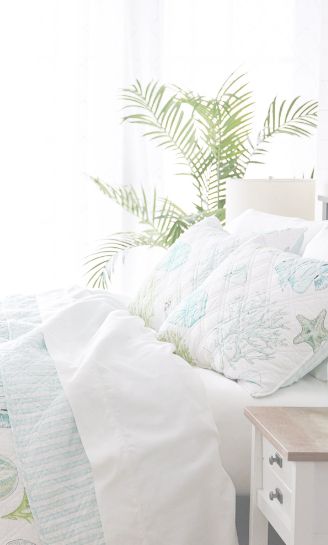 Add a bed frame with a solid center to help reduce sagging.

After unwrapping your mattress, allow it time to breathe.

Find a mattress topper that complements your mattress.

Rotate your mattress every three months for best results.

Use an upholstery brush on your mattress once a year.
Mattress toppers, pads & protectors
Even the best mattress can benefit from a bed topper to help protect the mattress or add an additional layer of support or cushioning. Here are all the different types of mattress toppers to pick from.
Mattress toppers

deliver an extra layer of customized support to extend the life of your mattress.

Mattress pads

provide a thin layer on top of a mattress for softness and support.

Mattress protectors

shield your mattress from dirt, moisture and allergens.
Mattress sizing
You likely already know the names of each mattress size, but you may not know the change in length or width as you move up to a larger size option. Here are the measurements for each mattress size.
Learn more
Pillows
Finding the perfect pillow can not only be a key factor in getting enough sleep, but can also help align your head, neck, shoulders and spine.
Know your sleep position
It is important to know your sleep position during the night. This will help you to find the right pillow with the correct balance of comfort and support that you need.
Side sleepers

can benefit from a firm pillow style to support the neck and maintain proper spine alignment.

Back sleepers

should consider a medium support pillow to help align the head, neck and shoulders.

Stomach sleepers

will benefit from a thinner style with soft support and should avoid thick bulky pillows.
Pillow fill type
The fill inside of a pillow gives it comfort and breathability. You'll want to weigh the pros and cons of each fill type when deciding which one is right for you.
| Material | Description |
| --- | --- |
| Down | is soft, yet resilient and provides flexible support where you need it. |
| Down alternative | a hypoallergenic, synthetic clustered fiber specifically designed to mimic the loft and comfort of down |
| Feather | a less expensive natural fill that generally provides more support than down. |
| Memory foam | a soft, sponge-like material that contours to your head and neck for customized comfort. |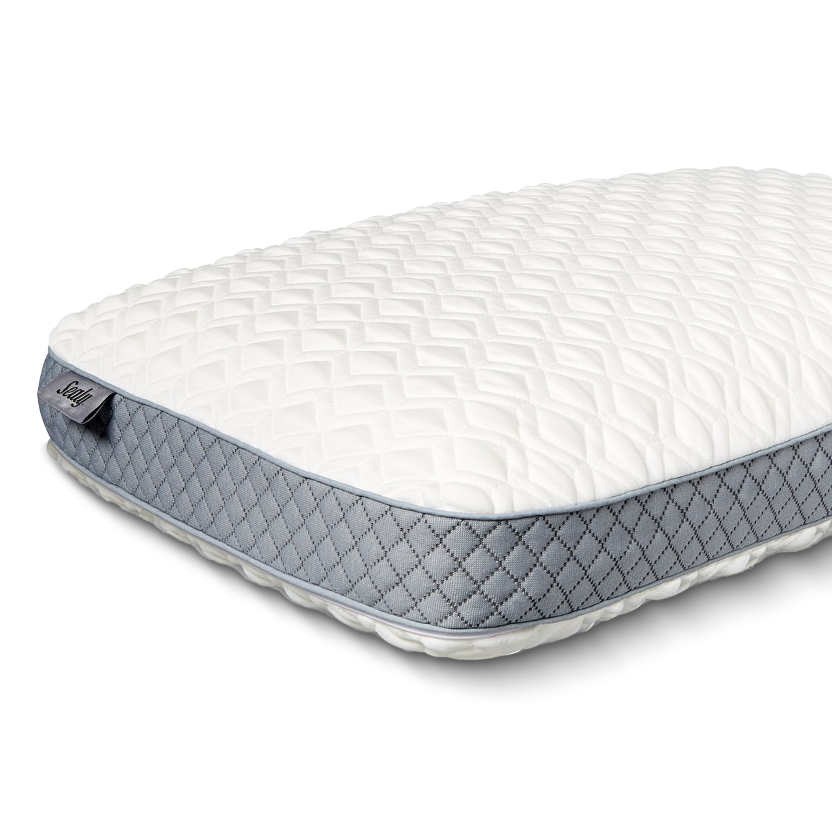 Bed sheets
Changing or replacing your bed sheets is a great way to improve the quality of sleep you get. When you find the right set of bed sheets, you'll likely want to buy a few to allow you to rotate your sheets out more easily.
Bed sheets are more than just thread count
Typically a higher thread count means softer sheets but doesn't necessarily always mean higher quality. You'll also want to consider the material type and the benefits of each to help determine the best bed sheets for you.
Material
Soft
Durable
Breathable
Wicking
Wrinkle-free
Cotton

Perfect for year-round use

Microfiber

Inexpensive, easy-care option

Polyester/Cotton

More resistant to wrinkles

Tencel

Great for sensitive skin

Rayon (viscose) from bamboo

Antimicrobial and resistant to mold and mildew
Bed sheet sizes
Bed sheets consist of two types of sheets: a flat sheet between you and the comforter and a fitted sheet that goes around your mattress. Here are the standard measurements for each of the different sizes for bed sheets.
Twin Sheets

Flat sheet: 66×96"
Fitted sheet: 39×75"
Pillowcase: 20×30"

Twin XL Sheets

Flat sheet: 70×102"
Fitted sheet: 39×80"
Pillowcase: 20×30"

Full Sheets

Flat sheet: 82×96"
Fitted sheet: 54×75"
Pillowcase: 20×30"

Queen Sheets

Flat sheet: 92×102"
Fitted sheet: 60×80"
Pillowcase: 20×30"

King Sheets

Flat sheet: 108×102"
Fitted sheet: 78×80"
Pillowcase: 20×40"

Cal. King Sheets

Flat sheet: 110×102"
Fitted sheet: 72×84"
Pillowcase: 20×40"
Find the perfect bed sheets
In addition to thread count and type, it's important to consider all the other features when considering which bed sheets to purchase. These features help determine how you will need to care for your sheets such as how you need to wash them and how frequently you'll need to wash them.
Deep pocket

Deeper pockets allow these sheets to easily stretch over thick or padded mattresses.

Cooling

These temperature-regulating sheets are designed to keep you cool and comfy all night long.

Easy care

Naturally wrinkle resistant, easy-care sheets are perfect for saving time and energy.

Percale

Tightly woven threads create smooth, breathable sheets that grow softer with every wash.

Flannel

Stay warm and cozy throughout the night with this soft, yet durable, option.

Supersoft

Made of microfiber or jersey materials, these sheets are exceptionally soft and cozy.

Sustainable

Produced using responsible methods or materials, these sheets will have you resting easy.
Bedding & Comforters
Changing the bedding on your existing bed can also be an easy way to refresh the room while helping to improve your sleep. This is the focal point of any bedroom and a simple comforter swap can really change the vibe of your entire bedroom.
Down and down alternative comforters
Known as Mother Nature's best insulator, down keeps you warm at night, yet allows your comforter to breathe. A down alternative is typically a lower cost option and includes such benefits as being hypoallergenic.
What is Down?

Sourced from the undercoat of waterfowl

Feels lightweight and fluffy

Known for breathability and durability

What is Down Alternative?

Usually made from synthetic polyester material

Simulates the soft, pillowy feeling of down

Hypoallergenic and easy to clean
Build a bed unique to you
Your bed is the most important part of your house, whether you realize it or not. You start and end every day here and the quality of sleep you get will set the tone for your entire day. Style your bed in a way that is unique to your needs. Here is everything you will need to help build your dream bed.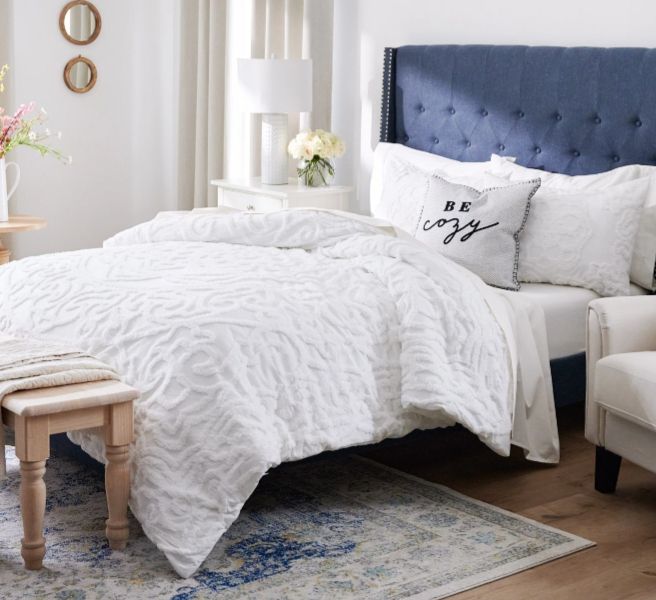 1
1. Mattress
The core piece to any bed and the foundation for a good night's sleep.
2
2. Bed Topper
Many options to choose from including comforter, quilts, duvet or bedspread.
3
3. Mattress protector
Always protect your mattress with a layer to shield your investment from spills or sweat.
4
4. Bedskirt
Helps to visually connect your bed with the ground as well as hides storage under the bed.
5
5. Pillows
Soft or firm: it's your choice. Pillows are extremely important but often overlooked.
6
6. Throw
Add a pop of flair to your bed with a decorative throw at the foot of your bed.
7
7. Sheets
Be sure to stock up with a few sets to allow yourself to rotate your sheets every so often.
Bed toppers
Your bedding topper will be the first thing you see when walking into your bedroom. It's important to find the right type of topper and know the differences before deciding on what's best for you.
Comforter

A cozy choice for adding a personal touch while creating a focal point for the room.

Down & down alternative

With a range of weights, it's easy to find the level of warmth that's right for you.

Duvet cover

Give your bed a quick update with a duvet cover that slips on and protects your comforter or duvet insert.

Quilt or coverlets

A light or thinner fill, this is a good way to add a little character with a more classical look.

Bedspread

Designed to flow over the entire bed, the draped design makes a bedskirt optional.
Throws & blankets
Adding a blanket or throw is a great way to keep warm when laying on top of your bed or adding some padding for your furry friends that may like to join you in bed. These can be added to a bed topper to complement it visually or work as a thinner alternative to a bulky comforter.
Types of blankets
Blankets can either be added to the foot of your bed, draped over a chair or tucked away in a closet for easy access when you need some added warmth. Here are the different types of blankets to choose from.
Blanket

A lighter to medium-weight bedding option sized to cover the entire bed. Blankets are perfect for providing either an extra layer or some may ditch the comforter and just use a blanket.

Throws

Smaller in size than a standard blanket, these can be used purely to decorate and provide added dimension to your bed or can provide warmth when lounging.

Weighted

Typically a heavier and thick therapeutic blanket that uses deep pressure stimulation and can help relieve stress and improve overall quality of sleep.

Heated

Uses an integrated electrical heating device to help deliver adjustable levels of warmth to keep you extra cozy.
Fabric options
Blankets are a great way to add texture to your bedroom or other areas of your home. Add a lighter blanket to a reading nook or drape a thicker blanket on the backside of a chair or couch to help snuggle in on cold nights. Here are some of the most popular fabric options to pick from and some of the benefits of each.
Bath towels & rugs
The bathroom is a great area of your house to incorporate seasonal or holiday options like Christmas or Halloween-themed rugs and towels to really impress your guests.
Towel types & sizes
There are four types or sizes of towels and a properly stocked linen closet should include multiples of each. While you can reuse your towels, it's important to regularly rotate new ones as damp towels are the perfect breeding ground for germs.
Bath rugs
Choose one or add multiple rugs to any bathroom in your house to protect your floors and add a little flair to the space. You'll find many different colors, patterns and textures to choose from.
Bath mat

Positioned directly in front of a shower or tub, these range in size and can easily be paired with a contour rug.

Bath runner

Sized slightly longer, a bath runner can run along double sinks and vanities or help to create a walking path in your bathroom.

Lid & contour rugs

For the top and around the base of your toilet.
Towel features
A towel seems like an easy purchase. It should be! However, it can feel overwhelming at first when looking at the seemingly endless towel options trying to narrow your search. Here are some of the most popular towel features to help jumpstart your search.
Hygro cotton

Tightly woven cotton that blooms after each wash to increase absorption and durability.

Quick dry

Fast drying and highly absorbent textured material. These towels are friendly for use with benzoyl peroxide or acne creams.

Sustainable

Highly absorbent, ultra soft and low linting.

Turkish cotton

Luxurious sheared cuff that is super soft, highly absorbent and durable.
Bath accessories
Adding a few accessories can really transform your bathroom without the need for an expensive renovation.
Build a bath
From the shower curtain to the rugs and bathroom runner, here is your complete shopping list of everything you'll need to transform your bathroom.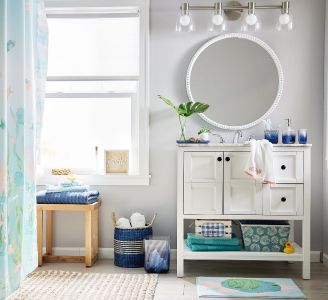 1
1. Shower hooks
Blend in or add a pop of flair to stand out.
2
2. Shower liner
Protect your floors and keep water on the inside of the tub.
3
3. Shower curtain
Consider this a piece of artwork you hang in your bathroom. Find one that expresses you.
4
4. Toothbrush holder
Seemingly simple in concept, there is a large array of designs and shapes to browse from.
5
5. Soap pump
Stock up on seasonal soap pumps to swap out during the different seasons.
6
6. Tumbler
To use when rinsing when brushing your teeth or to grab a quick drink in the middle of the night.
7
7. Waste basket
No bathroom is complete without a waste basket to throw away trash.
8
8. Storage
Add additional storage for easy access when getting ready for the day.
9
9. Towel
Hang them on a rack, put them away in a closet or under the sink. Be sure to have plenty of towels on hand.
Shower curtain liners
Meant to hang inside a tub, shower curtain liners keep your floors dry and shower curtain free from any mold or mildew. There are three types of liners based on the material they are made of.
PEVA

An eco-friendly material with antimicrobial properties.

Fabric

Provides a softer, warmer look and can be easily washed when needed.

Plastic

More basic option but can include features like weighted or magnetic bottom to reduce spray.
Shower curtain sizes
There are many different types of shower, tub and bath curtains. Typically an extra long curtain works best with a freestanding tub or high shower areas. Extra wide shower curtains typically work best for freestanding tubs or large shower areas to extend coverage to the wall.