Begin faceted search navigation.
My Kohl's Charge
kls_static_browse_leftnav_end_faceted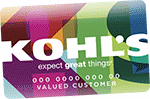 savings & benefits
Get exclusive savings throughout the year.
Enjoy a special anniversary gift every year.
Use your Kohl's Cash® and Yes2You Rewards® with your Kohl's Charge discounts.
Plus, take advantage of
hassle–free returns, mobile payment options like Kohl's Pay, online and mobile bill payment, and more!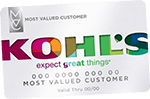 save even more
Spend $600 with your Kohl's Charge by the end of the year to become a Most Valued Customer (MVC)!
Get a bonus gift on your birthday.
Take advantage of exclusive free shipping
events every month.**
*OFFER IS VALID ON YOUR FIRST PURCHASE IN-STORE AND ONLINE WHEN YOU USE YOUR KOHL'S CHARGE. Offer must be presented at time of in-store purchase or Promo Code must be entered at Kohls.com to receive discount.
**Free Shipping promo code will be provided to MVCs signed up to receive email sale alerts. Promo Code must be entered at Kohls.com to receive discount. Surcharges may apply due to size, weight or special handling required. If your item has a surcharge, it will appear on the product page.
Most applications can be processed within 60 seconds. In some instances, an application may require some additional time to process, and the account may not be available for immediate use.
Limit one offer per customer. Dollar-off discounts, including Kohl's Cash® coupons, Yes2You Rewards® and Promotional Gifts, will be applied prior to percent-off total purchase discounts/coupons. Offer cannot be used in conjunction with any other percent-off discounts, including age-specific discounts. Offer not valid on the following merchandise: Gift Cards; Kohl's Cares® cause merchandise or other charitable items; prestige brands of cosmetics, skincare and select brands of fragrance; select electrics; premium electronics and warranty products; consumables; premium sunglasses; sporting goods; select online-exclusive merchandise; American Girl; Columbia; Converse; adidas; Timberland; Dyson; Elf on the Shelf toys, books and DVDs; Koolaburra by UGG; Levi's; Nike and Under Armour. For a complete list of these merchandise exclusions, go to Kohls.com/exclusions or look for signs in our stores. Offer also not valid on price adjustments on prior purchases; payment on a Kohl's Charge account; taxes, shipping and/or handling fees. Subject to credit approval. Reproductions or duplicates not accepted. Offer is nontransferable. See associate for details.
KOHL'S CHARGE
Are you a frequent Kohl's shopper? Do you find yourself heading to Kohl's stores or Kohls.com often for kids' clothing, bedding or kitchen gear? Apply for a Kohl's Charge and save more than ever before! Your Kohl's Charge entitles you to at least 12 special offers of 15-30% off every year. And, on your first day of using your Kohl's Charge you can save another 20% on your purchase.* Not only that, but you get another 15% discount when your card arrives in the mail!
Save more by combining your Kohl's Charge discounts with Kohl's Cash and Yes2You Rewards. If you spend $600 on your Kohl's Charge, you become a Most Valued Customer (MVC) and receive at least 18 discounts a year. Save on everything your family needs, from shoes and everyday basics to furniture, jewelry and home goods. Your Kohl's Charge can help you on your way to finding what you love for a great price.