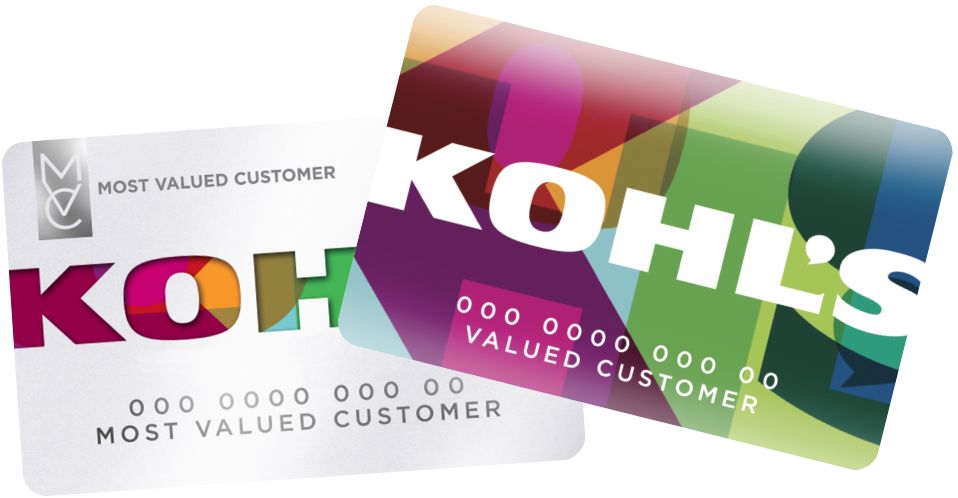 Already have a
Kohl's Card?
Enjoy exclusive discounts.
Keep an eye out for monthly
Kohl's Card holder exclusive savings opportunities and a special anniversary offer every year.
Stack & save even more.
Combine your Kohl's Card exclusive discounts with Kohl's Cash®, rewards and other ways to save for even more value.
Shop & get free shipping.
Become an MVC (Most Valued Customer) when you spend $600 a year with your Kohl's Card and enjoy monthly free shipping opportunities.
Frequently asked questions
*35% COUPON IS VALID FOR ONE TRANSACTION IN STORE OR ONLINE WHEN YOU USE YOUR NEW KOHL'S CARD WITHIN 14 DAYS OF CREDIT APPROVAL. Surrender coupon with ID for in-store purchase before your card arrives or enter code on Kohls.com with your temporary account number to receive discount.
Limit one coupon per customer. DOLLAR-OFF COUPONS, INCLUDING KOHL'S CASH® COUPONS, KOHL'S REWARDS® AND PROMOTIONAL GIFTS, WILL BE APPLIED PRIOR TO PERCENT-OFF TOTAL PURCHASE COUPONS. Cannot be used in conjunction with other percent-off coupons, including age-specific discounts. Price adjustments; payment on a Kohl's Card account; taxes, shipping and/or handling fees are excluded and do not apply toward the qualifying threshold. See associate for details. Purchases of the following are excluded (and do not count towards the qualifying threshold): Gift Cards; Kohl's Cares® cause merchandise or other charitable items; select online-exclusives; premium athletic; premium baby; beauty and fragrance (including Sephora at Kohl's purchases); consumables; premium denim; select electrics; premium electronics; emerging brands; premium footwear; premium gift; mattresses; select personal care; select novelty gifts; sporting goods; sports team merchandise; premium sunglasses; toys; Calvin Klein; Columbia; Crocs; DRAPER JAMES RSVP; Eddie Bauer; select KitchenAid; Koolaburra by UGG; Lands' End; Scentworx; S'well; Tommy Hilfiger; TOMS; and Vera Bradley.
LOOK FOR SIGNS IN STORE OR FIND A COMPLETE LIST OF EXCLUSIONS AT KOHLS.COM/EXCLUSIONS.