How to Decorate Your Child's Bedroom
Your child's bedroom is their own personal space—a place they can retreat to when they need time to themselves, where they can let their imagination run free, explore new worlds while reading a book, and get a good night's sleep. Decorating their space in a way that encourages them to use their creativity while offering a calming environment that promotes sleep is sure to let your little one grow and develop—all while allowing them to have a safe and secure place they can call their own!
Kohl's offers many different items that can help you create such a space for your child, from décor and furniture, to bedding and window coverings.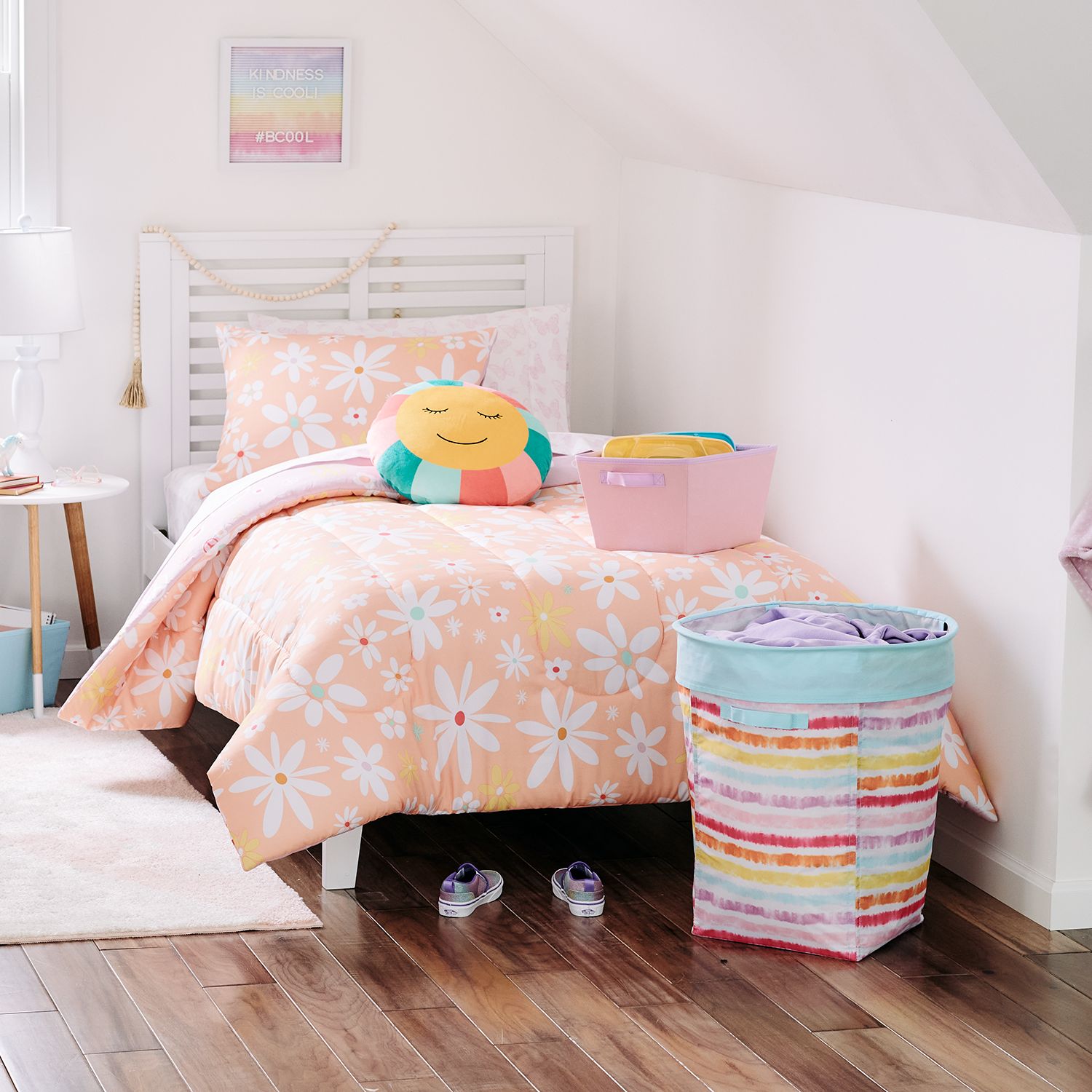 Decorating a Girl's Bedroom
When starting the process of designing and decorating a room for a little girl, you'll want to be sure to build a space that will grow with her. This all starts with the decorative style you choose to go with, in terms of what patterns or designs you add into the space. Choosing a timeless pattern to design the room around, like a floral or geometric design, means the room's style will stay on-trend for years to come. She'll love these timeless designs as well, and they'll tap into her creative side.
Don't forget to add in some elements that still allow her to have fun and connect with her likes and favorite things! If she's into Disney movies, add in some décor that features her favorite characters. If she's more into mythical creatures, try incorporating some unicorns into her bedroom décor. The options are endless!
Top Décor Themes for a Girl's Bedroom in 2022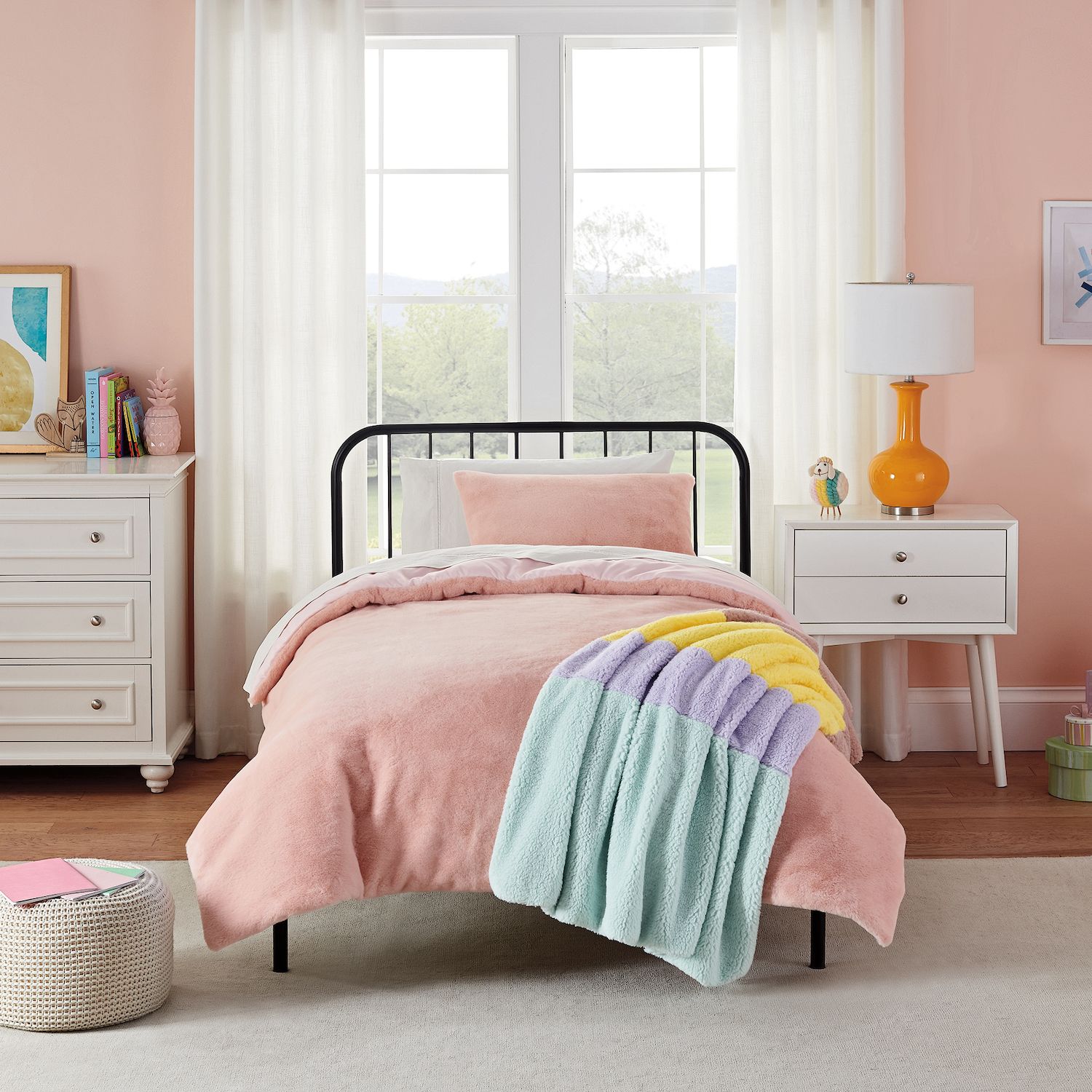 A top theme for girls' bedrooms is one that transports her to a far-away land of make believe. A fairy tale theme is perfect for any aspiring princess, and it's a theme that's timeless, easy to work with, and fun to design! Think about adding in girls' unicorn bedding, mermaid area rugs, rainbow accents and wall art, and so much more.
By adding in these magical decorative pieces, your little princess will be able to rule her kingdom in style!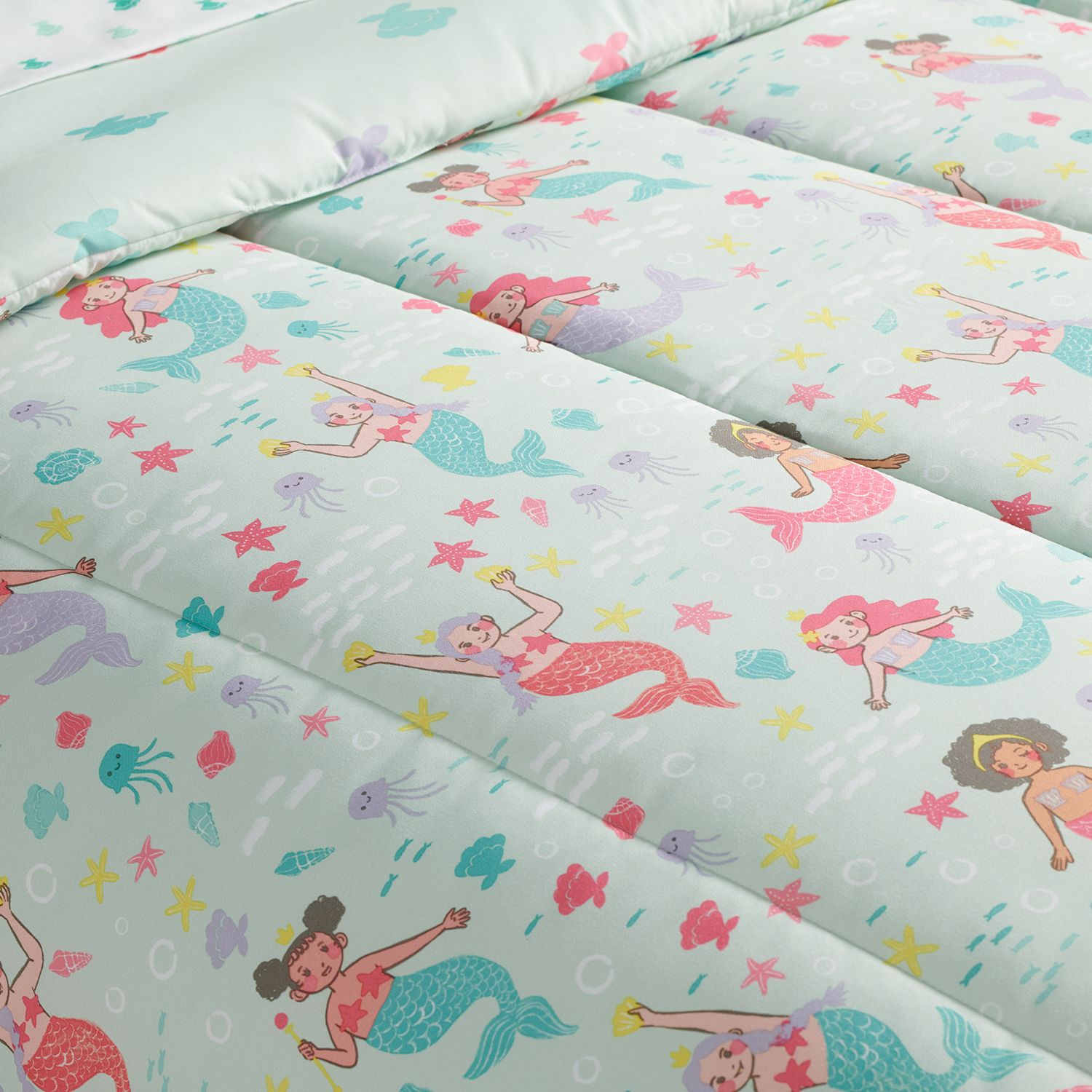 Make a splash in her room by creating the look of an underwater retreat. Using items that feature various shades of blue, like navy window treatments and curtains, light blue accent rugs and pillows, you can draw inspiration from the sea with ease.
Fun wall art and other essentials feature cute sea creatures and settings, like mermaids, sea horses, an octopus, a wide range of fish and sea shells.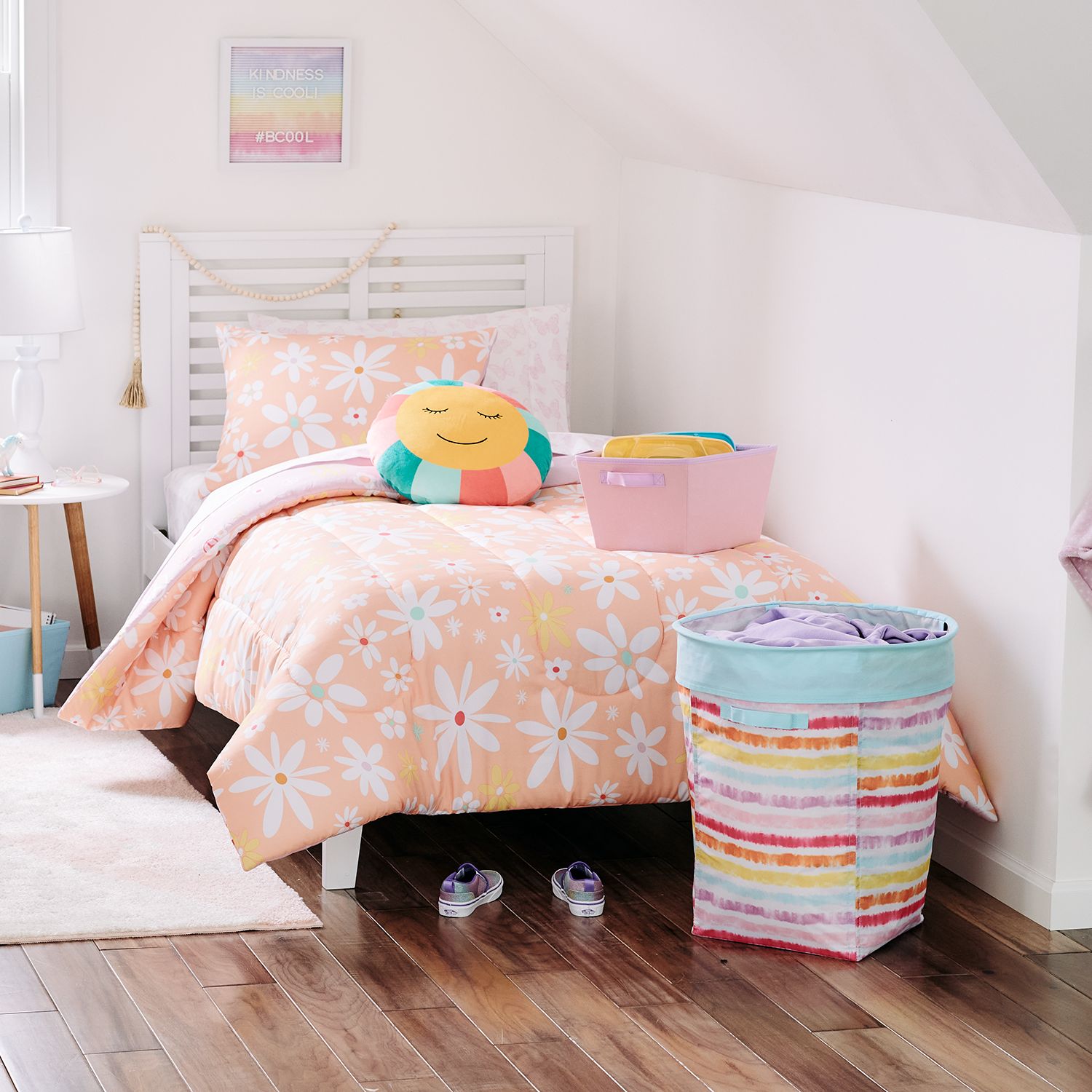 Help grow her personality and her individual style with a bedroom designed around a floral theme.
One of the main benefits to designing a girl's room around a flower theme is that floral décor adds lots of color and brightness to her room.
Greens, yellows, pinks, blues and more are all part of the theme, allowing for lots of customization possibilities. A floral design is also timeless and will never go out of style!
Decorating a Boy's Bedroom
When you're looking to create a bedroom for the young fella in your family, you'll again want to look into ways to create a space that will grow right along with him. Tap into classic patterns and design ideas that boys of all ages will love, like classic stripes, timeless plaids and stunning solids. You can look for inspiration for decorative themes in subjects like airplanes and other modes of transportation, animals, sports and more.
And character bedroom essentials can be found for boys, too! From décor that features video games like Fortnite, to lots of fun Star Wars bedding and decorative pieces, you're sure to find accents that feature links to his favorite TV shows, games, movies, books and more!
Top Décor Themes for a Boy's Bedroom in 2022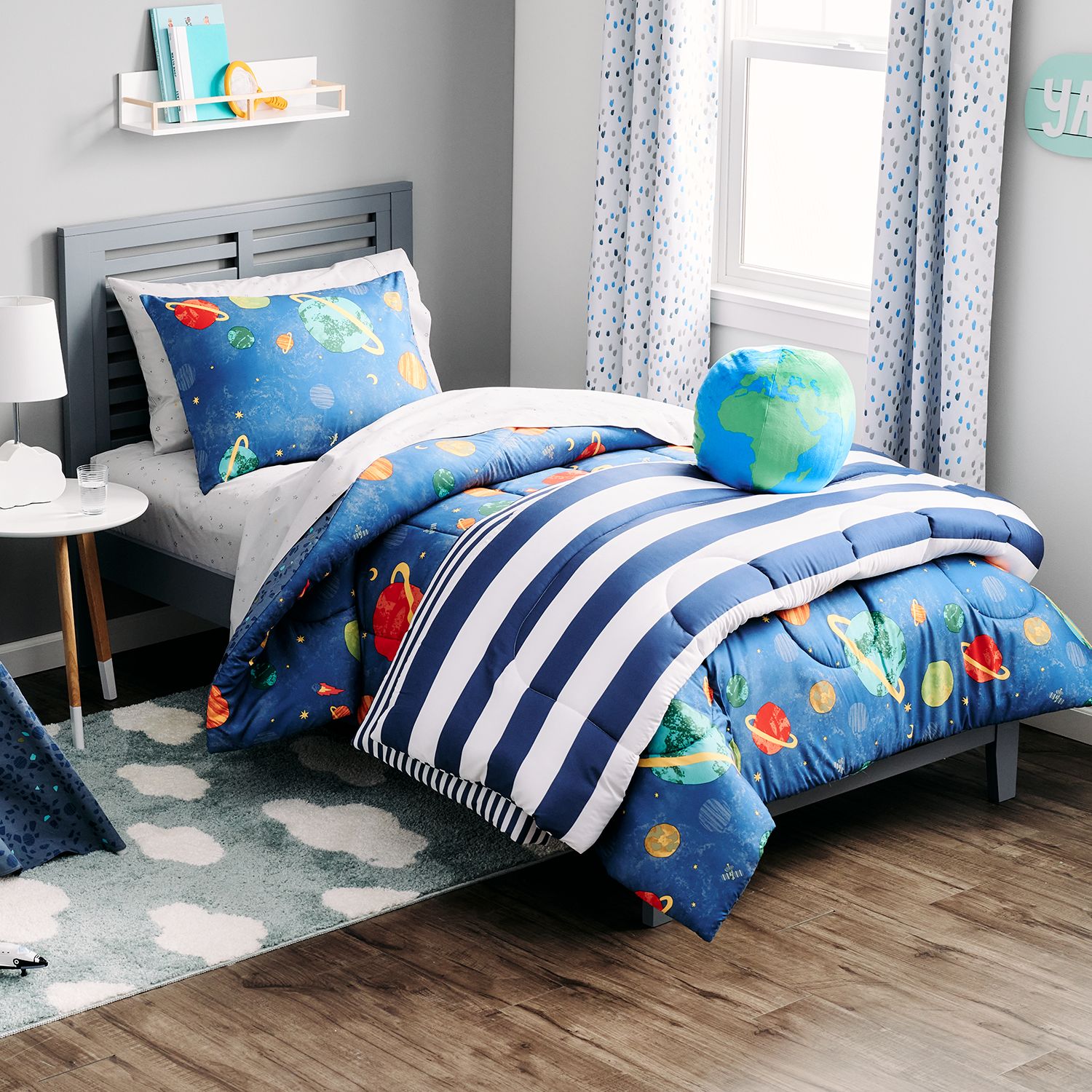 Go for some out-of-this-world style with a boy's bedroom themed with outer space décor and accents. From planetary quilts and bedding to rocket ship wall art, you can send your child's room décor to the moon in style!
You can even tie in some characters and franchises into this décor theme, including popular picks like Star Wars.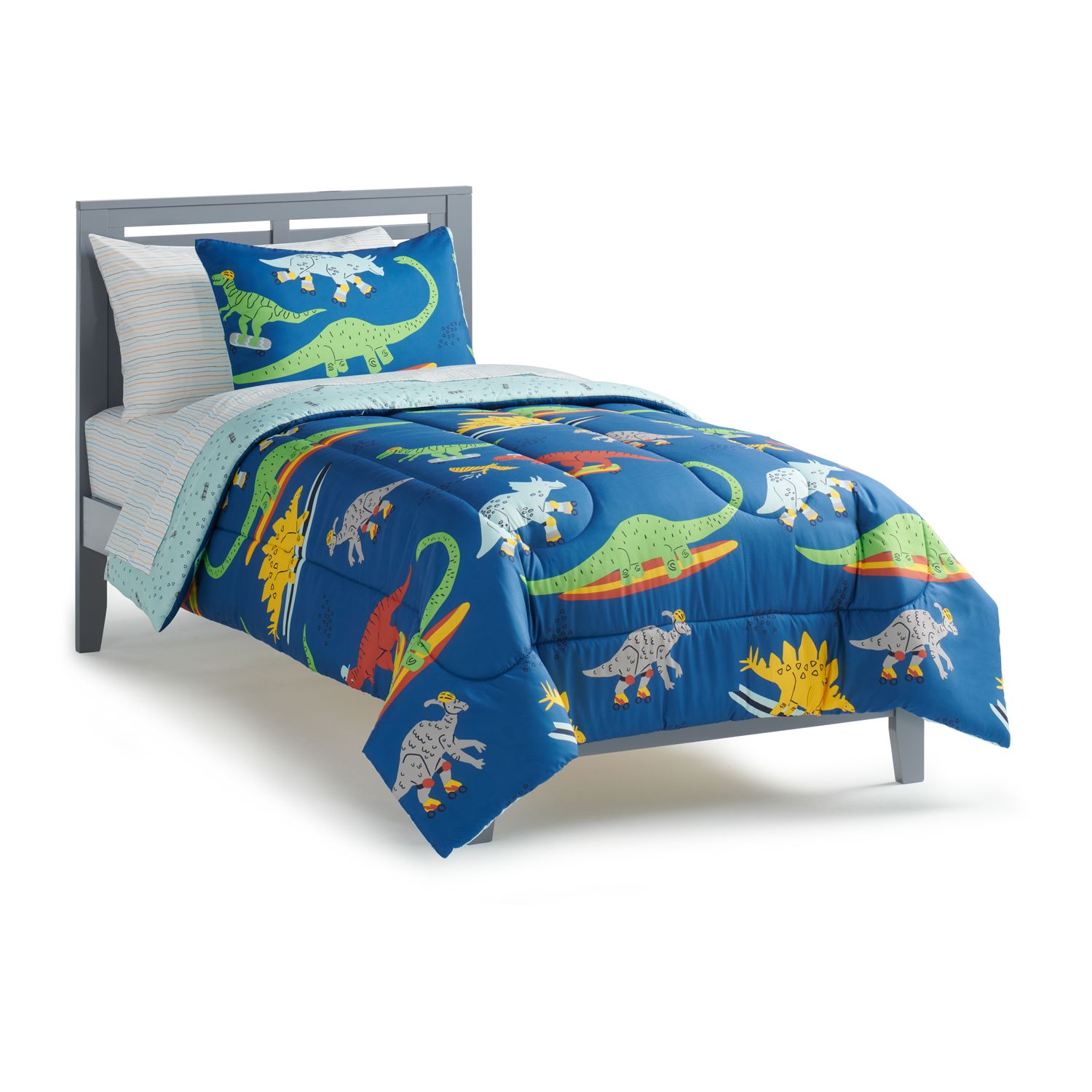 Take a walk on the wild side by creating a bedroom for your young adventurer that features animal and dinosaur graphics and décor. Fun dinosaur imagery can be found on all kinds of items, like bed sheets, area rugs, pillows, window curtains and lots more.
Other animals are visible on boys' bedroom items, too, especially ones found when going on safari! Look for quilts, blankets and room décor that features lions, tigers and bears—oh, my!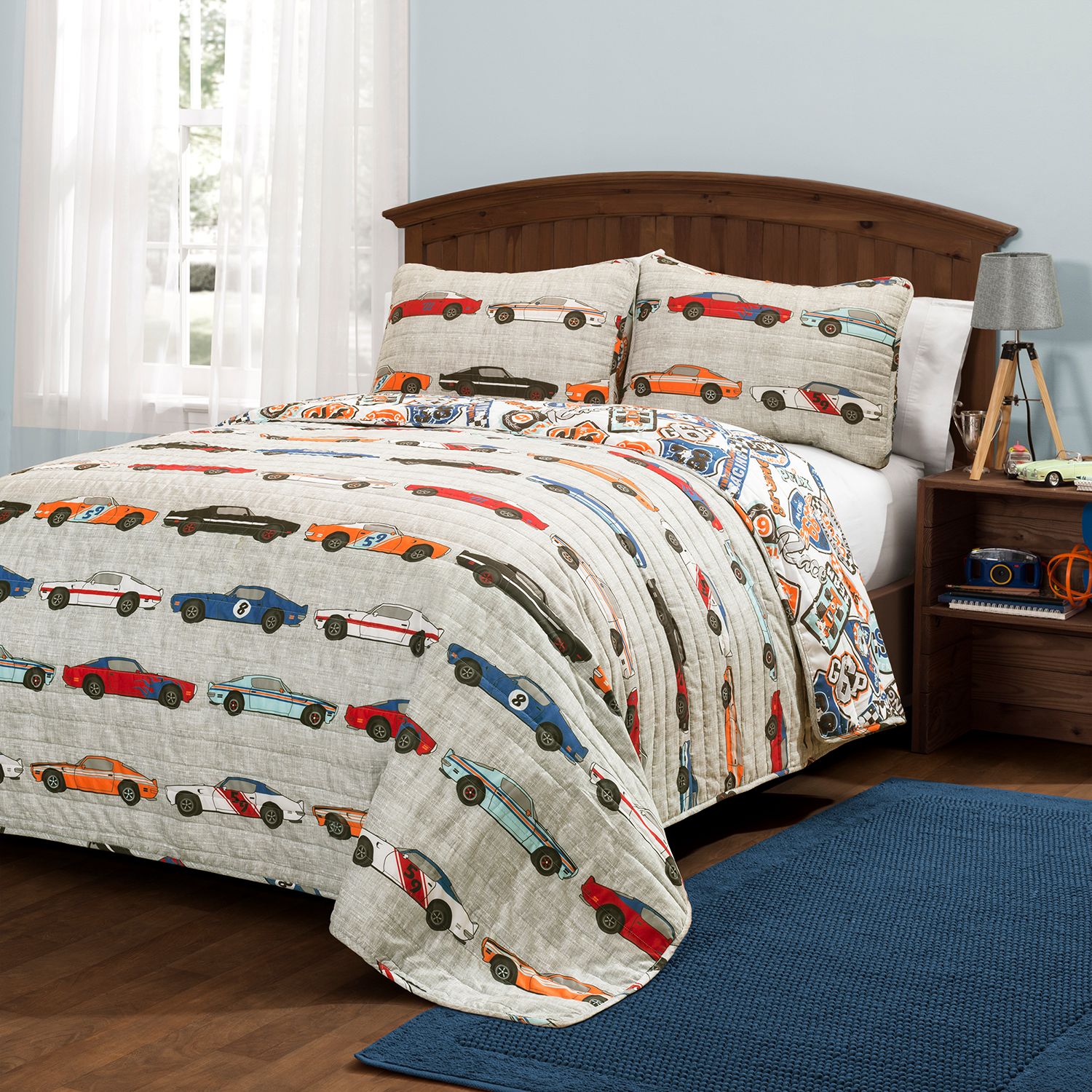 Kids who love to be on the go will love a bedroom featuring their favorite modes of transportation! A boy's bedroom with cars, trucks, trains, boats and more is sure to appeal to your little speedster.
There are even décor options in this theme that work not only as decoration but as playtime essentials. Think of play mats that feature roads, buildings and other city imagery on them. These roads can be used by your child, along with their toy cars, to create a living, moving playset that will keep them entertained for hours!
Other Ideas for Kids' Bedrooms
Aside from being the place your kiddos will get their much-needed rest, you're sure to be interested in making their bedroom into a place where they can have fun and be creative.
Nothing inspires and sparks creativity like reading a good book. To help your little one read in comfort, create a spot that encourages reading and gives them a hideaway where they can escape to far-off places they read about!
A reading nook in their bedroom will allow them to find a place that's unique and catered just to them. Offer a cozy seat option, like a bean bag chair, that offers extra personality and style. Provide a bookcase or bookshelf that easily stores their books and keeps them organized for later reading.
If your child is into the latest and greatest video games, give them a cool area in their room to play to their heart's content! Add a TV stand with storage to hold the gaming display and console, as well as accessories and game cases. Add in a rocking gamer chair that sits on the floor so they can compete in comfort!
To let your little one use their imagination in other ways, build a space for them to explore the world of art, design, style and more! Place a desk in a corner, along with storage for art supplies and other essentials. Perhaps even put a white board or chalk board nearby, so they can jot down ideas as they come!
Your kiddo will love to have a room that sparks the imagination and allows them to travel to far-away lands and long-ago times without requiring them to leave their bedroom. Building a fantasy-themed bedroom is easy to do, and is sure to be welcomed by your little one. One simple addition that can really add charm and whimsy to a fantasy-themed space is fairy lights. These inexpensive, yet highly effective light options evoke a magical feel that makes your child feel as if they are in a mysterious and wonderful forest straight out of a fairy tale. Adding in other essentials, like a play tent, throw pillows that fit the theme (like unicorns and princesses), fairy tale wall art, and more will really drive the setting home!
Storage, Storage, & More Storage
Your child is sure to have a nearly endless supply of toys, books, games and other items that they'll want close at hand. Bookshelves, dressers, bins, toy chests and more add storage. More creative and stylish storage includes built-ins that seamlessly mesh with the rest of the room. Try using hooks to hang items on—not just clothes. You can hang arts and crafts supplies, toys, costumes and more. This will free up space in other storage options in the room. Other clever storage options include storage benches, floating shelves, crates, carts and more.
Shop Kohl's for all the items you need to design a bedroom for the girl or boy in your family. With furniture, décor, bedding and more, Kohl's is the place to find all the essentials to upgrade the look of your home, and provide your children with an inspiring and relaxing spot to call their own!