How to Decorate Coastal Style
Dreaming of an easy-going beach vibe in your home? From the sound of the waves crashing to the fun feeling of sand between your toes, the beach can feel like a magical place. But you don't have to wait for a vacation to experience a peaceful getaway. It's easy to create your very own oasis in the comfort of your own home with coastal-style decor from Kohl's!
Coastal home decor is a popular trend because it gives your interior spaces a breezy, beach-like feel. If you're not sure where to start, be sure to read on to learn about the elements of coastal style and receive tips on how to completely transform your space!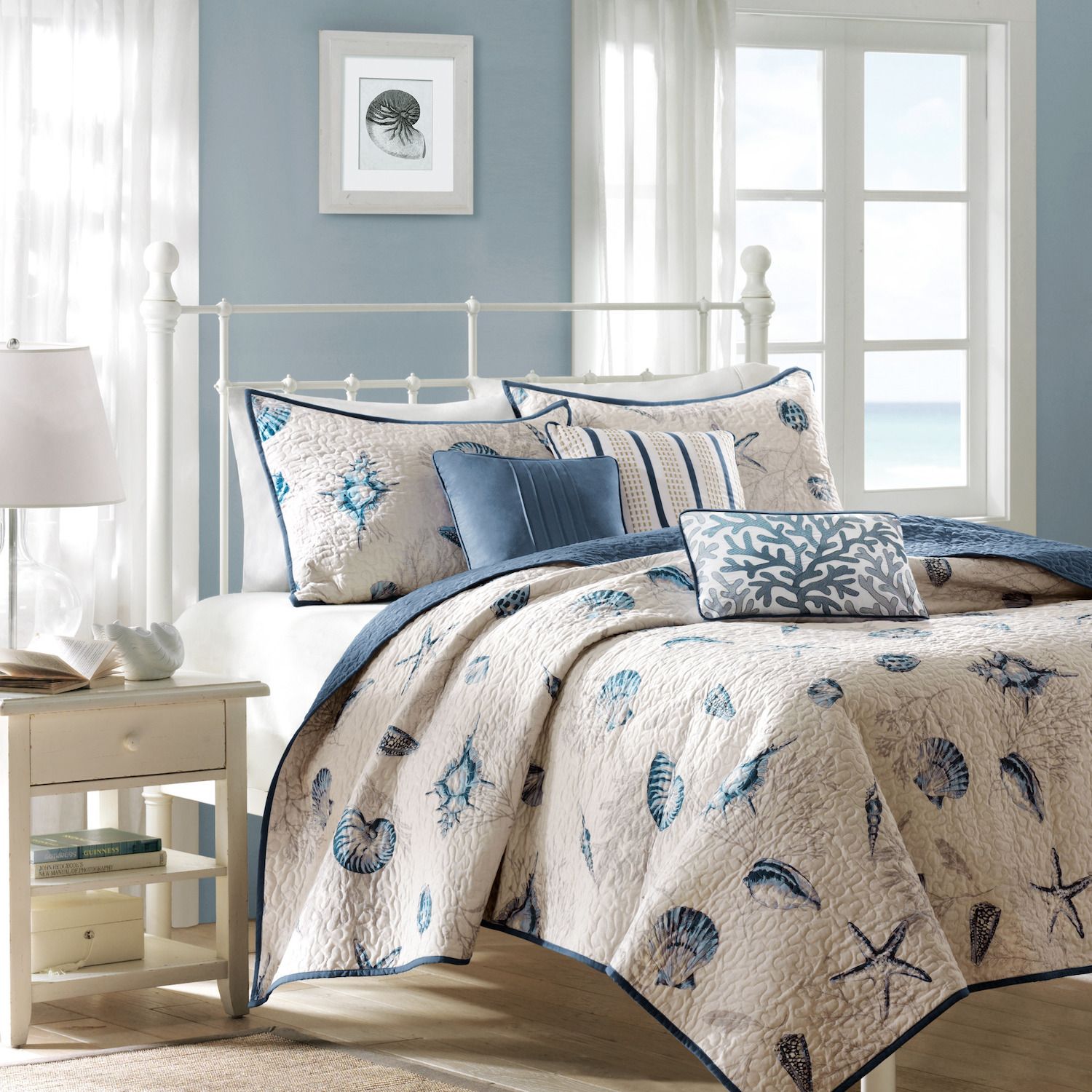 What is Coastal Decor?
Whether you live by the sea or miles from the nearest body of water, it's easy to infuse coastal-style decor into your home. Coastal decor is all about capturing the serenity of the shore and the simplicity of the laid-back beach lifestyle. Originating on the Atlantic coast, coastal decor is characterized by its relaxed and carefree aesthetic. This style is inspired by beautiful coastal shorelines and will evoke an airy, lighthearted vibe. So, kick back and relax because we have everything you need to experience the casual, comfortable style of coastal living.
What are the Styles of Coastal Interior Design?
When it comes to the color palette, the coastal design style tends to be bright, airy, and inspired by the ocean. You'll generally find a mixture of white, blues, and greens. Sometimes, pinks, reds, and yellows that have been inspired by beach glass are intermixed. The coastal theme can work well in any room of the home. So, whether you're looking to decorate a beach-themed bedroom or switching to beach bathroom decor, you'll be able to create a relaxed and inviting atmosphere.
Mediterranean Coastal Design Style
For a Mediterranean coastal design, consider the type of places surrounding the Mediterranean Sea. This includes Italy, Spain, and Greece – all locations with beautiful sandy beaches and vibrant skies. To decorate, try using stone and wooden materials that bring the tranquility of nature indoors. Woven wicker or rattan chairs can deliver a Mediterranean vibe. This furniture can be further enhanced with throw pillows in a deep coastal blue or tan color. You can infuse neutral colors into the space to make it feel more spacious and warm.
Tropical/Beach Coast Design Style
This design style will likely remind you of palm trees and other greenery. The inspiration for this style comes from tropical locations such as Hawaii, Bali, and the Caribbean. Explore decorative accents and furniture in light tones, such as pure white or ivory. However, you can also incorporate other colors including coral pinks, ocean blues, and earthy browns. You'll bring the tropics indoors with couch pillows and throws with a leafy pattern. Or, add seagrass rugs and jute rugs for a touch of natural elements.
American Coastal Design Style
Whether you want to decorate in the American contemporary coastal style or American cottage coastal design style, both are great options. The American contemporary coastal design style mimics a beach aesthetic. If your home has an open layout with plenty of windows and doors for letting in fresh air, consider this decorating style. You can incorporate shells, various textures, and pastel colors to bring everything together.
American cottage coastal style, on the other hand, gives you a quaint and cozy feel. You'll still enjoy a laid back space, but in a refined manner. You can include a variety of furnishings and display various collections that give the room some character. It's all about creating a hospitable aesthetic with more modern elements. Consider adding things like a coffee table, vases, photographs, and whatever else intrigues you.
Minimalist/Modern Coastal Design Style
A minimalist design favors a crisp, white interior. But that doesn't mean you can't accent with a pop of color. Small hints of light blues, grays, and beige colors are sure to create a room that's comfortable and inviting. It's also a great idea to make the space feel more airy with the help of sheer drapes. Sheer drapes are an essential finishing touch that can make a room feel fully decorated and inviting.
Where to Decorate with Coastal Accents
Coastal window treatments, decorative accents, and furniture will help your home embrace beachy style, no matter where you live. Here are a few places to try decorating your home with coastal accents:
Coastal home decor isn't the only theme available at Kohl's. Whether you want to create a rustic retreat, an outdoor oasis, or a modern farmhouse style, you'll find all the home decor needed to create a space you'll love. Shop Kohl's today!