Christmas Home Décor
Deck the halls in style this holiday season, incorporating various themes and decorations into your total festive atmosphere in your home! Since the holiday season is filled with get-togethers, family meals, and parties aplenty, you'll want to be sure your abode looks the part! While you're sure to have the traditional holiday décor pieces, like Christmas trees, wreaths, candles, and lights, you might be interested in other ways to ensure there's no place like home for the holidays!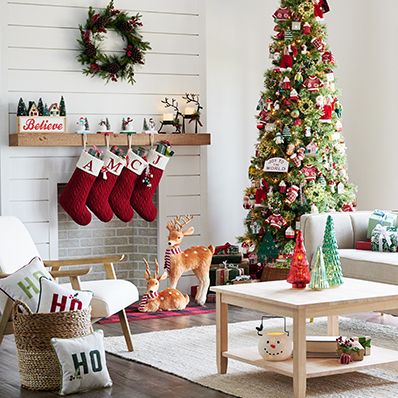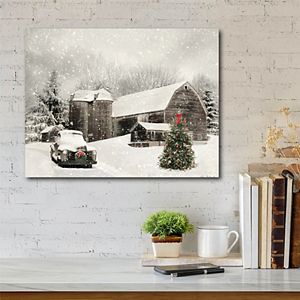 One of the popular home décor themes recently has been the farmhouse chic décor style. This theme offers country style with an air of sophistication. It's all about a light, airy vibe with weathered textures and warm, natural hues.
Farmhouse style is a unique blend of simplicity and comfort that can make any place feel like home. It mixes design and function to give you a fresh take on that homegrown, farmhouse feel.
Farmhouse décor tends to have a neutral, earthy palette that gives it its unpretentious style. Typically, a blend of beige, gray, and white make up the base of the palette. Muted earth tones are peppered in to bring in some warmth. When looking for the right farmhouse home décor, look for pieces with natural elements like wood. An easy way to incorporate some rustic pieces is with farmhouse lighting. In addition, using textured fabric, like linen, will give a more organic aesthetic to the room. Woven baskets or drawers will give you an instant farmhouse aesthetic. Choose farmhouse tables that have a distressed finish for that worn-in, vintage feel.
Now, when considering farmhouse Christmas décor, you'll want to be sure to opt for plenty of natural-looking evergreen boughs, timeless plaid patterned fabrics, bright red ribbons, gold accents, and glimmering white string lights. Other items to consider include pine cones, retro-inspired wall art, reindeer imagery on things like throw pillows and blankets, and area rugs and mats with poinsettias and other festive floral graphics.
How to Decorate a Farmhouse Themed Christmas Tree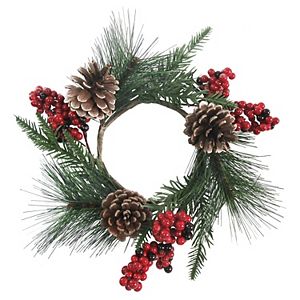 The main centerpiece of any home's Christmas décor is the tree. It's where the wrapped presents are stored, it's the area where everyone congregates to share memories of Christmases past, and where treasured ornaments are displayed throughout the season. Therefore, if you decide to go with a farmhouse décor style in your home this year, be sure to incorporate your tree into the setting!
To do so, consider decking your tree out with red ball Christmas ornaments, which perfectly complement the green Christmas tree. To really take things back to the traditional times, add electric candles to your tree instead of string lights, since candles were the way trees were illuminated years ago!
Another place to add in some farmhouse charm to your tree is the top. You can always choose a traditional star or angel topper, but try some other unique options for a more rustic chic look! Consider a straw or rattan star for some down-to-earth appeal. For a non-traditional option, why not even consider putting a small gingerbread house at the top of the tree? As for other options, any kind of topper that is made of wood or metal fits the bill here, too.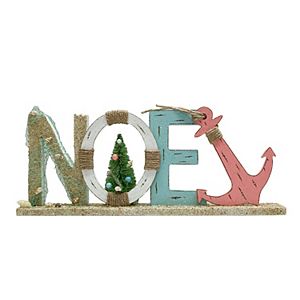 Christmas décor doesn't always have to be snowmen and icicles! Why not warm it up and bring a seaside vibe to your holiday season with some coastal Christmas decorations! And just because you decided to go with a warm-weather feel for your holidays, it doesn't mean you can't incorporate icons of Christmas décor!
Coastal Christmas decorations include traditional items like wreaths and stockings, only they offer oceanside appeal with images of seashells, starfish, palm trees, and mermaids. As for color options, consider décor with sandy tans and clear-as-the-ocean blues to really bring home the beach feel. Adding in bright white LED lights can tie the whole holiday appeal together with the coastal theme. And why not opt for a white Christmas tree to complement your décor as well?
How to Decorate Your Home with Coastal Christmas Décor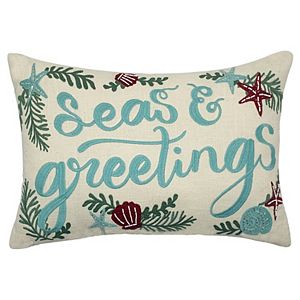 As mentioned above, start your seaside Christmas theme with a white Christmas tree. Decorate your beach-themed Christmas tree with ornaments such as seashells, starfish, and more for a nautical touch. To add more pops of color and some traditional appeal, use classic round ornaments. Long pieces of fishing net, sisal rope, or burlap ribbons draped around the tree can really enhance the coastal vibe.
A decorative ship's wheel or a ring-shaped life preserver is easy to decorate and display as a beachy wreath; just add some colored ribbons or rope and attach beach Christmas decorations to make the wreath match the rest of your décor.
A wooden oar hung horizontally on a wall provides an area for stockings or a coastal garland with beach Christmas ornaments. Create tabletop displays and fill other empty spaces with motifs of small beach decorations and strands of white Christmas lights.
Gathering for the holidays is all about comfort and warmth. Make sure your home gives off a comfy vibe by adding in cozy Christmas decorations in each and every room! This home décor trend easily fits into the holiday season, as the theme embraces warm hues, soft fabrics, and seasonal icons and imagery.
Popular picks in the cozy Christmas décor theme include snuggly fleece blankets, soft throw pillows, and warm bedding that ensures sugarplums dance through everyone's heads during a long winter's nap! Patterns that are common in this theme include plaids and checkered designs, as well as snowflakes, pine trees, reindeer, and others.
How to Decorate Your Home in a Cozy Christmas Theme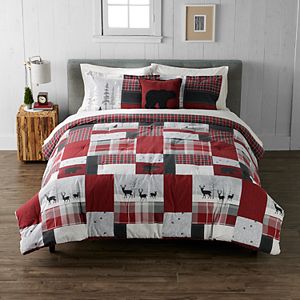 To really tie in the cozy feel, use garland to add seasonal appeal to your fireplace mantel. Since the fireplace is a certain gathering spot to keep warm and cozy during the winter, you'll want to enhance the seasonal appeal of that space. Aside from the fireplace, bedrooms are a top spot for capitalizing on the cozy! Quilts, sheets, and blankets with festive graphics or seasonal patterns keep you warm and enhance the warmth and inviting atmosphere.
Coziness can also appeal to Christmases gone by, so choose nostalgic decorations, like retro Christmas lights with a warm glow, classic outdoor decorations like a nativity scene or a light-up plastic Santa Claus, and a mix of flickering candles to provide even more relaxation. Setting the stage with warm and inviting décor means your family will love to gather and share memories together that will last a lifetime!
Helpful Christmas Decorating Tips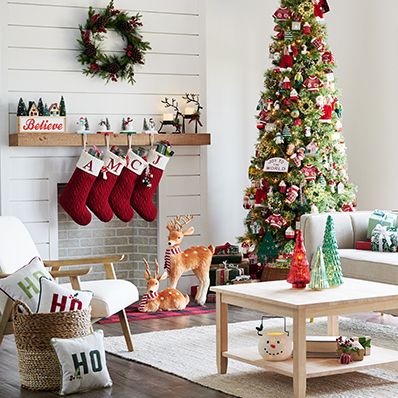 Choosing a theme and decorating for the holidays around that theme can be fun. But there are also some general tips to help you create a festive atmosphere in your home no matter what holiday trend to choose.
Making memories during the holidays revolves around the senses, and how you and your family use them to experience the season. Each sense can be targeted with different Christmas décor, too, giving you and your guests a wide range of experiences as they spend time in your home together.
To start, consider all the sights that guests will enjoy in your home. This is probably the most comprehensive area you'll be working in, as Christmas visuals are a key part of any holiday décor plan. The traditional parts of this area include a trimmed Christmas tree, lush green wreath on the front door, and garland draped across the fireplace mantel. For even more visual appeal, decorate other, potentially forgotten areas of your home. This includes adding white Christmas lights and seasonal throw pillows to rec rooms or home offices. Use holiday hand towels in the kitchen and bathroom. And place glass bowls of ornaments and treasured holiday family photos through the rooms in your home.
Next, tackle the scents around your home that evoke the feel and traditions of the holiday season. Candles are a must in this category, as you can find plenty of scented options that offer holiday aromas like cinnamon, pine tree, gingerbread, sugar cookies, and more. Instead of candles, you can also choose to use diffusers or oil warmers to fill your home with the scents of the season!
Soft, cozy items, as discussed earlier, have a place as part of your Christmas decor, too – no matter if you choose the "cozy" theme or not! You and your family will love to snuggle up in front of the fireplace or on the couch watching a classic Christmas movie, wrapped in the warmth provided by a fleece blanket.
The other senses aren't affected by décor as much, but are still essential to think about as you prepare for the holidays. Taste is a sense that's heavily focused upon around Christmas, as many delicious foods and drinks will be made and shared. Décor can come into play here, as you can find holiday-themed serveware and dishes to display your tasty treats on. Sound is the last sense to consider when getting ready for Christmas, as you'll likely have timeless holiday tunes playing on your sounds system all season long.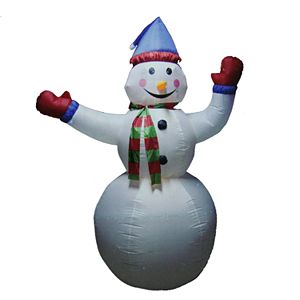 Don't forget to decorate your exterior areas for the holidays as well! Adding in an outdoor light display, or placing some inflatable decorations in your yard, can really enhance the look of your home as the Christmas season rolls around by using outdoor Christmas decorations!
Inflatables can transform any outdoor space into a winter wonderland. You can choose one outdoor centerpiece to make a statement, or you can opt for a dazzling display of many Christmas inflatables to really spread holiday cheer.
Once you've decided which inflatables you want to add and where to place them, installation is quick and simple. Just plug them and watch the item fill with air. Tether the inflatable(s) to the ground with stakes to keep them securely in place. When the season is done, easily deflate your decorations, then fold and store for next year, making sure that the decorations are clean and dry.
If inflatables aren't your thing, an exterior Christmas light display might work for you! Choosing Christmas lights for your home really comes down to one major decision – incandescent or light-emitting diode (LED) lights? Incandescent lights often cost less than LEDs and have a warm glow. LED lights use less energy than incandescent bulbs, are longer lasting, burn at a lower temperature, and come in both warm- and cool-glow varieties.
No matter which bulb style you pick, there are even more varieties of light strand styles to consider. There are mini string lights, large bulb lights, net lights, icicle lights, and more. Color options are vast, too. You can choose white Christmas lights for a classic look, or opt for multicolored options that add a fun, festive feel.
After choosing your lights, it's time to install them. Make sure you do so carefully and safely. If you need a ladder, be sure to have someone hold it while you scale it. Follow the manufacturer's specifications for how many light strands you can safely connect, ensuring they don't pull too much energy from the outlet. Make sure to check if your lights are rated for indoor use only – using indoor lights outside are likely to become a hazard when faced with the elements. The same goes for any extension cords you might be using; be sure they are designed for outdoor use.
The options for decorating for the holiday season are endless! You can decorate each and every room in your home, as well as outdoor spaces, to create the perfect atmosphere for hosting parties and making memories with friends and family. Continue holiday traditions by placing treasured Christmas ornaments on the tree, hang stockings by the chimney with care, snuggle up in cozy Christmas-themed fleece blankets, and sip hot chocolate in festive mugs. The Christmas season is the perfect time to decorate your home to the nines, getting all your friends and family into the holiday spirit!