What to Wear When Playing Golf
Hitting the links is a fun and active pastime that many people enjoy their entire lives. While the game of golf is hard to master, the ability to look great while playing a round doesn't have to be! But golf apparel does more than just offer an on-course look and style. It's what keeps you feeling great as you drive, chip and putt your way around 18 holes in the weather that Mother Nature decides to challenge you with that day.
No matter what weather you'll encounter or what your personal style is, be sure to shop Kohl's for all the men's and women's golf apparel you need to take your game and look to a whole new level. With many of the biggest brands in the sports available as part of our collection, we're sure to have just the outfit you need to score a stylish hole-in-one during your next tee time!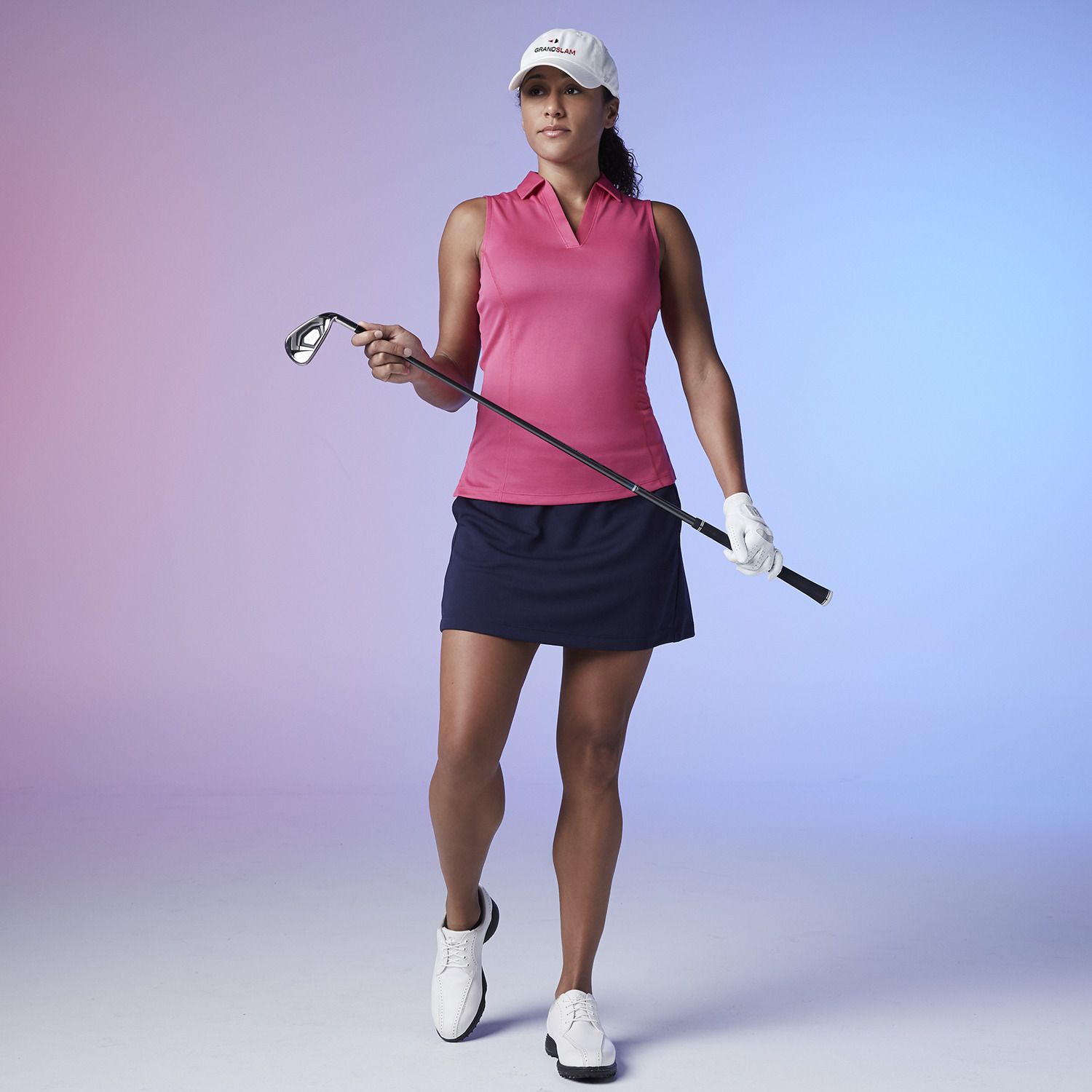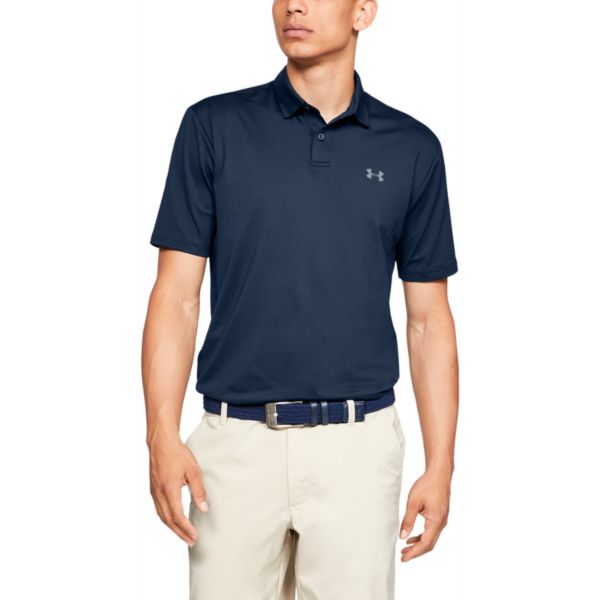 With golf being a game steeped in tradition and etiquette, some courses — especially private clubs — have specific dress codes that must be followed. In general, this means that men must wear collared shirts and golf pants (or shorts, depending on the season and the course's guidelines).
A dress code for women usually requires wearing of a collared, mockneck or athletic top. Women might also consider an active golf dress. For bottoms, ladies typically wear a skirt, skort or shorts, and capris/golf pants are also quality options. While many public courses allow jeans, there are plenty that forbid them. No matter what course you'll be playing at next, be sure to look on their website or call them to verify if there are dress codes.
One other thing that you'll want to look into in advance of your tee time is the weather. Following any of the dress code rules, be sure to check the forecast before heading to the course and dress accordingly. In colder weather, add quarter-zip pullovers with fleece lining. If rain is possible, be sure to take a waterproof jacket that will ensure you stay dry.
The same is true if the weather is going to be sunny and warm. In these conditions, wear lightweight options that wick moisture away from your skin. This will keep you cool and comfortable from tee to green. You might also want to bring a pair of sunglasses to protect your eyes, as well as plenty of sunscreen to block harmful rays from damaging your skin.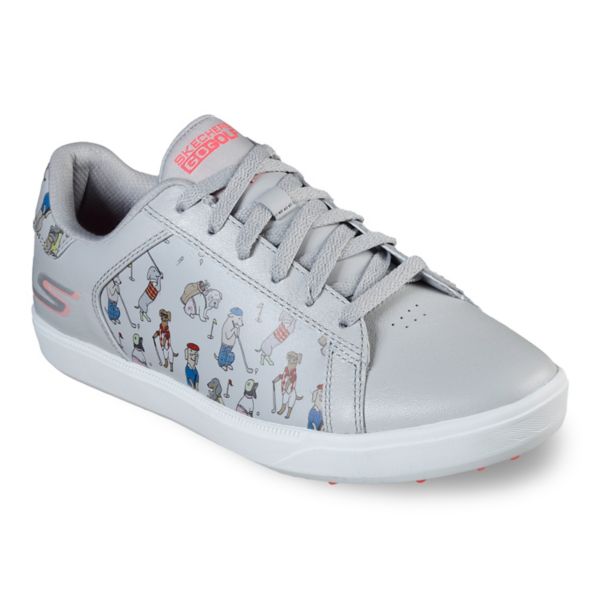 Tops and bottoms are vital parts of any golfer's outfit. But they aren't the only wearable categories to consider when hitting the links!
To get the most out of your game, you'll want to wear a pair of golf shoes. Golf shoes are almost as essential to your game as your clubs or the ball you use. They provide the necessary traction and grip as you turn and move through your swing. With this in mind, know that there are two standard types of golf shoes on the market: spiked and spikeless.
Spiked shoes are the more traditional choice, and are also the ones that provide maximum grip on all kinds of turf conditions. Spiked golf shoes maintain your stability in wet conditions, and are ideal for wearing on a course that features lots of changes in elevation.
Spikeless shoes are the more recent addition to the world of golf footwear, but they have solidified their place by offering modern, athletic looks that have become popular. The spikeless design and athletic look allows them to easily be worn on and off the course, and they still provide enough grip to keep you feeling confident in your swing. You may consider wearing spiked shoes when it's wet or raining, however, as spikeless footwear won't offer as much traction in those conditions.
Be sure to properly care for your golf shoes if you want to keep them as part of your golf wardrobe for years to come. Consider cleaning them after each round, allowing them to dry completely if you play in wet conditions. While it might be easy to just leave the shoes in the trunk of your car, storing them in more adequate, climate-controlled conditions will help them last longer, too.
And shoes aren't the only foot coverings to concern yourself with prior to a round. Socks are essential to your ensemble as well, adding another layer of comfort and protection to your feet as you traverse the course. Padding and support are essential when it comes to golf socks, especially if you like to walk all 18 holes. Look for socks that offer arch support and padding near your Achilles tendon area.
As far as sock material and style goes, try to avoid cotton, as it will absorb perspiration rapidly and end up feeling uncomfortable as the round goes on. With the absorbed sweat, it also means cotton socks will begin to emit odors after one 18-hole round in the summer. Look for moisture-wicking materials like polyester and acrylic when choosing golf socks.
As for the look, it mostly comes to personal preference. Many golfers choose low-cut socks, no-show socks or ankle socks when wearing shorts or skirts. When wearing longer pants, the options include crew- or full-length socks. It really boils down to how much coverage you like, and the weather conditions you'll be playing in. That said, this is another area in which you might want to check with the course you'll be playing to see if there are any dress code considerations to be aware of.
Once you're all set at ground level, move on up to the top and consider adding a golf hat to your look. Hats provide style and keep the sun out of your eyes and your face in the shade. Golf hats are typically seen in the same style as baseball caps. When wearing a baseball-style hat on the course, be sure to always wear it with the brim facing forward, as it is considered to fit the standard etiquette.
Other styles of golf hats include visors, straw hats, bucket hats, and others.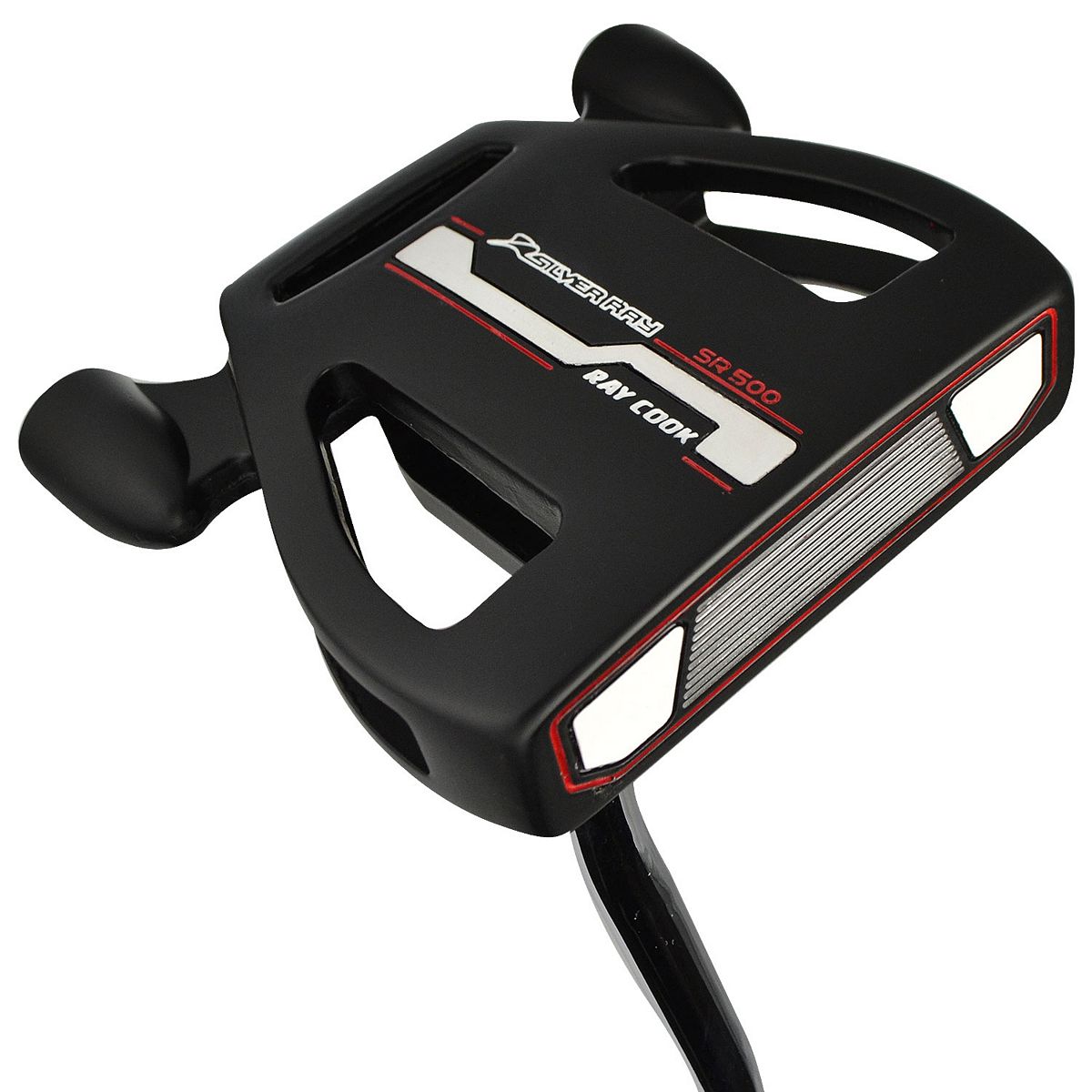 With your closet now filled with golf apparel, golf shoes and golf hats, you can move on to picking up golf accessories and equipment that will assist your game.
No golfer's arsenal is complete without a set of golf clubs. You'll need at least a driver, a set of irons, wedges and a putter. If playing in a sanctioned golf event or tournament, you can have no more than 14 clubs in your bag.
You'll need a golf bag to hold your clubs and other essentials. Bags come in many shapes and sizes, including some that are designed strictly for use with a golf cart, and some that provide built-in legs that allow the bag to stand up on its own when walking and carrying your clubs.
Golf bags also offer plenty of pockets for storage, holding lots of must-haves for the course including tees, balls, a golf glove and a variety of other tools of the game. Golf bags may also come with insulated pockets to hold a bottle of water and keep it cold, as well as plush-lined valuables pockets to protect cell phones and other more delicate items from dings, dents and scratches.
If you're looking for ways to improve, try golf instructional aids that will allow you to fine-tune all aspects of your golf game. Tools are available that can help with your putting, your swing tempo, your grip on the club, and so much more.
To be sure you're getting the right information before you hit your next shot, add a wearable golf GPS watch. This item looks just like a normal watch, but provides built-in details about many courses around the world, giving you correct distances from your current location on the course, to the green you're aiming for, as well as other on-course landmarks like bunkers and water hazards. Many golf GPS watches also offer smartphone connectivity, allowing you to see text messages and notifications from your phone right on your watch!
For additional protection from inclement weather, find a durable golf umbrella. Keep your clubs clean with a golf towel. Find the perfect gift for the sports fan/golf lover in your life by getting them an officially licensed team golf gift set that includes logo balls, tees and other golf tools. The full assortment of golf items at Kohl's has all the essentials you need for the course!