What to Wear as a Wedding Guest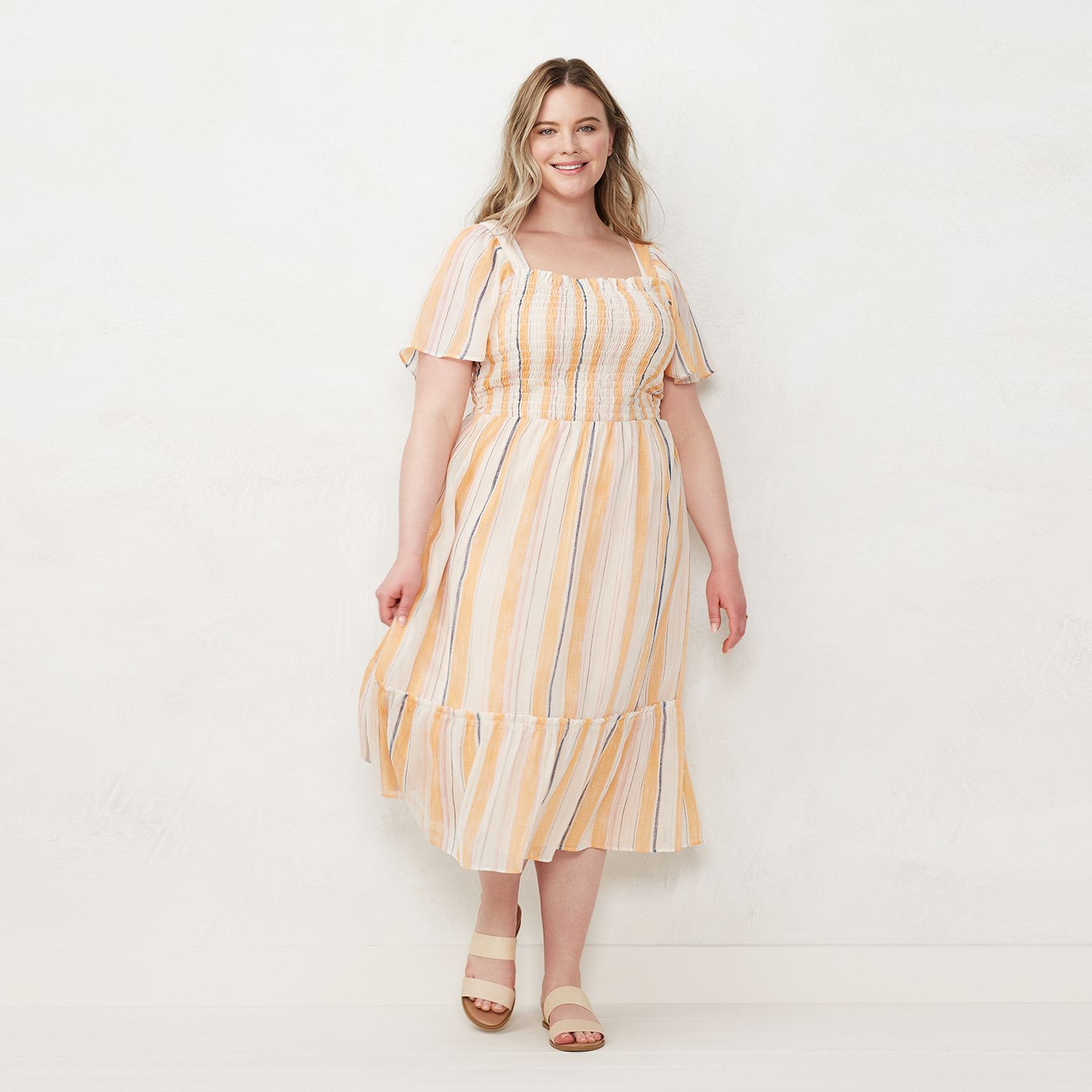 Not sure what to wear as a guest to a wedding? If a wedding invite has left you uncertain about how to dress, we've got you covered! There are certainly guidelines that you can follow to determine how you should dress. Kohl's has a great selection of stylish wedding guest outfits fit for any occasion, so you can look your best at the ceremonies and receptions of family and friends. No matter if the weddings you're attending are afternoon or evening, formal black tie or beach casual, you'll be dressed to impress (without stealing the bride or groom's thunder!).
The number one rule of wedding guest attire is to never wear white (unless asked to by the bride). But that doesn't mean that your outfit selections are limited! Whether you're looking for women's fashionable dresses or men's sleek suits, you will arrive to witness the couple say "I do" in style.
The Dos and Don'ts of Wedding Guest Colors
When it comes to dressing up for a wedding, you'll likely begin searching for endless bold patterns and colors or more subtle neutral looks. But in recent years, wedding guest etiquette has changed—including colors that you shouldn't wear. Avoid anything that could potentially upstage the bride on her special day. Here are a few colors you should think twice about before donning:
Wedding Guest Dress Colors to Avoid
White/Ivory: If there is one color that you should absolutely avoid, it's white. The majority of brides wear white dresses to their wedding, so the bride must be able to stand out at her wedding—and yes, even if your dress is ivory or off-white. Basically, try to stay away from any color or pattern that could be construed as white or ivory.
Bridal Party Colors: It can be awkward blending in with the bridesmaids or groomsmen if you're not a part of the wedding party. If you're unable to get a heads-up on what color they will be wearing, one of the best ways to find out the bridal party color is to look at the wedding invitations. For example, if the invitations were to feature mint green accents, that likely means that they will be wearing some variation of mint green.
Bright Colors/Patterns: It's important to try to blend in with everyone else. Otherwise, bright colors and patterns like sparkly metallics and shimmery dresses can be very distracting.
Choose These Colors Instead
Women should choose a dress with earth tones or a pastel color palette such as pink, light purple or pale blue. Not only do they look great on any skin tone but they're soft, warm colors that look flattering without taking away the focus on the bride. Additional fresh colors include:
What Not to Wear to a Wedding
There are a few more rules you may want to consider before you conduct your search. Even if a wedding is casual and relaxed, still dress with respect. Here's what you shouldn't wear to a wedding:
Anything too short or too revealing
Sneakers or flip-flops
Clothing with holes, rips, tears or stains
Graphic tees, jeans, sweatpants or shorts
Formal Wedding Guest Outfits
The word "formal" on an invitation can be stressful, but don't let that stop you from finding something wonderful to wear. Women's wedding guest dresses will have you looking your best at the ceremonies or receptions of family and friends. Formal weddings in the morning or afternoon call for colorful daytime dresses for women. Your evening look should consist of a long, floor-length evening gown or cocktail dress. Long-sleeve formal dresses are perfect for weddings during the wintertime or for those days when you'd simply like some more coverage. Women may also wear elegant pantsuits. Just don't forget to accessorize your look with handbags and clutches, jewelry and beauty must-haves.
Men's formalwear doesn't mean that a tuxedo is required, but it may be formal enough for one to be appropriate. Men will look sharp in a dark tuxedo if a black-tie ensemble is required. This look consists of a tuxedo, a white dress shirt, a coordinating bow tie, a cummerbund and optional suspenders. But if you'd prefer to have a little bit of a casual edge, choose a dark formal suit instead of a tuxedo and a conservative tie instead of a bow tie. For women, statement heels and a fancy clutch are the perfect accessories for a formal occasion, while men should consider investing in a pair of cufflinks and a good shoe shine.
Semiformal/Dressy Casual Attire for a Wedding
On the spectrum of wedding attire, semiformal falls somewhere between formal and casual. This gives you flexibility on comfort, but be sure not to dress too casual. Women will look stylish in a short light-colored sheath dress or fit and flare dress. Short formal dresses or a dressy skirt and top are especially great for events held in warmer climates or outdoors. Garden parties and cocktail hours are the perfect venues for short formal dresses. Find both knee-length dresses and mini dresses and decide how short and flirty you want your dress to be.
Consider wearing floral or solid color options. If you plan on showing off your moves on the dance floor, you'll want a dress that offers flexibility as you move around. Opt for a lace mock neck trapeze dress or print maxi dress paired with wedge sandals or comfortable flats. Men can wear dark slacks, a blazer or a dressy shirt and tie found in men's suit separates. If you prefer not to wear a tie, opt for a pocket square to up the suit's formality. Also, make sure to match your belt with your shoes, though if your suit trousers fit, skipping the belt altogether is always a choice. Consider opting for dark colors or neutral tones for an elegant evening look if the wedding isn't during the day.
Casual/Informal Wedding Guest Attire
Casual attire generally indicates that the wedding will likely be held outdoors or on the beach, meaning the event will be much more laid-back. When looking in your closet for something to wear, think business casual. Casual attire calls for women's sundresses when the weather is warm. But instead of going through the stress of searching for a new dress, why not repurpose a jumpsuit? Many women tend to grow tired of wearing dresses or just prefer to cover up their legs. Wedding guest jumpsuits serve as a classy alternative to dresses for both casual and formal events. The beauty of wearing a jumpsuit is that you don't have to sacrifice comfort to look appropriately dressed at a wedding.
At most, casual wedding attire for men entails a sports jacket but it's not required. Men can wear dress pants or khaki pants with a collared shirt. They have a variety of other options as well including button-downs, sweaters and relaxed pants. However, men typically wear a polo shirt and dark jeans with casual footwear. Just be sure to avoid wearing T-shirts or tennis shoes. This same look will work for the evening as well.
Wedding Day Footwear
You'll want to have your dress picked out and ready to go so that you can complement your dress with your shoe selection. Try to coordinate every detail of the dress with the shoes for maximum style. The length of your dress is an important factor as well. Shorter dresses will show off your footwear a lot more than long, flowing gowns will. Also, take into consideration the venue at which the big day is taking place. If the wedding is taking place in a church, you might consider more formal shoes, like heels. But if you're attending a destination wedding on the beach, a place where heels are not practical, sandals or flats will have the look and comfort needed for the celebration!
Men can complete their formal look with dress shoes like oxfords or loafers, while slip-on shoes are ideal for creating a complete casual ensemble. And if you'll be attending an elegant beach wedding, you'll want to dress for the sun, sand and water. Anything you'd wear to a nice restaurant on a summer night is appropriate. Think sandals or boat shoes.
Other Wedding Must-Haves to Make the Day Memorable
Our wedding shop has everything from wedding gifts and rings to shoes and clothing for the bridal party. No matter if you're the bride in search of that "something blue", a groom in need of groomsman gifts, or a guest in search of the perfect gift for the happy couple, we provide everything you need to ensure the special day is even more memorable!
If you're attending a wedding as a guest, be sure to shop Kohl's for that perfect wedding gift! We have many of the traditional wedding gift options, including coffee makers, blenders and mixers, bedding and more. These essential items provide the couple with useful products that will get their new life together started on the right foot. If the couple getting married is into hosting and entertaining, consider giving them bar tools and drinkware. These items are perfect for use when the couple has people over for a fun party that celebrates any occasion.
Even before any wedding planning begins, any soon-to-be fiancé can find stunning diamond engagement rings at Kohl's. Once the question has been popped and answered, look for other wedding day essentials, like bridal robes, beauty products, jewelry, fragrances, bridal accessories, and so much more!