Women's Apparel Guide
In fashion there are a wide range of possibilities to consider before selecting the perfect match for your style, size and comfort. With this guide we will uncover the many layers and options to keep in mind while you shop for any occasion and look.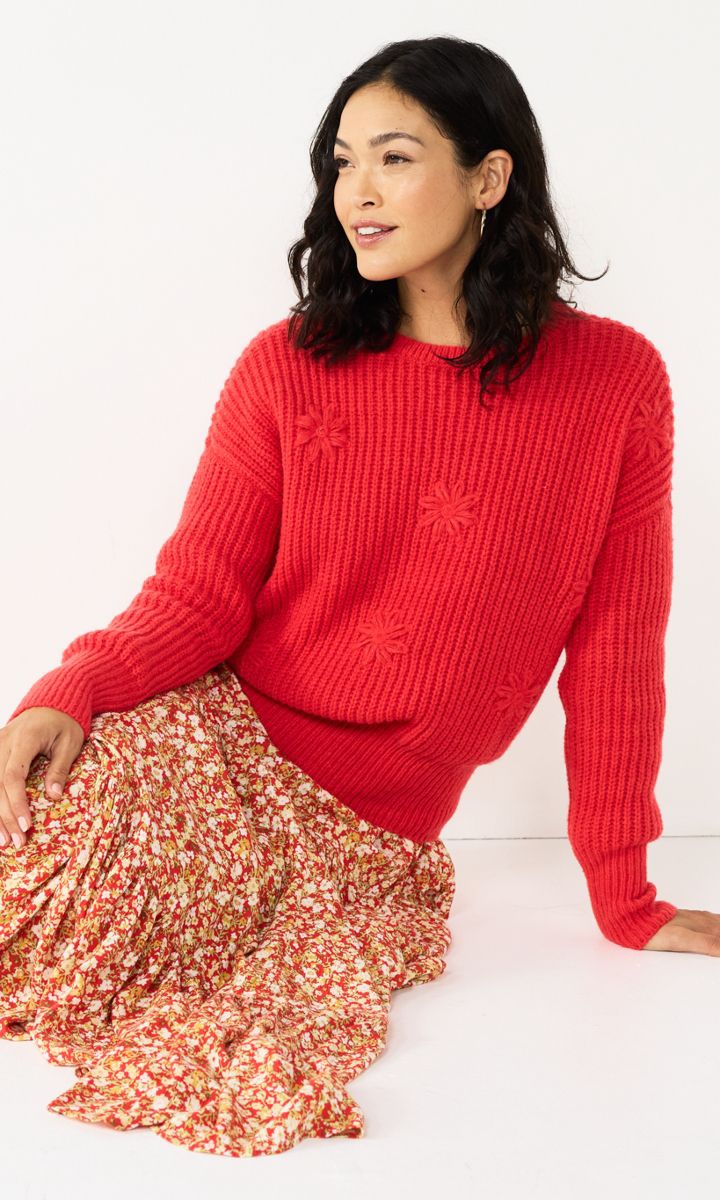 From fashion
to fit
Denim Guide
Jeans
Fashion is always evolving and so are styles and designs of jeans. You will never forget those jeans that fit you perfectly at first fit. With so many options, you'll want to know all the unique designs and choices to pick from including fit, leg opening, length and rise.
Fit
The fit, or how jeans flow or hug your body, is the most important and first option you'll want to consider when looking for jeans. There are many things to keep in mind depending on the type of activities you'll be doing, including a delicate balance of both style and comfort.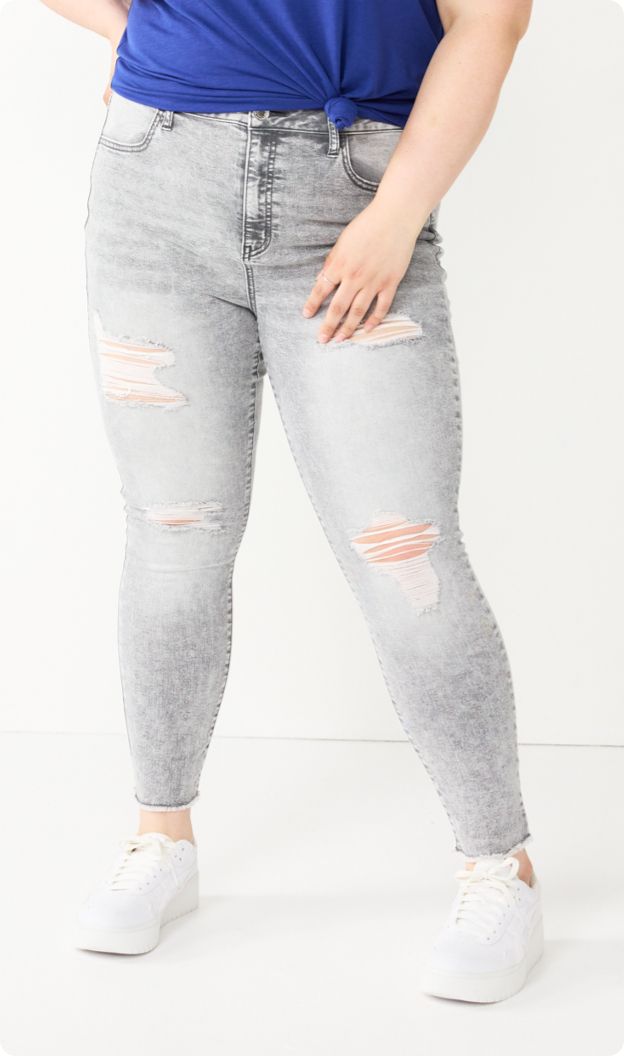 Jegging
Stretchy and slim fitting from hips through the leg opening.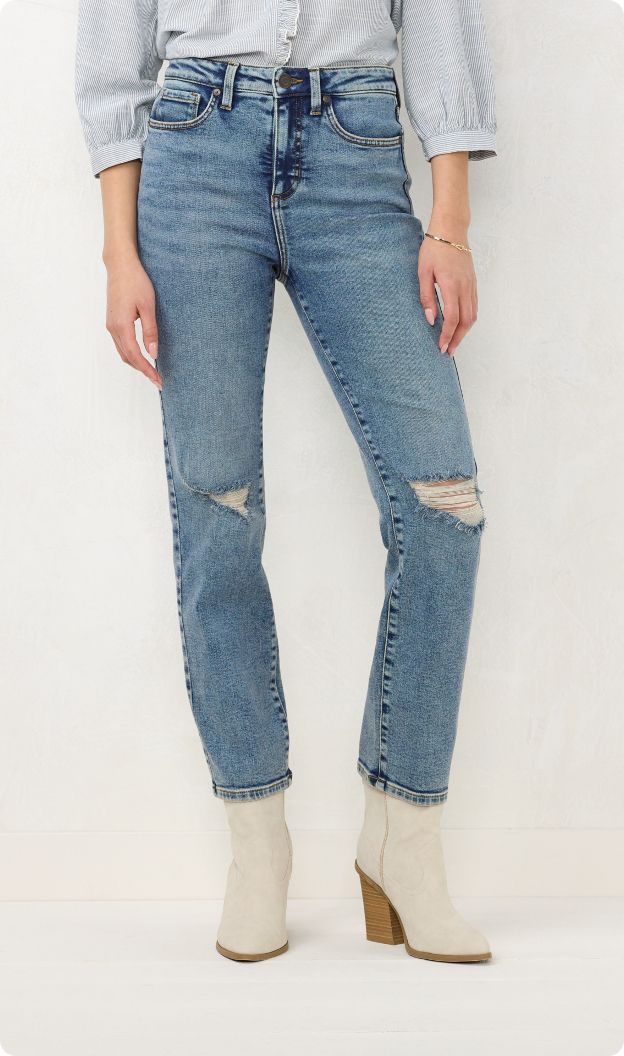 Straight
Figure hugging at top through thigh. Then it is straight and relaxed from the knee down.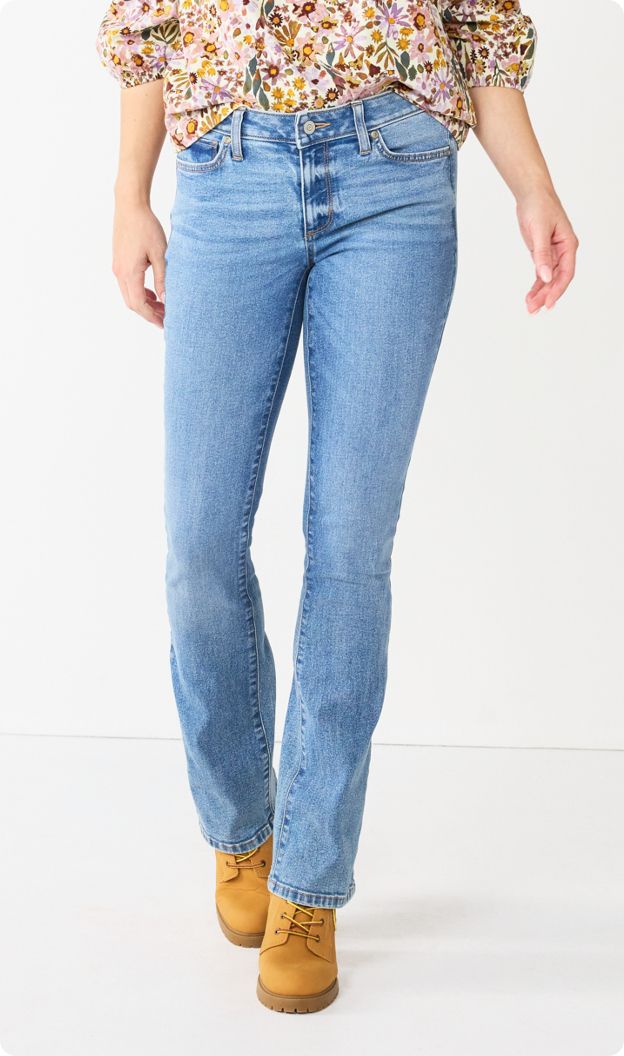 Bootcut
Fitted through the hip and thigh with a bootcut or wider leg opening.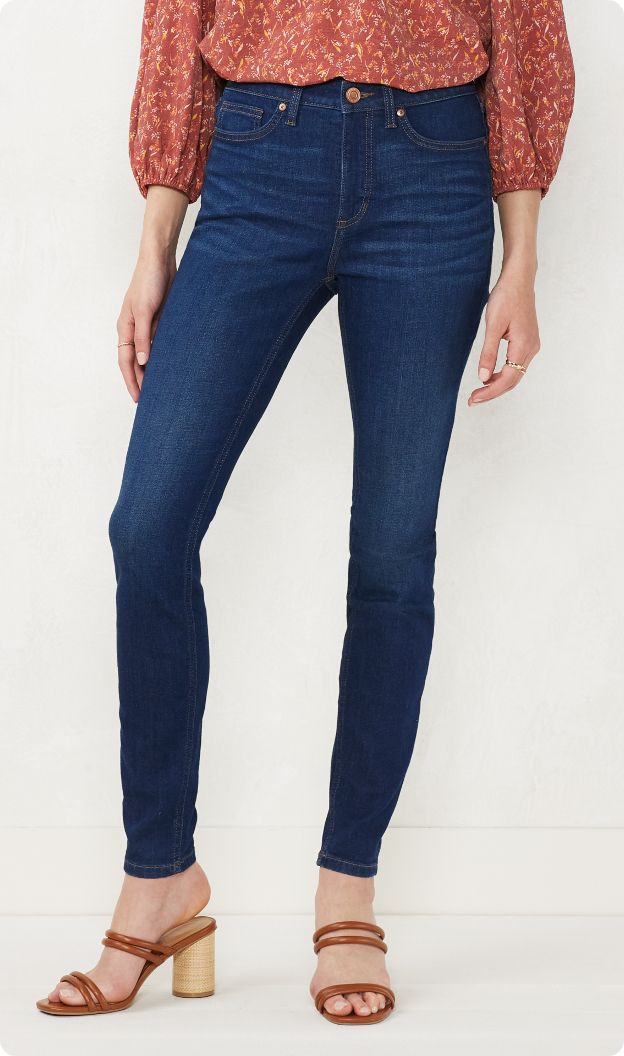 Skinny
Slim fitting from the hips through the thighs with a skinny leg opening.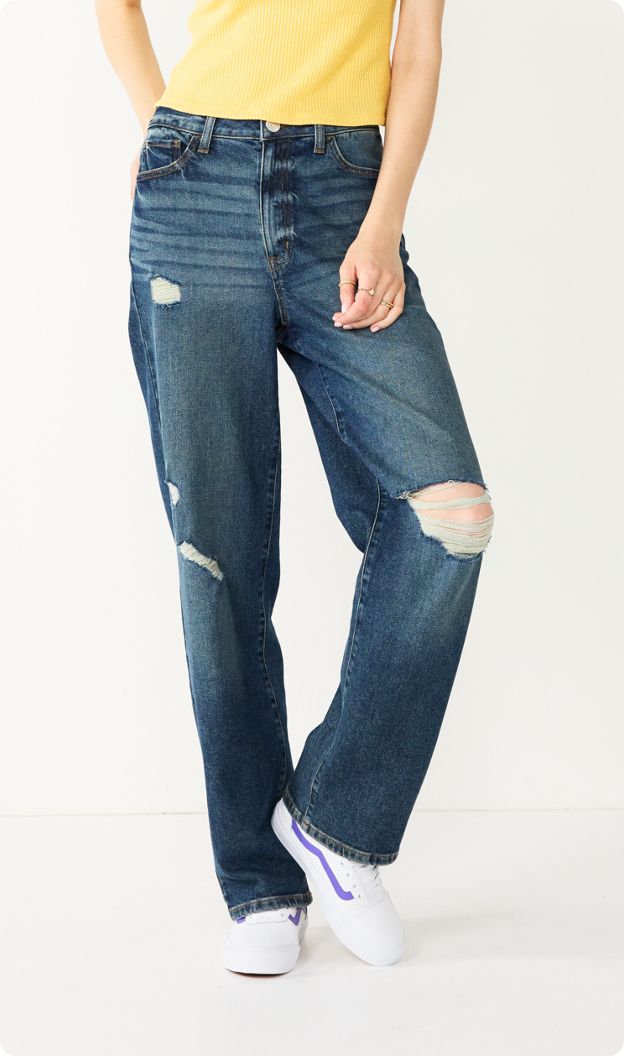 Wide Leg/Baggy
More relaxed fitting from the hips through the leg with a looser leg opening.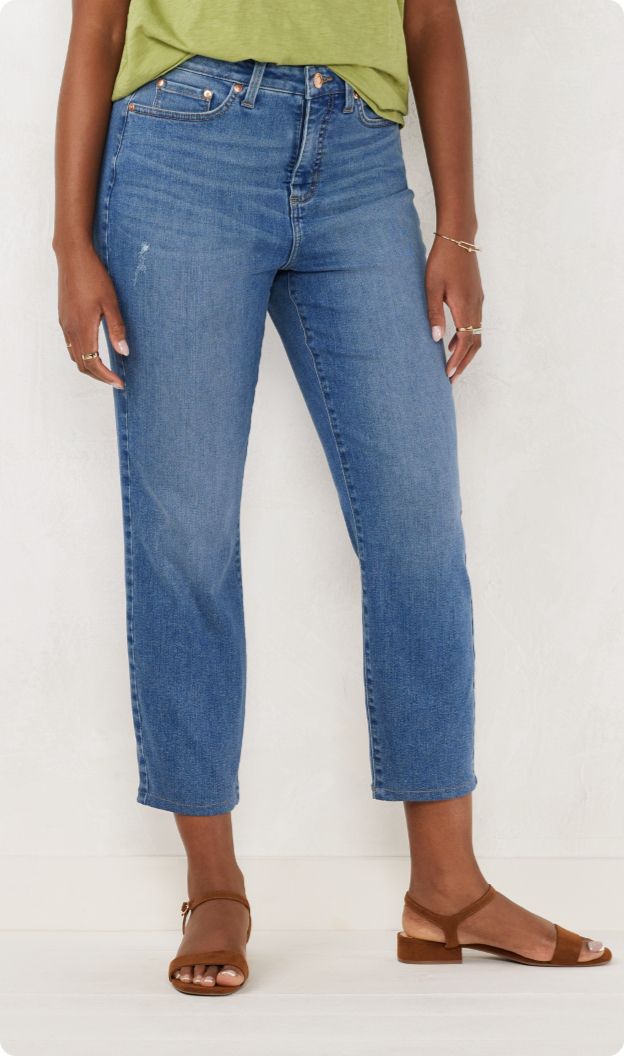 Mom
Relaxed fit from your hip through the thigh and a tapered leg opening.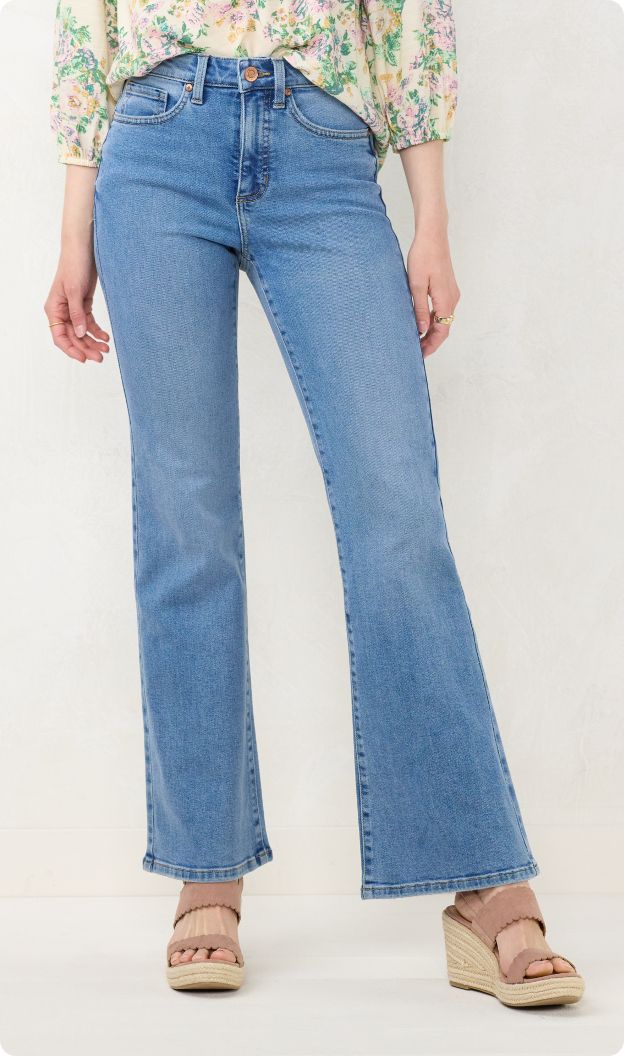 Flare
Slight relaxed fit from the hips through the leg, which is usually folded up.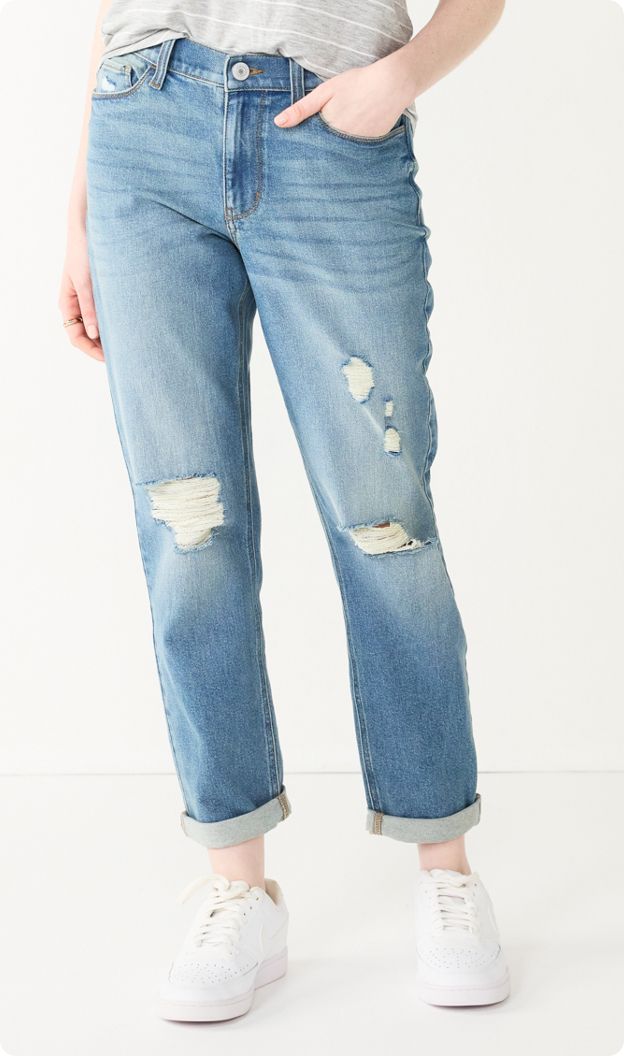 Boyfriend
Relaxed fit from the hips through the leg. The leg opening is usually folded up.
Rise
Let's explore the rise in jeans, measured by the distance between your inner crotch seam and your waist band. This impacts how your jeans hug your midsection and plays a big role in the overall comfort of jeans.
Length
The standard fit for jeans should be long enough to sit comfortably on the top of your feet. Your footwear choice, the time of year or just your individual style may call for something different. Here are the three different lengths to choose from.
Ankle

Standard full-length that extends to the ankle or just a bit above.

Cropped

Hemline above the ankle and shows the narrowest part of the leg.

Capri

Typically falls to about midcalf and usually more form fitting and snug.
Dresses
Whether you are hitting the town with some friends or glamming up a bit for a wedding, the perfect dress is something that fairytales are made of. It doesn't have to be difficult, but it can certainly feel overwhelming when starting your search. Here are some dress basics to help put you on the right path.
Silhouette
The outline of a dress is often referred to as a silhouette. It's important to keep in mind that while certain silhouettes typically have a standard length associated with the particular style, these widely vary and often come in multiple different lengths.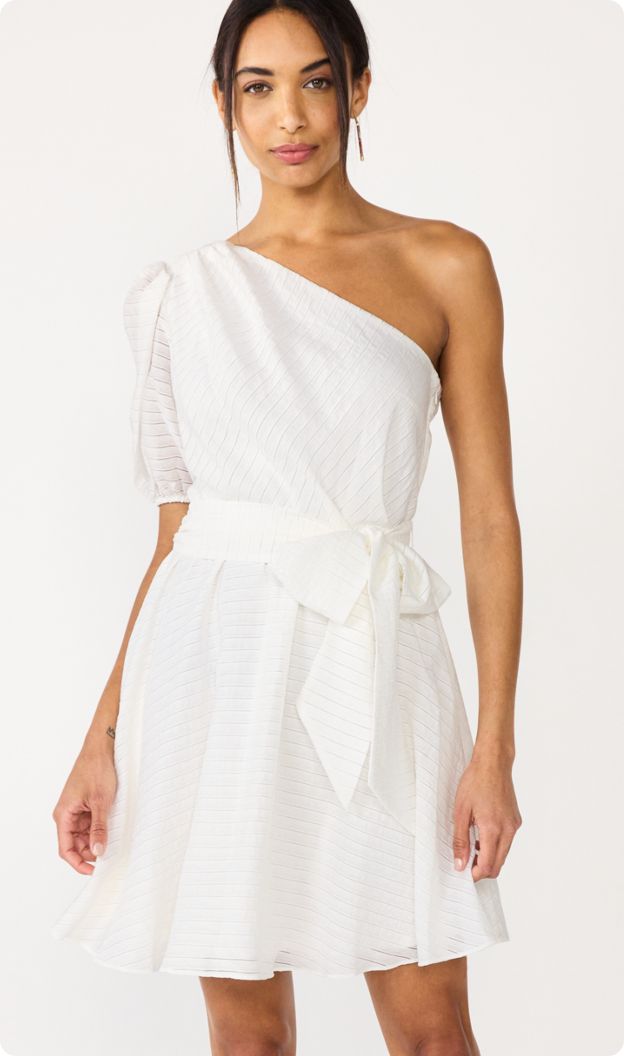 Fit & Flare
A style in which the dress is fitted in the waist and flares out more at the hips.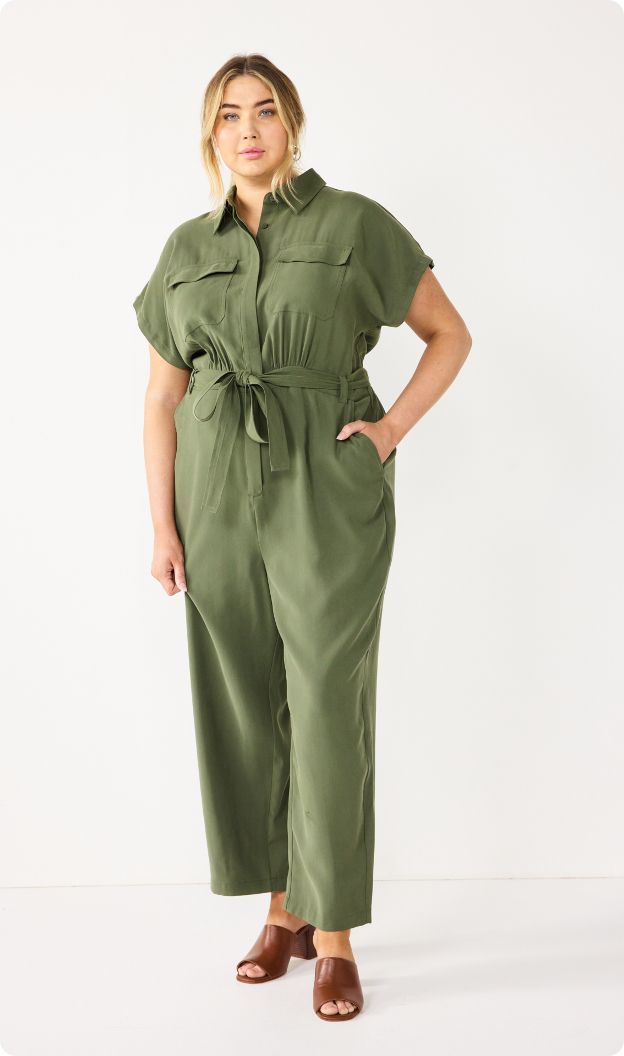 Jumpsuit
A continuous, one-piece garment that resembles both a top and trousers or shorts combined.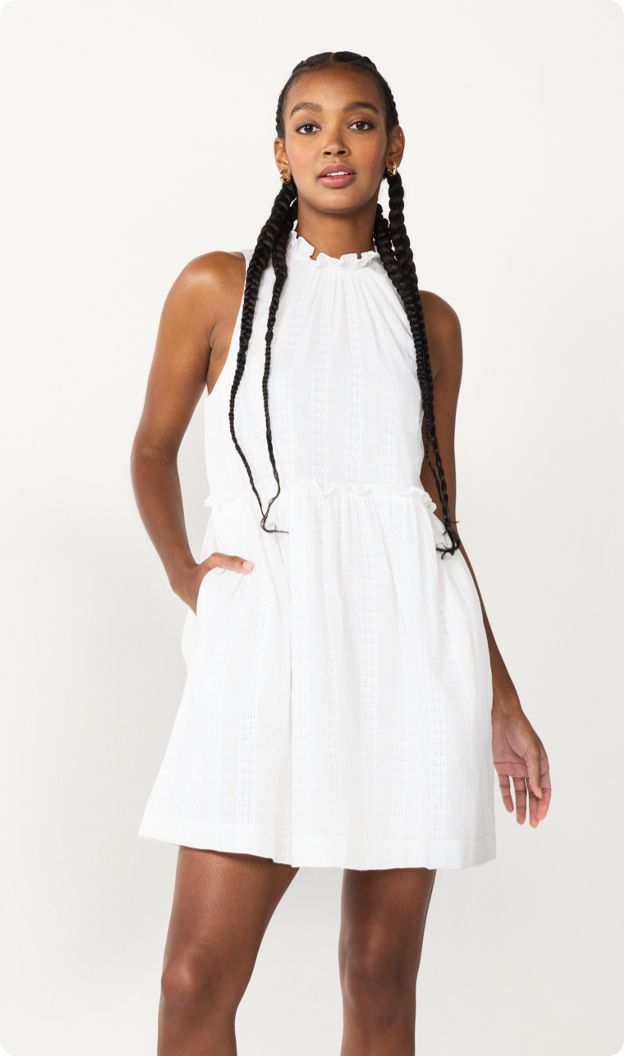 Sundress
A warm-weather dress typically made of a lightweight material and is sleeveless or short sleeved.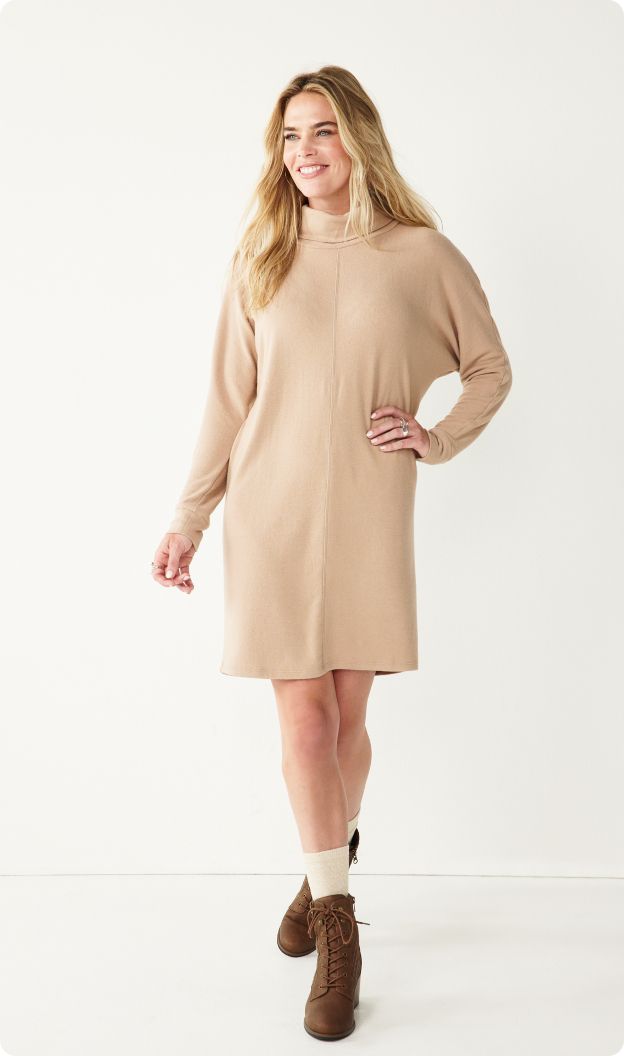 Sweater
A knitted dress for the colder months. It has the design of a sweater but can be worn by itself.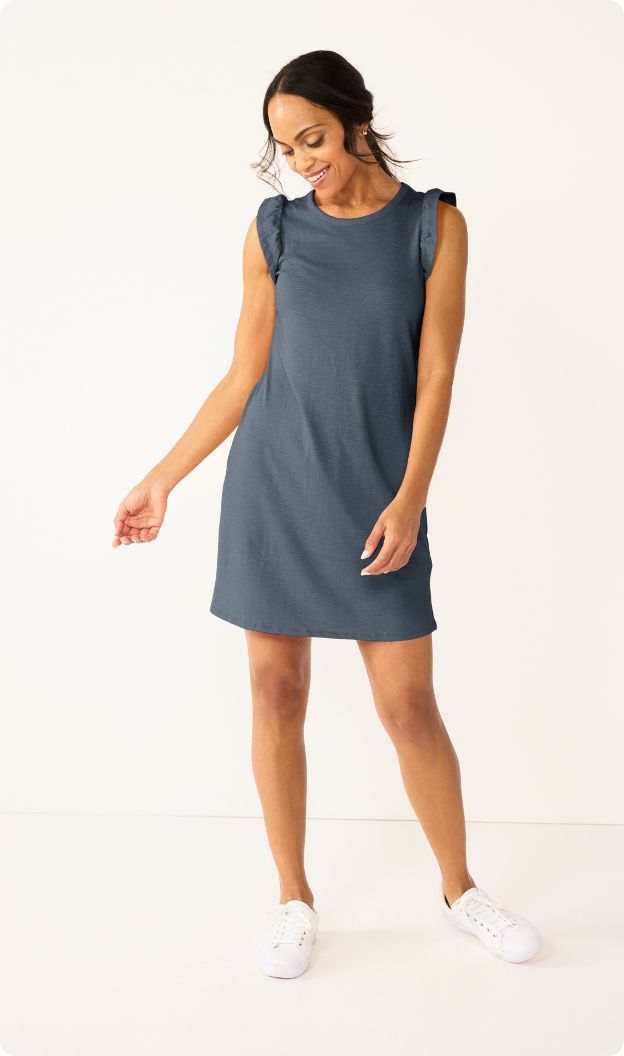 Shift
A shorter loose-fitting dress that hits above the knee. It's often roomy and boxy with no shaping.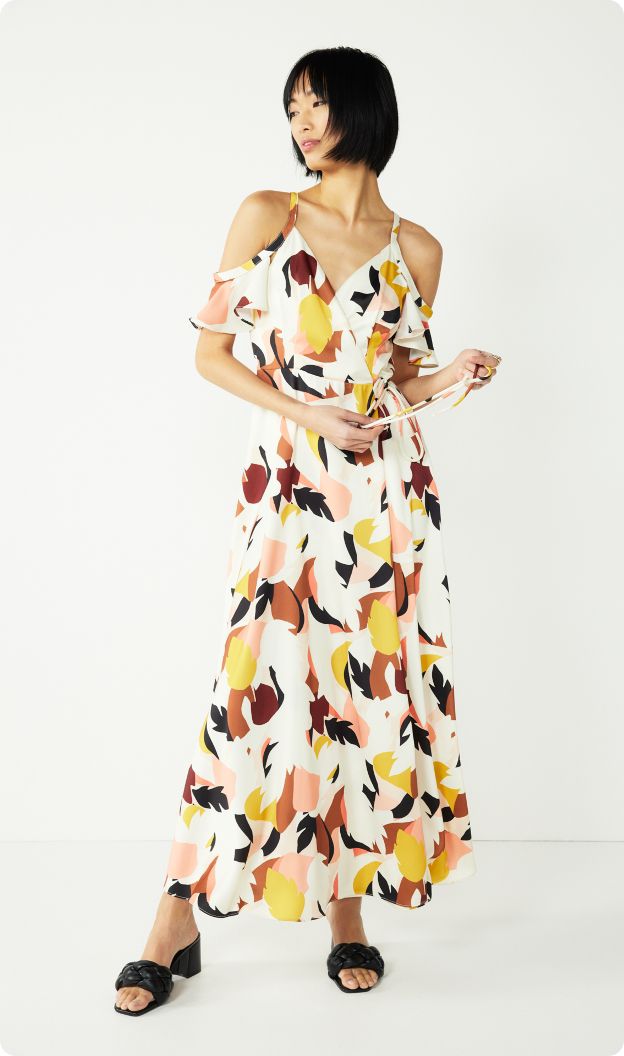 Cold shoulder
A dress style in which the top has sleeves with cutouts, exposing the shoulders.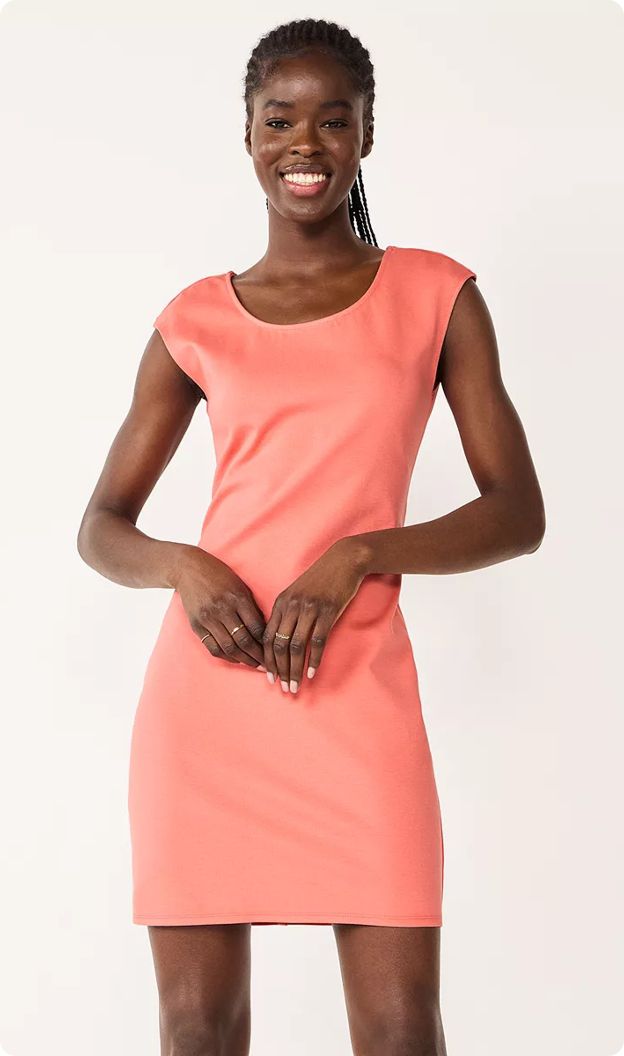 Sheath
A form-fitting dress that has a waistline to help with shaping.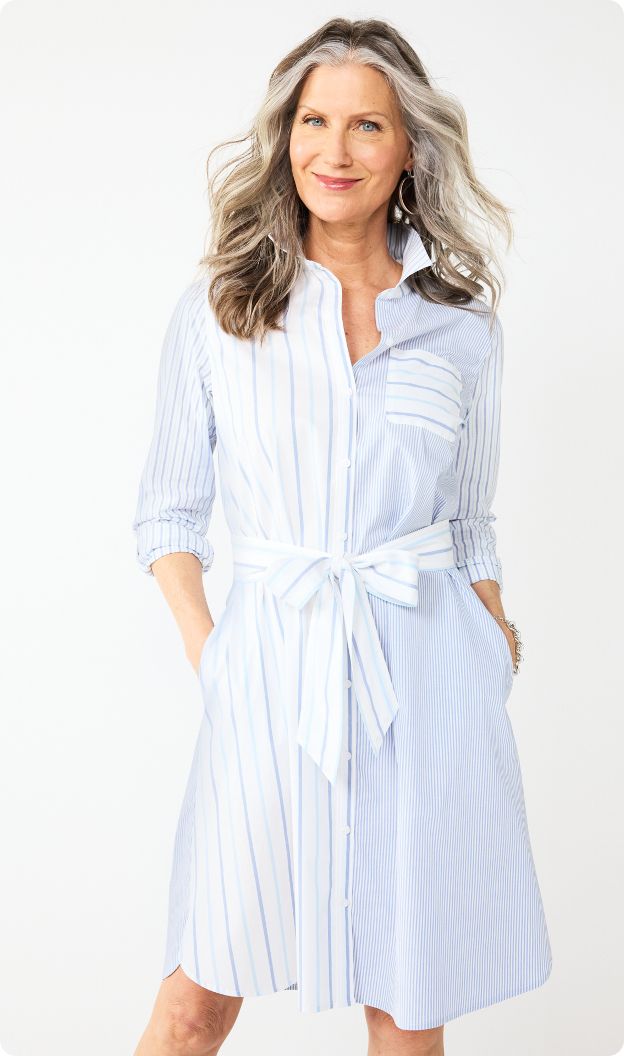 Shirt
A dress that is similar to the silhouette of a men's button-down shirt, but at dress length.
Length
Certain events might call for a longer dress length while other activities may allow you to show a bit more calf or even thigh with a shorter dress length. While some of the classifications for length blend through to one another, here are the basics for how to classify the length of a dress.
Short

Often referred to as a mini dress, this tends to sit on the upper to mid thigh.

Knee

Hemline ends right at just a bit above the kneecap.

Midi

A longer style dress that falls just below the knee or more into the calf area.

Maxi

A long style dress that sits right on the ankle and occasionally reaches the floor.

High-Low

A dress style in which the hemline is shorter in the front/side and longer in the back.
Swimwear
Swimsuits are such a personal choice between style, comfort and exposure. There is no such thing as the perfect swimsuit type for a certain body type. You're beautiful just the way you are NOW. Here are some swimsuit basics to help get you started on your search of finding the perfect combination of comfort and expressive fun.
Swimsuits to Suit Your Physique
Your curves and contour are uniquely your own. Here are some of the more common body types and how to pick a swimsuit to match your silhouette and individual style.
Rectangle

Longer torso paired with a more even distribution of weight from chest to hips defines this athletic body type.

Accentuate your silhouette with bold colors, ruffles, unique prints or color blocked suits.

Inverted triangle

Your broad shoulders and slimmer waist creates an array of opportunities to express your style.

Explore halter tankini tops with mismatched bright colored bottoms or even a print infused one piece.

Hourglass

Your upper and lower halves are proportionate. This allows for a wide range of options to help both accent and define your amazing curves.

Be fierce! Try a one piece option that flaunts your curves. An underwire bra or halter top are also great options for you.

Triangle

Your best curves are carried lower near your waistline and more narrow when moving upwards to the neckline.

Be bold. Halter tops with molded cups or a plunging neckline are among the many styles popular with this body shape.

Rounded

Flaunt your rounded or apple-shaped curves with swimsuits that accentuate your best features.

Bra-like support with underwire or molded cups with high cut bottoms are great options. Try one piece swimsuits with thicker straps for full support.
Tops
Whether in a set or just picking out a swimwear top, here are some of the styles available and what makes each of them unique. Coverage can greatly vary from different designs.
Bandeau

Often strapless and similar to a tube top. The neckline and shoulders are bare, preventing those pesky tan lines.

Halter

Two fixed triangles in the front that ties behind the neck. Coverage varies, but this style is typically great for support.

Triangle

Similar to a halter top but also tends to have adjustable ties on the back too. Moderate support and coverage.

Underwire

A style of swimsuit top with a built-in wire and bra cups allowing for some extra lift and support.

Scoop

A style top with a scoop-cut front. This style typically ties behind the neck and provides moderate coverage.

High-Neck

A style top that rises to about the collar bone allowing for maximum coverage.
Bottoms
Different occasions and circumstances may call for a different style of swimsuit bottom. You wouldn't necessarily wear the same swimsuit on the beach with your gals as you would if you were at a family trip to a waterpark. Coverage is an important factor and here are the different bottoms and how they vary in coverage.
Side-Tie

Classic bikini style bottoms with adjustable ties on both sides that created an elongated effect.

Cheeky

Hip-hugging and narrow cut style. This offers minimal coverage but is ideal for fewer tanlines.

Hipster

Sits lower on your waist and provides maximum coverage. Great as a go-to if looking for comfort.

Skirted

A skirt style with built-in bottom that typically provides max coverage on hips and upper thighs.

Shorts

A sportier look that resembles shorts and provides extra coverage. Great poolside and on the go.

High Waisted

Sits on the natural waist, above the belly button. Coverage widely varies based on different cuts.
Outerwear
Coats and Jackets shouldn't only be for the winter or when the temperature drops. There are many lightweight and stylish jackets to choose from that you can wear year-round. Flaunt your flair in any season, in addition to the thicker, warmer options to keep you cozy.
Silhouettes
From sleeves or no sleeves all the way to varying length and fill level, there are many different silhouettes for outerwear to choose from. Here are some of the many options to jumpstart your search at Kohl's.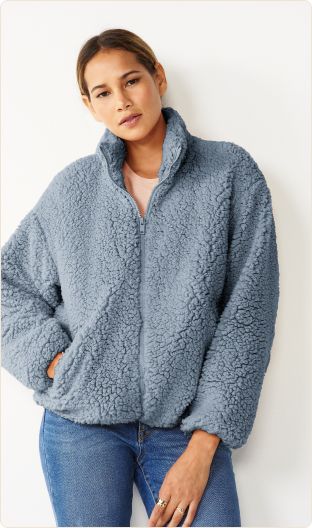 Sherpa
Ideal for colder weather, these are made with faux wool and are good for warmth and comfort.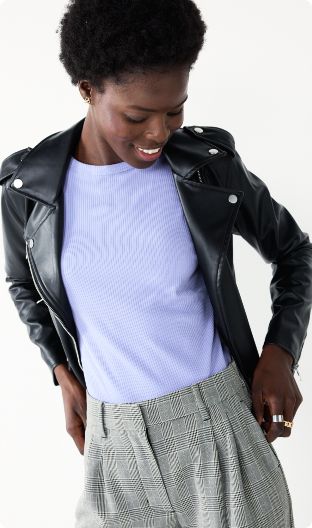 Leather
Sometimes known as a motorcycle jacket. Typically worn on top of other clothing and tends to hit right at the waist.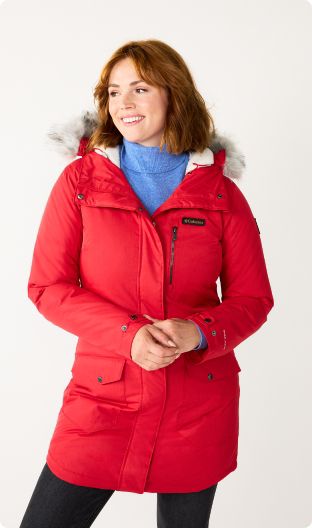 Parka
Often windproof, these longer jackets have either fur or faux fur lining around the hood.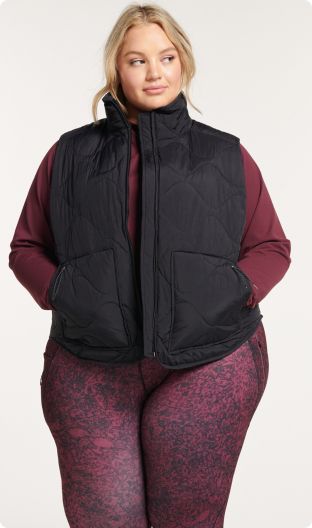 Vest
Sleeveless to keep your core warm, while still allowing for full-range of arm movement.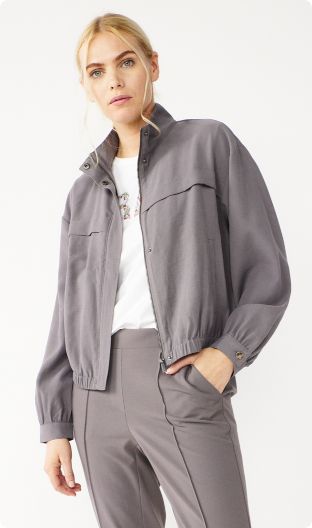 Bomber
A waist hitting jacket that has a ribbed and gathered waistband with matching ribbed cuffs.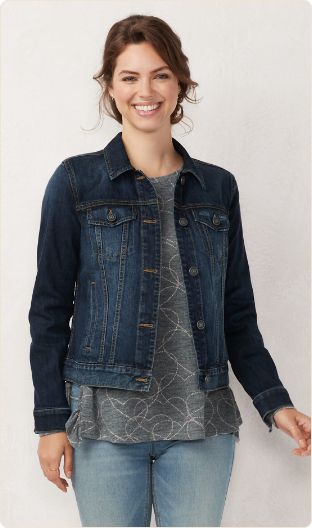 Jean
Often short and known as a trucker jacket, these are casual layering pieces for almost any outfit.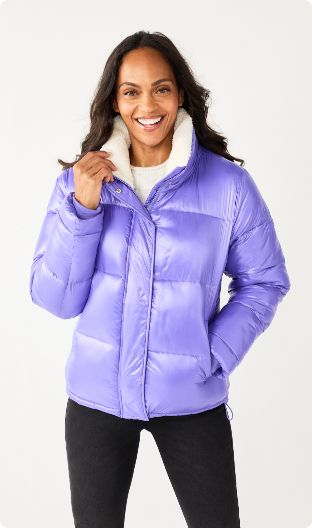 Puffer
A quilted coat filled with insulation or synthetic fibers to trap heat inside.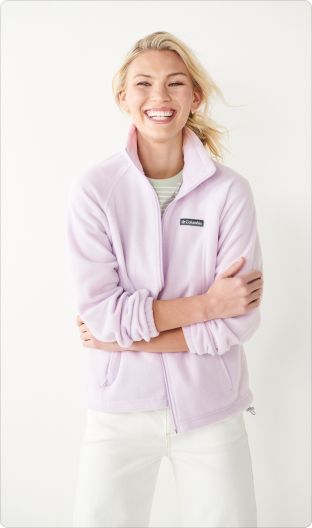 Fleece
Fuzzy but not bulky, they are breathable for those cool mornings but also great for layering.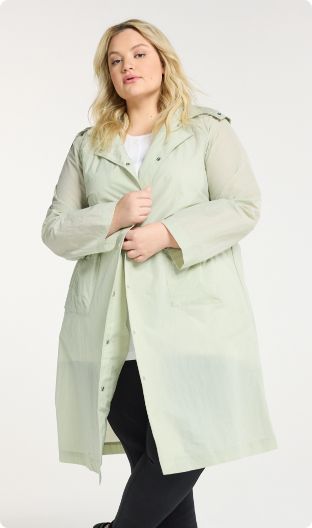 Trench
A longer waterproof jacket that often has a belted waist, longer sleeves and straps on shoulders.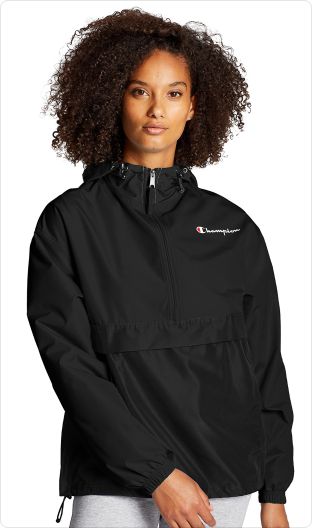 Windbreaker
A very thin jacket to repel both wind and water, these jackets are best worn over other outerwear.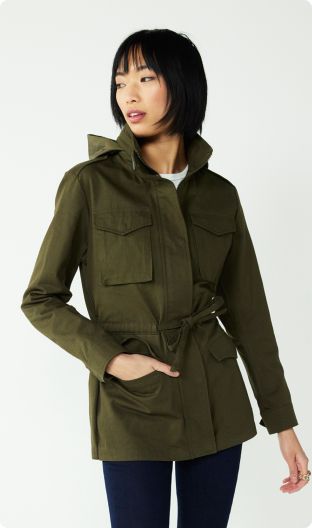 Utility
A more lightweight fabric or waxed liner, these can be a bit boxy with a buttoned front and collar.
Warmth
It's important that your outerwear matches not only the weather, but also the activity level you are doing. If you are active and moving, you may not need as thick or heavy of a jacket. The purpose and intended activity level for the use will help determine the jacket that is best for you.
Lightweight

Provides warmth but feels like you're not wearing it. Easy to pack and layer and often water resistant.

Midweight

A tab bulkier, these jackets are best used during the transition of seasons when it is cooler.

Heavyweight

Ideal for very cold weather, these jackets are the warmest of all options and are heavily insulated.
Fill power
Fill Power or how "fluffy" a jacket feels is also how well it will insulate you. Typically the higher the total amount of down in the jacket, the lower in temperature a jacket is graded for or the warmer it will keep you.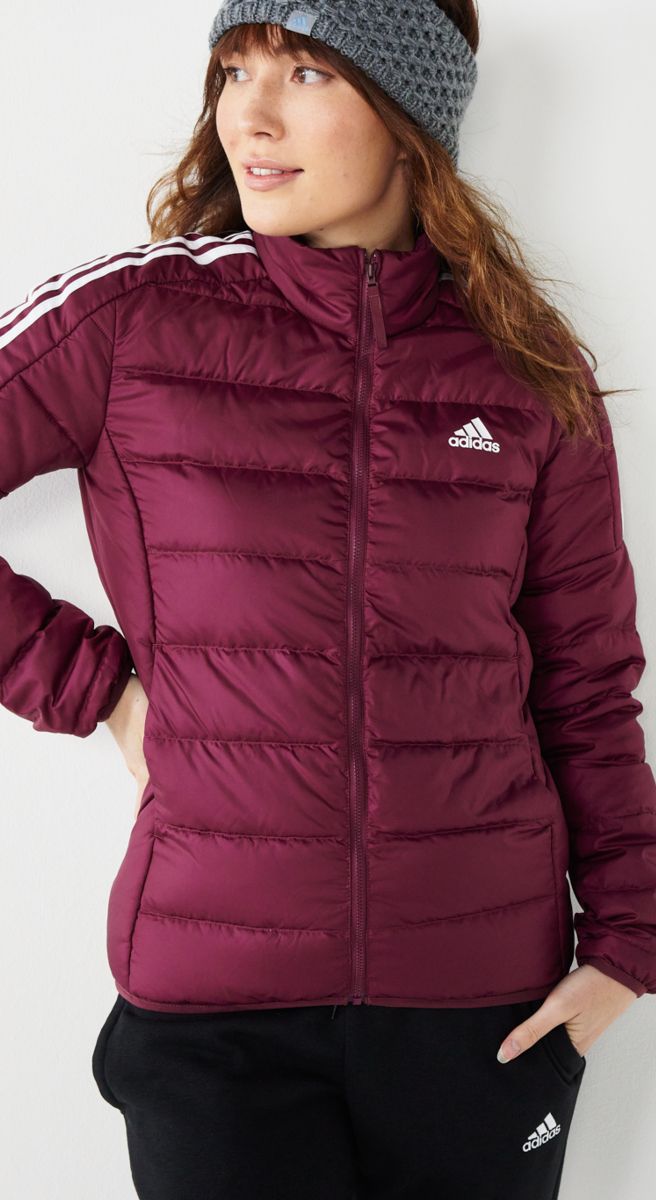 Features
Outerwear typically comes with standard features but most provide a variety of options to pick from, considering the climate, activity being used for or other factors that may impact your needs for a particular jacket. Here are some of the most common options available.
Water Resistant

Lowest level of protection, able to resist or repel a minimal amount of water or precipitation.

Waterproof

Highest level of protection from rain or moisture, these jackets are completely water resistant.

Packable

A jacket that can turn into a smaller version allowing it to be entirely stored in one pocket.

Moisture Wicking

Technology that allows the material to pull moisture or sweat away from the body and dry quickly.

Hooded

Most heat is lost from your head and hoods allow you to either bundle up or vent a bit.

Wind Resistant

With wind comes cold air. These shield you from that cool air to help keep you warm.

Reversible

One color on the inside and another on the other side to allow for versatility on the go.

2-in-1

Often with zippers or other facets to help combine two outerwear options into one piece.