With Kohl's Cash, it's like getting paid to shop!
Earn $10 Kohl's Cash for every $50 spent.*
Here's How Kohl's Cash Works
Earn

It's easy! Shop during a Kohl's Cash earn period and get $10 Kohl's Cash for every $50 you spend.
You can earn it on anything and anywhere you shop—in store, at a kiosk or online.

Store

You'll receive Kohl's Cash as a coupon when you shop in store, or in an email if you shop Kohls.com or at a kiosk.
If you have a Kohls.com shopping account, your Kohl's Cash is automatically stored in your Kohl's Wallet.

Redeem

Look for the redemption dates on your Kohl's Cash Coupon, or in the email you received when you shopped Kohls.com or at the kiosk.
Spend it on anything—there are no brand exclusions!
*Remember, Kohl's Cash earn and redeem periods vary, so timing is everything! And don't worry, we promote these periods in store and online so you never miss out.
A little more
for your wallet.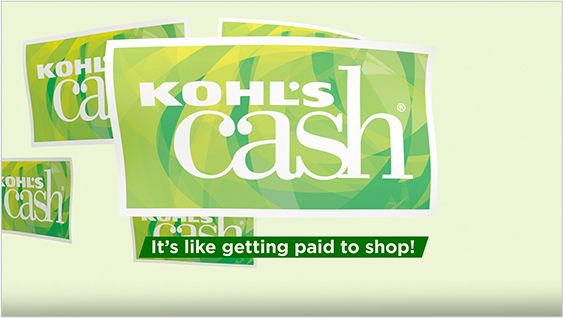 | Spend** | Receive |
| --- | --- |
| $50 | $10 |
| $100 | $20 |
| $150 | $30 |
| $200 | $40 |
| $250 | $50 |
**Kohl's Cash increases with each $50 spent, up to a maximum Kohl's Cash value of $1500.
Frequently Asked Questions
Kohl's Cash: A Little More For Your Wallet
How can you earn Kohl's Cash? By shopping at Kohl's, Kohl's kiosks and online at Kohls.com (during specific promotions)! Your Kohl's Cash will be based on your total amount spent on merchandise after all discounts are applied, but before tax is applied. The more you spend, the more Kohl's Cash you'll earn and the more savings you'll enjoy.
Combine Kohl's Cash with other discounts and offers for even bigger savings! You can combine your Kohl's Cash with Kohl's coupons, sales promotions, and Kohl's Rewards to get the best savings possible on your purchases. Whether you're shopping for yourself, your family, or looking for gifts, Kohl's Cash can help you get a little more for your wallet.
With Kohl's Cash, it's like getting paid to shop! Find everything you're looking for—from footwear and jewelry to clothing and accessories!