Begin faceted search navigation.
How to Iron Clothes
kls_static_browse_leftnav_end_faceted
How to Iron Clothes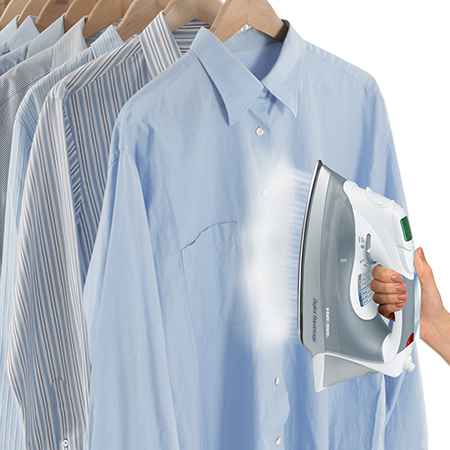 How to Iron a Dress Shirt
Check the tag. Some dress shirts list detailed care instructions on their garment labels, including iron heat settings for optimal wrinkle removal.
Begin with the collar. Lay your dress shirt flat on its back with the collar flipped up. Pass over the collar several times with your iron, flip your shirt over and repeat the process.
Stretch one sleeve flat on its back half, ironing out wrinkles. Repeat on front of the sleeve. Then, flatten the unbuttoned cuff across your ironing board and remove creases. Use this same process on the second sleeve.
With your shirt unbuttoned, lay the back flat on your ironing board. Iron out wrinkles, and then proceed to iron both sides of the chest.
Button the top collar and center placket button to reduce the chance of wrinkling while in your closet.
How to Iron Dress Pants
Double-check the tag. Some synthetic materials are prone to damage when heated.
With the pants inside out, iron the waistband, pockets, fly, seams and hems, in that order.
Turn the pants right-side out and iron the circumference of the waistband, along with any pleats across the front.
Lay the pants with the inner seams together across your ironing board, lining up creases and cuffs. Iron the length of the exterior seam.
Fold the top leg up, exposing the inner seam of the bottom leg and iron this seam. Turn your pants over and repeat this and the previous step.
Hang your pants immediately from a pants or suit hanger to reduce the chance of wrinkling while in your closet.
How to Iron a Skirt
Turn the skirt inside out, pressing the liner and hem flat.
Flip the skirt right-side out, slip it over the ironing board and iron the entire circumference of the exterior. Take special care to keep pleats pressed when necessary.
How to Vertical Steam a Hanging Garment
Hang your garments or linens up on a hanger or over a bar.
Hold the iron vertically a few inches away from the fabric. Pull the cloth tight.
Run the iron up and down the fabric without touching it. Push the steam button continually.
Back to the Top