Begin faceted search navigation.
Types of Air Conditioners
kls_static_browse_leftnav_end_faceted
Types of Air Conditioners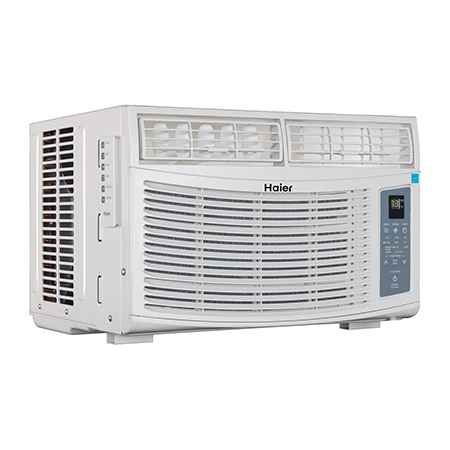 Window Air Conditioners are often the most popular choice of air conditioner. These units just require the addition of a wooden plank or a special shelf in the window for base support. Units usually include adjustable accordion side panels to block off any additional horizontal window space. Make sure to measure the height and width of the desired window before you shop.
Pros & Cons
Affordable & convenient
Easy to install and remove
Window is blocked when not in use, preventing natural ventilation
Must be removed & stored during winter months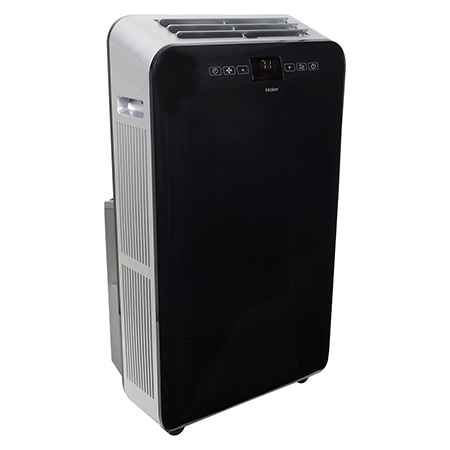 Portable Air Conditioners require no installation and won't permanently block out a window from providing natural ventilation. These units normally come with a large extendable hose that is attached to a window for expelling hot air. Check out our square footage to BTU recommendation chart to easily shop for the portable unit that fits your needs.
Pros & Cons
Quick setup process
Easy to move from room to room
Not as energy efficient as other styles
Can be heavyweight (look for a unit with casters)
Condensed moisture may need to be occasionally emptied from the unit's receptacle
Built-in Air Conditioners are installed directly into a wall for permanent usage. They can be a great option for a home that doesn't have central air or heat throughout. Most built-in units require a wall sleeve so the wall can support the weight of the unit. Make sure to measure the thickness of the desired wall before you shop.
Pros & Cons
Permanent installation
Some models may have heat options for versatility
Unit does not block a window & can be used in windowless rooms
Requires opening a hole in an exterior wall & may require professional installation
Wall sleeve may be necessary for unit support
Air Conditioner Features to Consider
Programmable thermostat: A programmable design allows you to specify the unit to keep a certain temperature at certain times of the day. This allows you to use your energy more efficiently and helps minimize costs.
Automatic timer: A timer is a less costly alternative to a programmable design and allows the unit to function efficiently while you are away. It allows you to set the unit to turn on and off at certain times of the day so you can keep your home cool without running the unit all the time.
Digital controls: Digital designs give you more precision in selecting a temperature for the room. Most allow you to specify a degree instead of the standard high or low settings on non-digital units.
Remote control: A unit with a remote allows you to adjust the settings from the couch or across the room for convenience.
Variable fan speed: The more speed settings your unit has, the more versatility you have in cooling your room.
Energy saver mode: This mode allows you to save on energy costs by operating the unit at a low setting, perfect for sleeping or use on more tolerable days.
Easy access filter: Since you will need to replace the filter occasionally over the life of your unit to remove allergens and dust, a slide-out design will make this maintenance easier.
Motorized louvers: A unit with motorized louvers automatically moves these vents up, down, left or right to help increase air circulation, making your unit more efficient in cooling the room.
Size, Power & Safety
Room Size
Knowing the size of a room you want to cool will help you choose the right unit for the job. Use our handy chart below to match the square footage of your room to the correct capacity needed.
Square Footage to be Cooled
Capacity (BTUs per Hour)
Source: United States Environmental Protection Agency
Note that these numbers are estimates and there may be factors that affect the number of BTUs a room may require to stay cool.
About 10% more BTUs may be necessary in a room exposed to direct sunlight
10% less BTUs may be needed for a room enjoying constant shade
If occupied by more than two people, 600 BTUs should be added for each additional person
A kitchen may require up to 4,000 additional BTUs
Power Recommendations
Power supply is another important factor to consider when choosing your new air conditioning unit.
Will the cord reach to the nearest outlet?
Will the outlet be able to handle the operation of the unit?
Smaller units will often work with a standard wall outlet. However, larger designs may require a dedicated circuit. Reference the plug images below to learn more.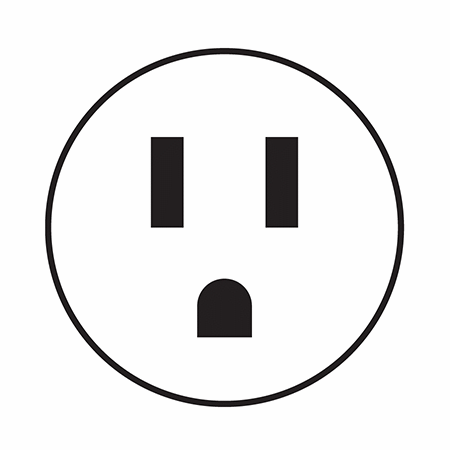 Parallel
115 V
15 Amp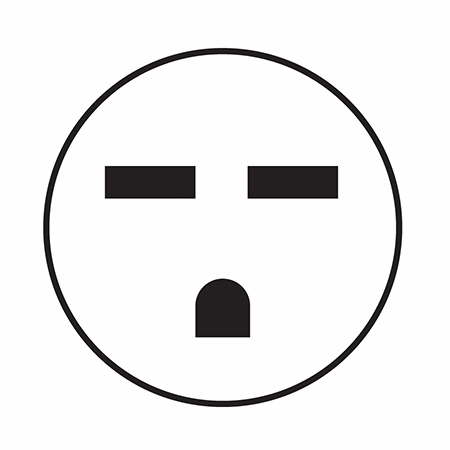 Tandem
230/208 V
15 Amp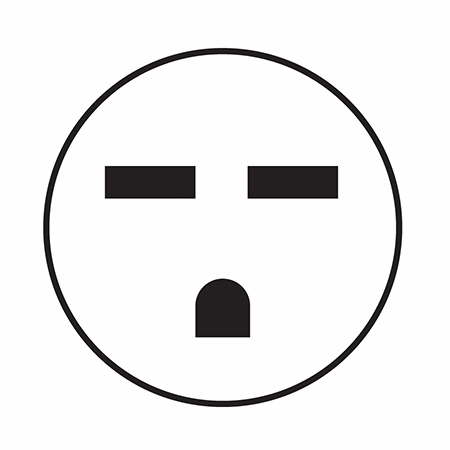 Perpendicular
230/208 V
20 Amp
Safety & Maintenance
Follow the manufacturer's guidelines when installing your air conditioning unit
Make sure to check electrical requirements to confirm your outlet can handle the unit's operation
Ask for help in carrying or installing the units in a window or wall
Clean your unit's filter on a regular basis to ensure optimal performance
Occasional cleaning the interior of the unit may also be necessary to keep it running well
Built-in units may also require frequent emptying of a condensation receptacle
Always unplug the unit before performing any maintenance
Glossary
---
A | B | C | D | E | F | G | H | I | J | K | L | M | N | O | P | Q | R | S | T | U | V | W | X | Y | Z
---
B

BTU (British Thermal Unit) is an international measurement for the basic number that tells you the amount of heat the AC unit can remove from the room. It is important to match the size of the room to the appropriate number of BTUs to be able to efficiently cool a room. Usually the smallest units start around 5,000 BTU and can approach 24,000 at the largest.

C

Chassis A frame that supports the main parts of the air conditioning unit.

E

EER (Energy Efficiency Rating) This is calculated by dividing the unit's BTU by the number of watts. The higher the number, the more efficient the unit is. A higher EER will not only save you money in your monthly electric bill, it will also help reduce the amount of greenhouse emissions. Typically this number ranges from 8 to 11.5.

F

Fan A fan moves the air through the unit. Variable speed fans allow for more versatility in cooling.

Filter This keeps the air clean and will need to be changed occasionally during the life of the unit. Easy access or easily replaceable filters are your best bet to make maintenance a breeze.

L

Louver These are horizontal slats that can be adjusted up, down, left or right to direct air where you need it most. Some units may have motorized louvers for increased air circulation.

T

Thermostat This adjusts the temperature of the air coming out of your unit. It may be programmable or manually operated.

W

Wall Sleeve A wall sleeve is a metal device that is necessary to support a built-in air conditioner in the exterior wall it is installed into. Some wall sleeves will be included in the chassis, but some may need to be purchased separately.
Back to the Top