Kohl's®
Product Guide
Feel great months one through nine with maternity clothes that fit for all stages of your pregnancy. Learn how to find the size that is best suited for your bump and beyond.
Clothing
You may not realize that even though your body is changing during pregnancy, your size will not. Typically your maternity clothing size will be the same as before pregnancy—with a slightly larger cut, of course. Maternity clothes sizes are cut differently than regular sizes, but leave a lot of room for growth. They are also created for an average weight gain of 25-35 pounds.
If you are carrying twins or more, you'll most likely gain more weight than otherwise. In this case, you may need to buy a size larger than pre-pregnancy.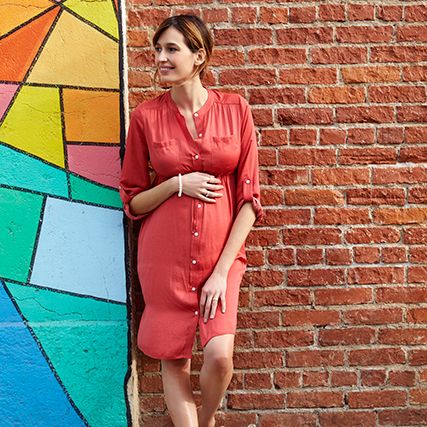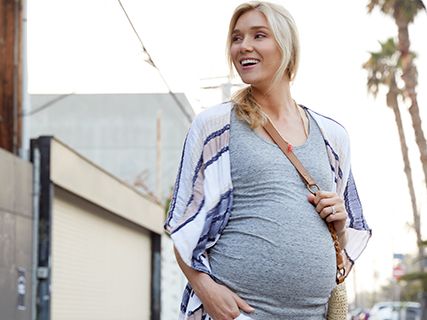 Measuring
Learn how to properly measure yourself for maternity sizing. To make things easier, grab a soft tape measure or a ribbon, and then hold it against a rule or yardstick. You may also want to measure in front of a mirror—this will help you see if the tape is positioned correctly on your body.
maternity sizing charts
bra sizing charts
Maternity Guide & Pregnancy Tips
Expecting a new addition to the family is an exciting time. Celebrate it with Kohl's great selection of maternity clothing and accessories. Both new and experienced mothers should feel comfortable and beautiful during pregnancy and after. Explore Kohl's maternity clothes for pieces that will suit your needs throughout your pregnancy and after your new baby arrives. Read up on how to measure yourself for maternity clothes as well as how to choose belly panel support levels and nursing bras for every stage.
Today's maternity clothes come in sleek, modern styles and are made from soft and durable fabrics. Available exclusively at Kohl's, a:glow and Pip & Vine by Rosie Pope provide thoughtfully designed maternity clothing and accessories. a:glow maternity dresses and pants fit wonderfully and keep you trendy and fashionable during your pregnancy. Don't forget your pregnancy will probably stretch across a few seasons. Prepare now for chilly weather or hot summers with maternity coats, sweaters and maternity swimsuit sets for fun in the sun.
Kohl's understands every woman's body is unique both during pregnancy and after and offers petite maternity dresses and plus-size maternity tops that fit and flatter. Explore maternity leggings, jeans and skirts to see what styles and coverage you'll need at each stage of your pregnancy. And take the time to choose a comfortable nursing bra before your baby gets here. Pip & Vine by Rosie Pope nursing bras make it easy to cuddle up with your baby and nurse discreetly.
In addition to cute maternity clothes, Kohl's offers a huge variety of baby gear. From baby bouncers and strollers to baby clothes, baby bedding and more, Kohl's has everything you need to take care of your little one. And don't forget the Kohl's baby registry. Not only can you register for baby showers, but you can explore Kohl's handy checklist of baby apparel and accessories—everything you'll need to welcome a new baby into your life.