Home Decor & Furniture Guide
Whether you are decorating from the ground up or refreshing a favorite room, find the perfect solution here to make any space feel like home. Choose from rugs, curtains and pillows to add color and texture or transform a room completely with new furniture.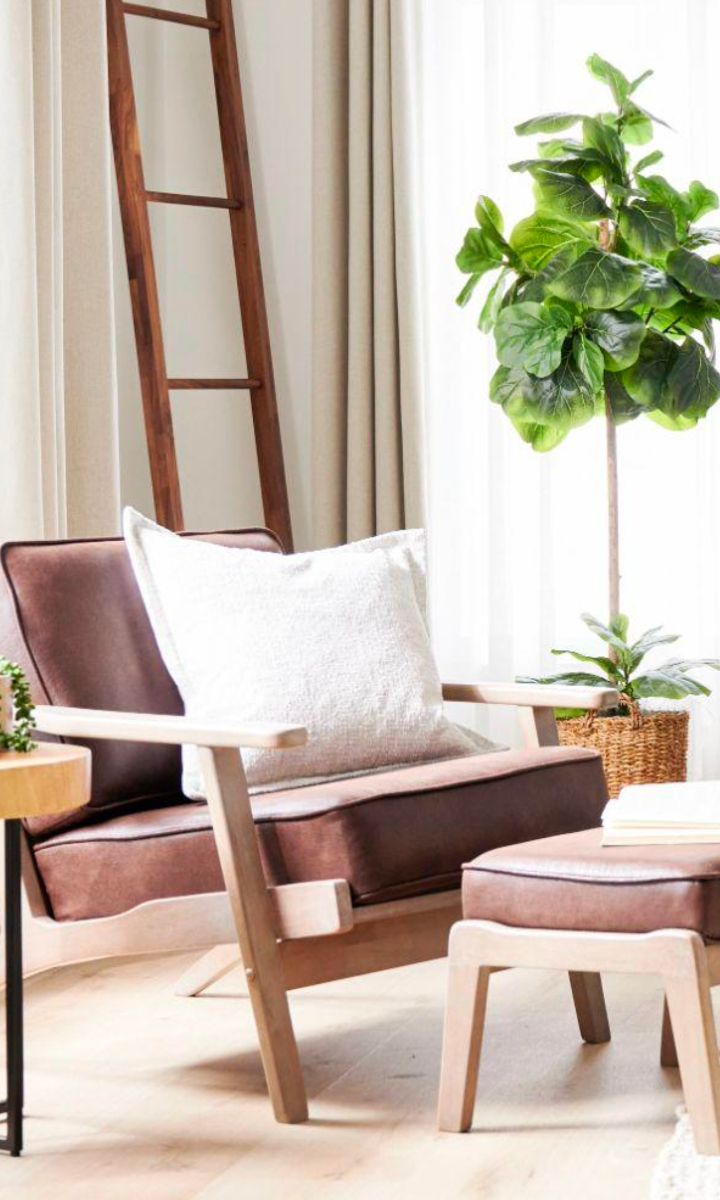 Make home
your own.
Make home your own
Home Decor
Rugs
A practical blend of function and style, rugs reduce noise and add warmth and texture to any area of the home. A rug can be the visual centerpiece of a room or a flattering background for your furniture and decor.
Living room
A large rug with a striking design can be the focal point of your living room or entertainment space. Subtle patterns or more muted colors highlight your furnishings and bring the room together.
5×7'

This versatile size pairs well with furniture to accent a large living room, but also will not overwhelm a smaller room.

8×10'

Choose this size for medium or large rooms for more floor coverage and to have a variety of options for your furniture placement.

9×12'

Best for rooms 9×12' or larger, this size will cover most of the floor completely and be the background for the whole room.
Bedroom
The warm feel of a rug can make it easier to get out of bed in the morning. Choose textures and colors you love to bring atmosphere and personality to one of the most intimate spaces in your home.
8×10'

This size will cover the space under most beds and peek out a bit to cover and warm the floor.

9×12'

Fully cover the bedroom floor and add texture and color throughout the room with this large rug size.

2.6×8'

Long and narrow, runner-style rugs are perfect fit for the side of the bed, a hallway or in front of a closet.
Dining room
The dining room sees many different activities and often, the messes that go along with them! Choose a color or pattern that is hard-wearing and hides marks or spills, and also consider pile height and material for ease of cleaning when picking a rug for this room.
8×10'

Cover the floor under the table and help guard against scuffing from chairs being pushed in and out.

9×12'

If you have a large dining room or long table with lots of seating, try a rug of this size.

8×8'

Play with color and shapes in small spaces and pair a circle or square rug of this size with a compact table set in any shape.
Kitchen
Add warmth and character to the heart of your home with a kitchen rug. A kitchen rug is a perfect way to reduce standing fatigue and warm and protect your floors in this high-traffic area.
2×3'

Small rugs and mats of this size fit easily in front of a sink, counter or door to catch dirt and spills and cushion and support your feet while you're working.

3×5'

Add some color and comfort to the kitchen with an accent rug at the center of the room or along a wall.

2.6×8'

A long runner rug makes great addition to any a high-traffic pathway, especially where spills are common!
Pile Height
The pile of a rug refers to the density and height of the fibers. Pile height is measured from the surface or top of a rug to its backing, and can range from a flat, short pile to a shaggy, long pile.
Low

Less than 0.5"

Low pile rugs generally last longer than higher piles and are best for high traffic areas. They have durable, tight weaves and are easy to care for and vaccuum.

Medium

Less than 1"

Medium pile rugs are versatile and work well for medium or high traffic areas throughout the home. They add warmth and texture while providing protection for both feet and floors.

High

1" or higher

High pile rugs feel soft and luxurious, but may need special care and cleaning. They're more susceptible to marking and indentations from furniture and feet and are best for low traffic areas.
Windows
Curtains
Pull a room together with a beautiful set of curtains. Curtains bring both character and functionality to your home. Add color and drama or create a peaceful atmosphere to sleep in and keep light out, all with the right choice of curtains.
Opacity
The opacity of a curtain determines how much light is kept out or let in. Each room has different needs for light, noise reduction, and even warmth. Choose from a range of lightweight sheers to blackout curtains to accentuate the purpose and atmosphere of any room.
Sheer

Lightweight and airy, sheer curtains allow light to softly filter into a room. For additional light blocking, pair a plain or patterned sheer panel under a heavier curtain for an elegant, layered look.

Light Filtering

Cotton and other lightweight fabrics provide moderate levels of light filtration. To provide privacy while still letting outside light in, choose curtains in this category.

Room Darkening

Heavy materials give a luxurious, formal look to a room. Heavy curtains are perfect for extra privacy and insulation, and can be paired with a sheer panel underneath to allow light in when desired.

Blackout

These heavy-duty curtains not only block light entirely when closed, but also create a sound barrier against outside noise and insulation to keep in heat.
Measuring
for curtains
While curtains only come in a few standard sizes, it's important to accurately make three measurements to ensure you pick the right curtain size that looks good and best fits your window and the area of your home correctly.
Measure the width
Find the width of your window from trim to trim. Based on the width of your window, you'll decide how wide your curtain rod needs to be. To create the illusion of a wider window, add four to six inches on either side of the window frame.
Measure the height
Decide how high you want to hang your curtain rod. To make your room appear taller, hang your rod an extra four to six inches above the top of the window.
Measure to the middle
Based on the width of your window, decide how wide each curtain panel needs to be. To maintain a gathered look even when the curtains are closed, panels should be 2x to 2.5x the width of the window.
Pick the perfect length
Curtains do more than simply frame a window. Playing with curtain lengths gives different options for styling and can bring a certain look and feel to a room.
63"

This length ends at the bottom of most window frames and is ideal for windows you open frequently. These panels stay clear of radiators and heating vents on the floor and out of the reach of small hands and pets.

84"

These panels float just above or lightly touch the floor, allowing them to hang straight without bunching for a polished look.

95"

This versatile length fully reaches the floor or pools slightly at the bottom and works well with a variety of fixtures.

108"

This length will pool on the floor or can be hung higher above a window to make a room look taller. The longer the panel, the more dramatic the look.

120"

These panels are the longest standard length. They can pool on the floor for an elegant, formal look and accommodate taller fixtures or hardware set high above the window frame.
Curtain top
treatments
A top treatment is how a curtain fastens to the rod or fixture above the window. Choose the top treatment to fit the hardware of your choice and that suits the style of your space.
Rod pockets

A built-in pocket at the top of each panel slips onto the rod for a casual, gathered look.

Tab tops

Loops of fabric set at the top of the panel slide easily onto a rod and pair best with simple, relaxed decor.

Grommets

Metal-set openings along the top the panel add contemporary accents to a room.

Back-tabs

Fabric loops hidden on the backs of panels create the illusion of floating curtains and a clean, tailored look.

Pinch pleats

Like a rod pocket, this classic style slips directly onto a rod for a formal look. Thick, gathered pleats complement traditional decor.
Home Decor
Pillows
Get creative mixing and matching color and patterns with throw pillows. Complementary color palettes and balanced arrangements add subtle accents to a room. For a more dramatic look, choose lush shades and textures or layer distinct sizes and shapes together.
Pillow sizes
Large pillows sit well in the corners of a sofa or at the head of a bed. Layer smaller pillows between or in front of larger ones for more dimension. To fill out a cozy spot or chair, stick with a small accent
pillow or two.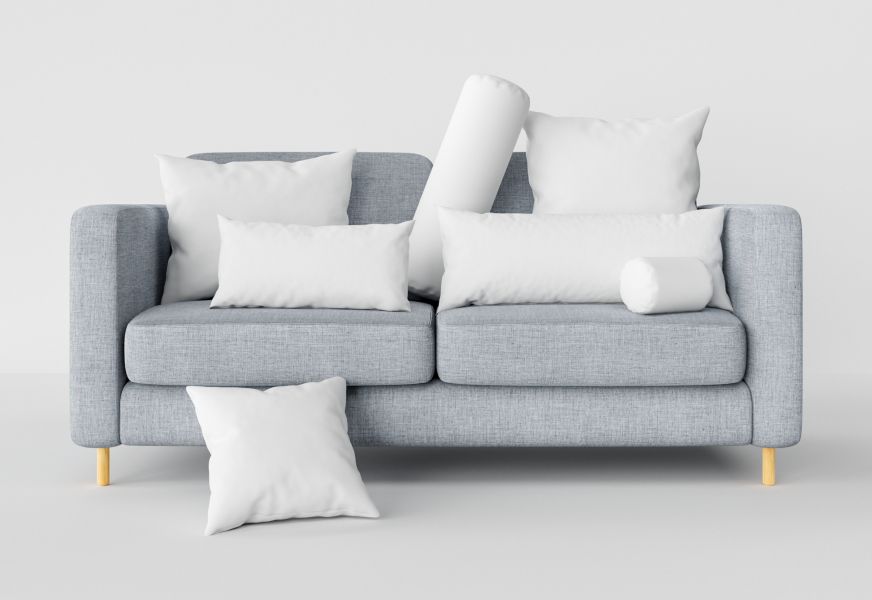 1.

Standard

:

20×26"

2.

Large bolster

:

9×30"

3.

Large euro

:

26×26"

4.

Small lumbar

:

12×24"

5.

Large lumbar

:

14×36"

6.

Small bolster

:

7×10"

7.

Small euro

:

18×18"
Pillow cover
sizing
Buy a pillow insert that is 2 inches larger than your pillow cover. For example, an 18×18" pillow cover needs a 20×20" insert to fill out all sides evenly, from the center to the corners.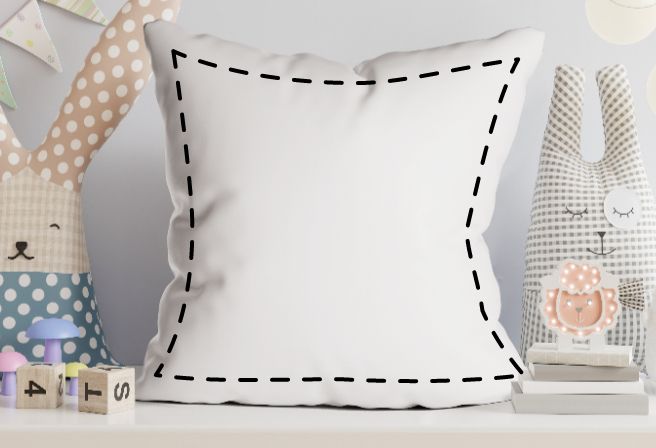 Furniture
Living Room
Consider function, style, and material when decorating your living room. Every living room has a focal point, ensure you start there when deciding how to decorate your space.
Choosing a
media console
Finding the right media console for your TV is important in completing the picture-perfect look of your favorite space. Ensure the base of your TV can rest safely and securely and that the media console is at least 4 inches longer than your TV.
Measure your TV

To frame your TV and add visual balance to the room, your media console should be wider than the TV.

Measure your wall

Leave at least 6 inches of floor space on either side. You will also want to leave enough space between the wall and the console to easily reach outlets and cords.

Plan for

plenty of storage

Take measurements of any large devices so that you know how high and deep shelves or cabinets need to be.
Picking a
coffee table
When choosing your coffee table ensure it is close enough to the couch to put down your favorite book or the cup of coffee you've been enjoying, but far enough to rest your legs. Height is key and should be about 1 to 2 inches lower than your couch.
Measure the width

of your sofa

Your coffee table should be at least half the width of your sofa. If you have a sectional use the longest horizontal piece as your guide.

Measure the height

of your sofa

Opt for a table the same height as your sofa seat. Typically the height is between 14–20″ tall.

Compliment your sofa

If you have a standard sofa or loveseat, consider a rectangular or oval coffee table to sit neatly in front of it. If you have a sectional sofa, try a square or round shape to fit the irregular space.
Types of accent chairs
Accent chairs are an easy way to add extra seating or create a cozy corner in a room. Chairs with unique shapes, colors or materials also provide a stylish focal point to elevate a small or simple space.
Club chairs

With broad arms, a wide back and a deep seat, these large, comfortable chairs are easy to sink into. They are perfect for a home office or reading nook.

Slipper chairs

These armless chairs are named for their ability to slip easily into small spaces. Their simple shape makes them a versatile accent anywhere in the home.

Barrel chairs

With a curved back and high arms, barrel chairs have a sleek profile. that fits effortlessly with many eras of decor, from vintage to modern.

Wingback chairs

This traditional design has a tall back with winged sides.

Tufted chairs

Layers of fabric are stitched into a pattern to create this popular style.
Furniture
Bedroom
Your bedroom is a private sanctuary away from the busier areas of the house. The furniture and decor should create a calm and inviting feel to help you relax. Keep reading to learn how to choose the right pieces for your space.
Mattress sizes
When choosing a mattress or bed size, it's important to understand your needs, desires, and budget. Whether you're looking for extra space and length or a fit for a smaller room, there's a size to suit your needs.
Twin

:

38×75"

Twin mattresses are the perfect size for a single sleeper and will fit growing kids, teens and most adults. Twin beds come in a variety of styles like day beds and bunk beds that are ideal for small or shared bedrooms.

Twin mattresses are the perfect size for a single sleeper and will fit growing kids, teens and most adults. Twin beds come in a variety of styles like day beds and bunk beds that are ideal for small or shared bedrooms, dorm rooms or a home office that doubles as a guest bedroom.

Twin XL

:

38×80"

Twin XL mattresses are 5 inches longer than a twin, perfect for a taller person. They are the same width as a twin mattress, and are a popular size for shared housing like dorms and apartments.

Full

:

53×75"

A full mattress, also called a double, is great for one person who likes some extra space to move around when they sleep. A full bed lets you stretch out freely but won't take up the whole bedroom.

Queen

:

60×80"

A queen mattress, also called a standard, is a versatile size for many homes. Queen beds are sized to comfortably fit two people and are ideal for couples with smaller rooms.

King

:

76×80"

A king mattress is a dream for two people and offers extra space to stretch out freely while sleeping. If you have a child or furry friend or two that like to join you in bed, don't worry, there's room for them too.

California King

:

72×84"

A California king is not quite as wide as a king mattress, but provides an additional 4 inches of foot room. This size is ideal for tall sleepers and will fit two people, with room for any pets that may hog the foot of the bed.
Picking the
perfect nightstand
When picking a night stand, choose the size that fits the scale of your bedroom and your bed. You'll want the height of your nightstand to closely match your mattress. Don't forget to consider storage both in and on your nightstand when picking the perfect one.
A nightstand typically blends in with the other elements of a bedroom, but should not be overlooked when designing your space. When picking a nightstand, there are three factors that you should consider to help find the perfect one.
Scale

Nightstands are typically 20-24 inches but go wider for king size beds.

Match the size and scale of the nightstand to your bed. Nightstands are typically 20-24 inches wide, but larger styles may look more balanced with king size beds.

Height

Nightstands should be even with the height or your bed give or take a few inches.

The top of your nightstand should be about the same height as your mattress so you can easily reach anything you need.

Storage

Nightstand should have enough space to hide the things you may need to easily reach while in bed.

A good nightstand will have enough space on top and in drawers or shelves to store the things you want nearby when you're in bed.
Furniture
Dining Room
A truly multipurpose room in many homes, the dining room sees a lot of activity, from meals and entertainment to work, school projects and game nights. Show your dining room a little extra love and choose furniture that perfectly fits your space.
Size up your space
When choosing a dining room table, consider the size of your room and seating needs. There are a variety of shapes, sizes and styles to add character to the room and make the most of your space.
Room size

Leave about 36 inches of space from the wall to the table.

Table size

Each person needs about 24 inches of table space to sit and eat comfortably. The size of your place settings, serveware and any decor or centerpieces may also affect how wide of a table you'll prefer.
Dining table shape
The most important factor to consider is finding a table shape that fits best with the space you have. You'll want to be sure to weigh the pros and the cons for each table shape before choosing the one that best fits your needs.
Rectangular and oval tables

These are the two most common dining table shapes, and there are many different styles and finishes to choose from. An extra leaf can easily extend the table's length to add additional seats whenever needed.

Round or square tables

These are perfect shapes for smaller spaces like breakfast nooks or eat-in kitchens. A compact size gives a little extra breathing room for moving around.
Countertop & bar seating
Not all homes have space for a full-size dining table and chairs. Some rooms come with a countertop or bar already built in. In these smaller spaces, bar or kitchen stools can be a great seating solution.
Counter stool

Seat height 24-27" from floor

Bar stool

Seat height 28-33" from floor

Adjustable stool

Adjustable seat height 24-33" from floor