Begin faceted search navigation.
Bedding Basics
kls_static_browse_leftnav_end_faceted
Bedding Basics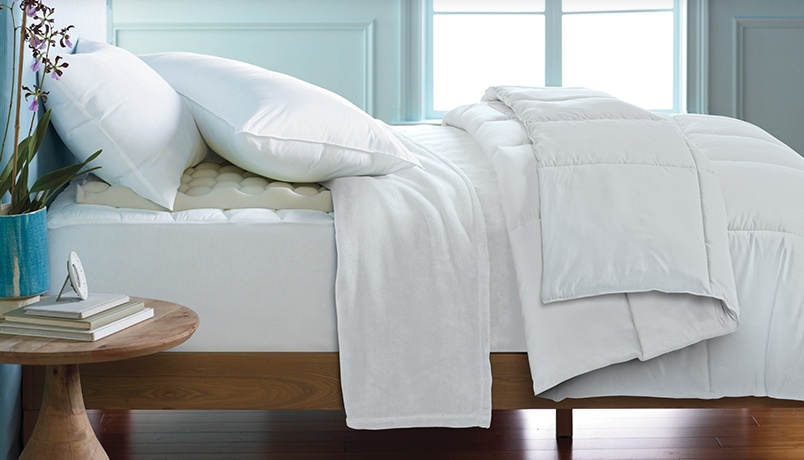 sleep well. be well.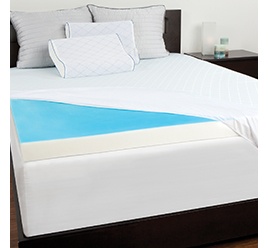 climate control
Maintaining your ideal body temperature
ensures a good night's sleep.
shop temperature Control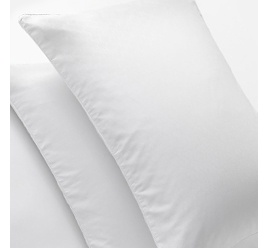 rest assured
Keep allergens at bay with
hypoallergenic bedding solutions.
shop allergy solution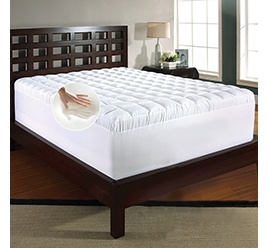 Sweet dreams
Memory foam bed toppers contour to your
body's shape for added comfort and support.
shop comfort solution
sheets
fabric & construction
pillows
toppers, pad & protectors
comforters

mattress toppers
Get an extra layer of customized support with a mattress topper.
mattress toppers

down
Filled with natural fibers, down comforts offers loft, softness and warmth.
down comforters
mattress pads
Mattress pads add a thin layer of a softness and support.
mattress pads

down-alternative
Filled with synthetic fibers, they're ideal for allergy sufferers.
down-alternative comforters
mattress protectors
Shield your mattress from dirt, moisture, allergens and nightly wear with a protector.
mattress protectors

duvet covers
Protect your comforter from dirt, dust and wear, while adding a styling touch to your decor.
duvet covers
blankets

memory foam
Available in pillows, mattress toppers and more, memory foam is a unique sponge-like material that softens in response to body heat and pressure, contouring to the body to provide a more customized sleep experience.
explore now
Bedding Basics
Enjoy soft and stylish bedding from Kohl's. Whether you're putting together a guest room, upgrading the kids to bigger beds or simply redecorating, Kohl's has the styles and variety you need to create a cozy, comfortable bedroom. Sheets, duvet covers, pillows, comforters and more come in resilient fabrics for every season and offer colors and styles to make any bedroom a relaxing retreat.
Discover soft and environmentally friendly cotton, a classic, low maintenance bedding material that will breathe at night. Or, stock up on flannel for the colder months; this soft-brushed cotton retains heat better than flat-weave cotton and makes for cozy nights. Percale is another great bedding option; the silky flat weave offers durability and resilience as well as cool comfort on warm nights.
Add extra softness to your bed with cushioned memory foam mattress toppers or extra protection with a waterproof mattress pad. These bedding necessities can extend the life of your mattress as well as eliminate tossing and turning, allowing for more peaceful nights.
Spruce up bedrooms with fresh new sheets and comforters or explore bedding sets for a pulled-together look. Don't forget to measure your mattress to be sure you're buying the right size and depth of sheets. Sleep more soundly with the perfect pillows and enliven bedding with a few bright throw pillows. Prepare snug and cheerful cribs and bassinets for new additions to the family with baby bedding.
You spend a lot of time asleep — that's why time and care is spent making Kohl's bedding both fashionable and comfy.